Search
Property detail & price proposal
Reserve
Thank you
Villa Yak'alil 5 Bedroom Villa
Villa Yak Alil Beachfront Villa on Secluded Beach with Private Pool
5 Bedrooms for 16 guests (max. 16)
KM 12 Viejo Careterra Costera Sur, Cozumel
contact the manager
Call Annette
US 800-833-5971
or fill our mini-form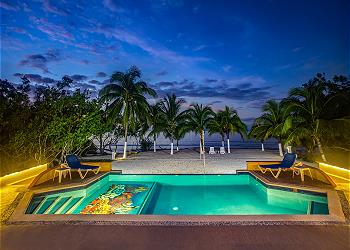 Description
Villa Yak Alil is one of At Home in Cozumel's prestigious vacation rental homes. This amazing newly remodeled 5 bedroom, 4. 5 bath Villa is situated on a secluded sandy beach. The crystal blue Caribbean Sea and blazing colored sunsets will astound you whether you are on the third floor terrace, poolside, or sitting in the sand! This spacious home can accommodate 16 guests.
The open and spacious layout includes several sitting areas to enjoy each other's company or find some time for yourself. Have your morning coffee or afternoon Margarita on the third floor terrace, poolside, or on the beach.
The owners take great pride in maintaining Villa Yak Alil to very high standards. The full time caretaker and groundskeepers ensure that the property is always well kept so that you can relax and enjoy. The house is very family friendly. On the ground floor you have 2 bedrooms, one with a king bed, sitting area and ocean view and one with a queen bed, mangrove view. These bedrooms share a bath on the main level and there is also a half bath on this level. On the second level you have 2 luxury suites, perfect for families. The first luxury suite has a king bed and a queen bed with an alcove that has 2 twin beds, a private bath. ocean view and sitting area. The second suite has a 2 queen beds with an alcove that has a double bed, private bath, ocean view and sitting area. Between these two suites is a sitting area with 2 futons and access to the oceanfront balcony for extra accommodations! On the 3rd level you have the luxury master suite with a king bed, sitting area, private bath. ocean view and private balcony.
Directly in front of the Villa is the Tunich Reef, part of the second largest barrier reef in the world. Snorkel the crystal clear water, exercise, take out a kayak, play volleyball or just grab a cerveza and relax in a hammock. The choices are endless and yours to make!
Cozumel boasts some of the best dive sights in the world. There is also an outdoor shower and dive room where you can rinse off and store your scuba gear.
Free high speed internet Maid service included. Chef service optional (there is nothing better than waking up to the smells of coffee and breakfast being prepared) Shopping service optional. (Let our management company stock the fridge and pantry for you!)
Address

KM 12 Viejo Careterra Costera Sur,

Swimming pool

Freshwater Swimming Pool
Private Freshwater Infinity Pool

Floor

0

Elevator

No
Bathrooms

4.5

Surface

0 ft2

Sleeping arrangements

3 King, 4 Queen, 2 Twin, 2 Other, 1 Double/Full Bed
Reviews for this property
Villa Yak'alil Cozumel vacation

Hewitt United States, 01. August 2023

Stayed for 7 days in July, 2023

Incredible vacation trip to Cozumel. Family of 11 stayed at Villa Yak'alil and it exceeded all expectations! House was beautiful and it's location on it's own stretch of beach is perfect! Our family loved having the pool and kayaks to enjoy the amazing view and even a little snorkeling. Ernesto and Angelica are the best and are there to help with everything. We would definitely recommend this wonderful house and will be booking again ourselves!

Response from At Home In Cozumel Inc

17. August 2023

So gld you enjoyed your stay! That is what vacation is all about. Yak Alil is a slice of paradise!

Awesome place

jeff h. from evans United States, 26. June 2023

Stayed for 7 days in June, 2023

We have been using at home cozumel for years and they never disappoint. We are looking forward to next year

Villa Yak Alil

Loren V. from Centennial United States, 21. February 2023

Stayed for 7 days in February, 2023

It exceeded our expectations

Response from At Home In Cozumel Inc

17. April 2023

Hope to book you again next year!

Villa Yak 'alil

Poulsbo United States, 17. February 2023

Stayed for 9 days in January, 2023

The villa was absolutely fantastic for our multi-generational family trip of 11. Everyone had plenty of room to spread out. The villa and grounds were meticulously kept by Ernesto and Angelica, the perfect onsite managers and hosts. We hired the cooking service through AHC for a week and food was great and this really made it a vacation for everyone. Fantastic views, lovely private beach, great pool, and lots of outdoor seating areas. We used Miquel for our taxi service since we did not rent a car and he was dependable, informative, fun, and a great guide. We rented bikes that were delivered directly to the villa. There is a fair amount of boat traffic out front, which can be fun to watch, but you also have to be careful when snorkeling. Annette from AHC handled all our questions and needs!!! Would highly recommend this villa and AHC.

Response from At Home In Cozumel Inc

17. April 2023

So glad you had a great time! Call us o book your next week in Paradise!

Dream home for large family reunions

Rodrigo d. from Milton Canada, 15. August 2022

Stayed for 5 days in July, 2022

This was a perfect place to gather with extended family, we were 14 total and had an awesome time.

Response from At Home In Cozumel Inc

24. August 2022

That is what vacation is all about! Hope to assist you in the future!

Our Family BacationBeautiful

Chicago United States, 07. July 2022

Stayed for 7 days in June, 2022

Beautiful and comfortable in every way. Best part very private for our 15. Family members.

Response from At Home In Cozumel Inc

25. July 2022

So glad you enjoyed your stay! Hoping you will visit us again soon!

Extended Family Celebration

Mike B. from SANDPOINT United States, 09. May 2022

Stayed for 7 days in April, 2022

One week at Yak Alil is not enough! Our family spent one week swimming, kayaking, playing volleyball and gazing at the ocean from the cabana. We did not rent a car, but called a van to take us to town to have dinner on Sunday at La Mission, Cook's day off. The gardens were beautiful and the menu was varied enough to please everyone. Ernesto and Angelica, the onsite property managers were the perfect hosts for the week. The home was constantly kept spotless and the outdoor areas were ready for our activity. Edgar was our chef and with his assistant prepared amazing meals for us. Everyone in our party of 11 was happy with our selection of meals and the quality and quantity of food. The four children in our party ate enormous amounts at meal time after their outdoor activity. The arrangement of bedrooms and the space was perfect for the 7 adults and 4 children. We had plenty of space to spread out, while being together. This was a vacation that we will reminisce about for a long time.

Response from At Home In Cozumel Inc

08. June 2022

So glad you enjoyed! That is what vacation is all about. Hope to assist you in the future

2nd Time at this Home - It is awesome!

BRIAN P. from Tucson United States, 05. February 2022

Stayed for 7 days in January, 2022

House is clean.
Location is perfect.
I love that it has its own beach and easy access right into the water.
Ernesto and Angelica are like family and take really good care of the guests.
I feel safe in Cozumel, I feel really safe at the home. Ernesto locks the gate when we arrive back in the afternoon or evening from a day out exploring. The house is plenty big enough and has lots of room for guests to have their own space and enjoy the property. The pool is great, the kids spent time in the pool if they werent in the ocean. What a great home, we will be going back!

Great Vacation!

Tanya H. from Rock Springs US, 14. December 2021

Stayed for 7 days in November, 2021

Great Service, Great House

Memorizing paradise!

Julie a H. from Carrollton United States, 14. September 2021

Stayed for 7 days in September, 2021

The Yak'alil Villa has to be the most amazing place to stay in Cozumel! Such a gorgeous home with all the amenities of a resort without all the people. We had several couples and PLENTY room for more. We had our own beautiful private beach, with a kayak, sand volleyball, stunning infinity pool and outdoor seating areas. Its more beautiful in person. The management staff were on point, and the hosts Ernesto and Anjelica were absolutely the BEST! Such an incredible vacation! I cant recommend more! Hasta luego! We will be back!

Amazing vacation home!

ALEXANDER B. from Englewood United States, 31. August 2021

Stayed for 4 days in August, 2021

We had such a fabulous vacation at Villa Yak'alil. The setting was absolutely stunning and the house had everything we needed and more. Beautiful! The caretakers, Ernesto and Angelica, were so accommodating and helpful. Highly recommend.

Brilliant .... But........

David J. from Altrincham United Kingdom, 14. March 2021

Stayed for 5 days in February, 2021

brilliant spot. brilliant facilities. brilliant caretaker Ernesto.
BUT
disgusted to be told as I was about to arrive that I couldn't invite guests for dinner or have mariachi band of 4 come entertain. very disappointed.

Response from At Home In Cozumel Inc

29. March 2021

So happy to hear the Yak Alil exceeded your expectations. That is what vacation is all about! A mariachi band would have been great and allowed! It was additional guests you did not mention when booking that were an issue since we had already approved more than maximum occupancy! Next time it would be best to let us know all of your plans prior so there are no discrepancies and we will be on the same page

Yak'alil the first week of November 2020

John R. from Larkspur US, 11. November 2020

Stayed for 7 days in November, 2020

The weather was rainy and windy for half of our stay due to Hurricane Eta, but the Yak'alil was fabulous. The house is spacious and comfortable, the cooks were great, and the pool and beach are wonderful (but be careful navigating the rocks just past the water line). As a frequent visitor to Cozumel, it was sad to see the devastation of their economy caused by COVID. However, as always, the residents were delightful and accommodating. I'm looking forward to our next visit and hoping for more typical Cozumel weather!

A beautiful property on San Francisco beach

Paul S. from Longwood United States, 20. July 2020

Stayed for 9 days in July, 2020

Nine of us from three families enjoyed a week of Cozumel paradise, using villa Yak'Alil as homebase. Great location, far enough south of town (and the cruise ship port) to be quiet and private, but close enough that getting into town for an evening is not a hassle. We were picked up every morning on our private beach by ScubaTony for diving. The caretakers Ernesto and Angelica were awesome. A phenomenal experience and a beautiful home!

Excellent Vacation!

SANTAN VALLEY US, 16. December 2019

Stayed for 7 days in December, 2019

This house was a wonderful fit for our group. Ernesto and staff was awesome and wonderful to have around. Beautiful all the way around from ocean views to the setup of the property. I hope to stay again someday. See you soon Cozumel!

Fantastic Stay! Can't wait to return!

Karen A. from Kenosha US, 19. August 2019

Stayed for 7 days in August, 2019

L9vy home, made all my friends jealous posting impossibly gorgeous pictures. Ernesto was amazing and was a huge part of maki v our stay fabulous. All we had to do was have fun and relax

Another great stay

Boulder United States, 17. April 2019

Stayed for 7 days in March, 2019

Another fantastic stay at Villa Yak'alil, everything was great. The cook service the property condition and the very attentive on-site staff all fantastic!

Cozumel stay

CARLSBAD United States, 19. March 2019

Stayed for 7 days in March, 2019

This is the second time we have stayed at Villa Yak'alil. We love the location out of town a little ways and we love the fact that you can snorkel right off the house and see so much. Ernesto and Angelica were wonderful.

Great Family Vacation

Susan J. from Villeray Southeast Canada, 07. January 2017

Stayed for 7 days in December, 2016

We had a wonderful stay at Yak'alil! The house is large, clean and sits on a spectacular part of Cozumel. The beach was pristine and we took the kayaks out and saw sea turtles the second day we were there. In the evenings, you can watch the stingrays feeding right at the water's edge. There is a beach club next door that rents seadoos which our children enjoyed. Our cook (arranged through AHC) was terrific and the housekeeper Magaly was beyond helpful, and the house was always clean and stocked with fresh towels. Overall I was very satisfied with the experience and will return.

So amazing!!!

Leslie M. from Trinity United States, 10. August 2016

Stayed for 6 days in August, 2016

We loved our stay at Villa Yak Alil! It was a wonderful property and we had plenty of room. Definitely will be booking for next year vacation!

Another great stay

Boulder United States, 13. April 2016

Stayed for 7 days in March, 2016

Once again everything was fantastic!!!Thank you

Fab at 50!

Corey P. from Calgary (Braeside / Woodbine) Canada, 28. March 2016

Stayed for 8 days in March, 2016

Excellent property with tremendous staff. A wonderful experience from the moment we opened the front door. We had a group of ten and the house provided the perfect amount of space for everyone. Highly recommend the chef service as Lucy and Ester are excellent cooks. Jackie provided good recommendations and was a wonderful help. Ronaldo kept the grounds looking picture perfect everyday. We can't wait for the next 50th Birthday so we can all go back and enjoy this paradise once more!

Birthday family celebration

Michael B. from Greenwich United States, 21. March 2016

Stayed for 7 days in February, 2016

Fantastic time for the birthday boy, 5 brothers (6 in total) plus 7 nieces & nephews - all divers!Villa Yak'alil was the perfect and we do mean PERFECT spot. The photos on their website actually make the place appear smaller than it really is. All 13 of us found the setting perfect in terms of traveling to the dive pick up spots as well as getting into town and the restaurants. Weather was mostly cloudy but no rain. Only downer was the pool which was not heated and the lack of sun did not allow us to enjoy it. Usually the sun itself is enough to heat it but in our case Mother Nature decided otherwise. Diving was great, location was fantastic and it was extremely safe for families and all! Spotless interior, large enough and yet private too in case you wanted to get away for an hour or two to catch up on work (ugh) or just take a nap. All in all a top 10 recommendation and a place that we'd definitely return to in the future. Mike Bedford (Greenwich, CT)

Large Party-Great Place

Mark G. from Denver United States, 15. March 2016

Stayed for 13 days in February, 2016

We enjoyed Yak'alil. It was our first stay after having visited it before. We had a large family and it was perfect. Rinaldo and Jackie were there every day cleaning inside and out and helping us with whatever we needed. They really have thought of everything from beverage coolers outside near the table and grill, wifi for the whole house, shade to escape the sun, hammocks, and a screened porch so we could still be outside if the bugs are too much, which they weren't. We had everything we needed to relax and let go.

Christmas 2015

Westhope United States, 06. January 2016

Stayed for 7 days in December, 2015

The home was picture perfect, our family stayed and there was plenty of room for 18. It was a out of town so you may want to rent a car but we had Miguel(taxi driver) and he was more then happy to drive for us and very helpful. Jackie and staff kept the house spotless and was also very helpful and available if needed. I would recommend this to anyone and would rent it again if ever returned to Cozumel. Loved our stay!!!

Villa Yak'alil

Kevin S. from Idaho Falls US, 26. August 2015

Stayed for 7 days in August, 2015

what a great location. all amenities were fabulous. right on the beach, but not a very swimmable area. beautiful sunsets. we loved the volleyball court and the fresh water pool. central to almost everything on the island. our 'Jackie' was wonderful and accommodating in every way. kept very clean and as described on the site. great place for large groups or families. we loved snorkeling and Mr Sancho's Beach. hated to leave

Awesome Vacation

Troy, MI United States, 24. July 2015

Stayed for 6 days in July, 2015

We had a great time at the home in Cozumel. Our groundskeeper and housekeeper were phenomenal and kept the place in tip top shape. The accommodations were very spacious for our group of 14. The pool, hammocks, and the private beach were a very nice bonus. You will definitely need a car rental as daily taxi service to the downtown area can get very pricey. Our family will definitely be back.

A week in Yak'alil

Clearwater United States, 03. July 2015

Stayed for 7 days in June, 2015

Superb villa accommodations, delightful scenery from the villa, great food and very and hard working staff. On the other side the other hand the rai brought a lot of bugs and isolation of the villa necessitates having a car which we did not get.

Great get away location

Carol W. from Harrah United States, 24. June 2015

Stayed for 7 days in June, 2015

This house is south of town, giving you a feeling of seclusion, but it's only a short drive to town. Highly recommend cook service, lots of great food! Ask for Lucy! Jackie does a great job of keeping the house clean & well maintained. Renaldo keeps the grounds emaculate. The house is accurately described, there were 10 of us 6 adults & 4 children, we had lots of room. Beach is a little rocky & boat activity comes fairly close, making snorkeling in front of the house not very desirable. Everyone enjoyed kayaks, volleyball & beach combing.

7 Night Stay

marina United States, 23. May 2015

Stayed for 7 days in May, 2015

This home was amazing and looks just like the pictures, the private beach was great for my family and I, we love our privacy. If your looking for a Villa to stay in I would highly recommend this home, the staff were very nice and helpful as well. Only issues I had were with the appliances, dishwasher didn't work and neither did the BBQ :(, but that still does not persuade my recommendation

Great Vacation

Bruce H. from Harlin United States, 16. March 2015

Stayed for 7 days in March, 2015

There were 16 of us - grandparents, parents and grandchildren. We have been to Cozumel often and have stayed at several villas. Yak'alil was perfect for our group. All the staff were great. Jackie was very helpful and the cooks Alex and Alesha were wonderful - Alex took time to visit with our grandchildren. something they will never forget. they so wanted to know everything about Cozumel, and he was very interested in life in the U.S. Great time was had by all.

Wonderful week

Grand Haven United States, 09. March 2015

Stayed for 7 days in February, 2015

From booking, including our questions all answered, and arrival and stay the Villa was perfect choice.

It Doesn't Get Better Than This

Annie Q. from Spokane United States, 11. February 2015

Stayed for 7 days in January, 2015

I've stayed in a handful of tropical villas, and while I enjoyed them all, when it comes to the ultimate beach house, it doesn't get better than this! The house is better than the photos convey. All bedrooms are pretty balanced, either having a great view/room or a great bathroom. The main floor and top floor bedrooms have lesser bathrooms, but the second floor bedrooms don't have the balconies and walk-out deck the others do. The exception is the small bedroom on the main floor with no en suite bathroom at all.

The house was well-kept, both inside and out. Jackie and Reynaldo do a fabulous job keeping everything clean and tidy. Lucy's food was excellent! We especially liked the pumpkin cream soup.

Our activities through the week included visiting Chichen Itza, Massages at the house, Superbowl at Alberto's, food and drinks at many beach bars, Punto Sur, and I highly recommend a snorkeling trip to El Cielo where swam with nurse sharks, sting rays, barracuda, morray eels, lobsters, starfish and many tropical fish.

I recommend renting a car or two when staying at Yak'alil. It's not far from town, but gives you much more freedom to explore, run to the store and airport as needed. It's expensive because of the mandatory insurance, but it was worth it.

I would highly recommend Villa Yak'alil to anyone, but especially large groups looking for plenty of room in an unbeatable ocean house!

Villa Yak'alil stay

CARLSBAD United States, 01. December 2014

Stayed for 7 days in November, 2014

Overall our stay was excellent. The staff was wonderful, kind, and Jackie was very helpful. We loved the house, the volleyball court, and the snorkeling. One suggestion would be maybe a separate kids menu - so they wouldn't waste as much food and would maybe eat more.

Perfect place for a family vacation with children

Kristie L. from Fort Collins US, 12. August 2014

Stayed for 7 days in August, 2014

We had a fabulous stay at Villa Yak Alil in August 2014. We went to celebrate my 40th bday with family and friends with a total of 14. There was plenty of beds and space for everyone. When we arrived the home was even better than expected from the photos. Snorkeling just outside the house was even better than the snorkeling trip we took. The kids played in the pool for hours and the staff was very accommodating. The food was the biggest treat of all. It was delicious and so nice to not have to cook or clean. I would suggest getting the chef for sure. It is a bit of a drive to the main town but that was a plus because it felt very safe and secure. It also made if very peaceful and relaxing being away from all the hustle and bustle. The only problems were that only one kayak was working and none of the water bikes worked at all. Also the wifi barely worked. I think this was a temporary problem but many of us were frustrated with not being able to check emails.

Paradise

Elizabeth A. from Murphy United States, 04. August 2014

Stayed for 7 days in July, 2014

This was the first large family vacation we've done. We had 10 people in our group and this house had plenty of room for us. Everything was amazing about our vacation. Jackie worked very hard to keep the house neat and tidy. Reynaldo made sure the outside was in order each morning. He took time to one coconuts for our kids and they thought that was awesome. Lucy and Norma cooked for us and all of the meals were delicious. The snorkeling from the beach was awesome. It is best to go just after sunrise before the tour boats start running. We saw a reef tip shark, barracudas, needle nose fish, several types of conch, starfish, and lots of colorful fish. The highlight of our day was sitting near the beach and watching the sunset and seeing if we could catch a glimpse of the alligator as he swam by at night.

We weren't really sure what to expect from a vacation rental, but Villa Yak Alil far surpassed our expectations. I can't wait until we can go back.

Vacation 2014

Wichita United States, 13. July 2014

Stayed for 14 days in June, 2014

Our stay at Yak'alil was fabulous! The house is perfect for a large family (we had 15) and the outdoor space is private, inviting and entertaining. Jackie did a great job keeping the house clean and in order during our stay and helped us with transportation and even finding a doctor when we had to make in unexpected trip. Reynaldo kept the grounds and outdoor space beautiful and went above and beyond to help our family enjoy vacation by splitting coconuts for the kids, lighting a bonfire and teaching a couple of the kids how to fish. I highly recommend the food service. Norma and Lucy made us the most amazing dishes and were very flexible with the times. We always had leftovers to snack on throughout the day! My only less positive comments is that we thought there was a washer and dryer available for guest use by the way it is advertised, and there is not. Jackie was kind enough to do a couple of loads of laundry for us, but we would have packed differently had we been aware of that. It is about 20 minutes from town so with a large party taxi rental is expensive, but Miguel and Miguel drove for us the entire 2 weeks and helped us tremendously. They made reservations for us, gave tips on the ferry, grocery shopped with us to help navigate the store and even translated at the doctor! Well worth the money! We hope to return to this beautiful home with endless views!

A Great Home away from Home

Thomas D. from Sammamish United States, 03. June 2014

Stayed for 7 days in May, 2014

Once again, Yak'alil was a great choice. This was our second time in the home and I highly recommend it to everyone. The management and staff were very accommodating and the cooks were perfect.

Perfect house for a perfect vacation

Jenny N. from Roy United States, 10. March 2014

Stayed for 7 days in March, 2014

The Coz Crew has been coming to Cozumel for 12 years. We have had as many as 26 people in our group. This year we had 8. This house was absolutely perfect for our group. It was set on a private beach with direct beach access. The volleyball net/court was amazing to have ready to go all the time. The pool was a little small, but a perfect size for the house. The grounds were immaculately kept. Renaldo did a wonderful job at keeping everything outside perfect. The inside of the house was immaculate. Jackie does an amazing job at keeping the house clean and perfect. She is very helpful and fun to talk to. Jackie is amazing!! The kitchen is huge and setup perfect. All of the bedrooms were amazing with their own special touches. They were all clean and huge! Each one had great water pressure in the showers with hot water and there was bottled water on each floor. (The only exception is the small 5th bedroom) 4 of the five bedrooms are perfect for couples and 2 are great for a family to stay in. The only complaint someone could have about the bedrooms is the 5th bedroom. It is very small and only has a double bed. There is no bathroom or view for that bedroom. This didn't bother us at all because we only had 4 couples and we didn't use that bedroom. That is the only thing I would say be careful with- the 5th bedroom. Other than that the house is perfect, clean and amazing. Jackie and Renaldo do an excellent job of keeping the house and grounds clean and Jackie is great to talk to and she is willing to help in anyway she can. Our vacation was perfect.

We'll Be Back!

Haymarket United States, 16. July 2013

Stayed for 7 days in July, 2013

Our family vacation was both fun and relaxing thanks to the wonderful staff at the house. Reynaldo spent extra time with our grandsons showing them how he cut open coconuts to drink the water. His groundskeeping was fantastic and he managed to keep the pool and beach spotless each day. The cook staff, Lucy and Norma, are nothing less than phenomenal. The meals were prepared professionally and always on time - and they tasted great. Always had left-overs for late night munchies. Jackie did a great job keeping the inside of the house clean and comfortable, she was even willing to do a few loads of laundry for us. All-in-all we had just what we hoped for; well needed family time to relax and enjoy the beautiful waters and weather of Cozumel.

Family get together in Cozumel

Castle Pines United States, 24. June 2013

Stayed for 7 days in June, 2013

We had a group of 12. Everyone could find plenty to do. There is snorkeling right in from of the Villa. The kayaks and Volleyball court were used everyday. Jackie is wonderful and took care of anything we needed. The cooks Lucy and Norma made amazing meals that exceeded our expectations. This place has something for everyone. We had a great time and would recommend to anyone who enjoys the beach.

Better than we imagined!

Tiffany A. from Littleton United States, 17. June 2013

Stayed for 7 days in June, 2013

Just fabulous all around! The staff was amazing especially Jackie, she kept things clean and tidy and she was always very helpful. As for the cooks, Norma and Lucy, they were amazing and very accommodating with food choices for the adults and children. We plan to return again.

Bday get together

Taft United States, 01. May 2013

Stayed for 6 days in April, 2013

Villa Yak'alil was nearly the ideal rental for our April birthday get together. The house is large enough that our party of 12 never felt crowded. Jackie took care of any problem we had including cleaning the kitchen every day.
The internet service was fast enough for www.damselindior to keep current on her latest blogs. Our kids enjoyed the two kayaks and I kept the bbq pit smoking. My only complaint is that the shallow water extends too far from shore for the dive boat to pick you up in front of the place. Instead we met at a pier just down the road. Each bedroom has it's own air conditioning controls and kept everyone cool. Plenty of hot and cold water in the bathrooms. We had trouble with one shower head and it was fixed as soon as I pointed it out. I highly recommend trying this place out. We plan to return next April.

20th anniversary in Cozumel

Ron F. from Midway United States, 25. February 2013

Stayed for 7 days in February, 2013

Fantastic. Villa yak is one of the very best. Jackie and the rest of the help around the house were super. The sunsets were incredible . The house is right on the beach with greate snorkeling and dive boats came very near because it was great. Best location on island. Very quiet and just minutes from town. Villa yak deserves all 5 stars. I just hit the button wrong if it shows less You won't find a better place.

Amazing!!!!

John A. from Petoskey United States, 18. February 2013

Stayed for 7 days in February, 2013

This was an amazing vacation, the home was absolutely beautiful and went far above what we could have even imagined. Jackie took care of the home spotlessly and went far above her duties, she was very helpful, contacted taxi's for us, helped us know different things to do and where to go, she always made sure everything was clean. We loved her. This vacation spot is wonderful. We would highly recommend this home to others. We hope that we can return sometime. It was amazing!!!

upgrade the small things

Lars C. from Port Charlotte United States, 08. January 2013

Stayed for 14 days in December, 2012

Our family enjoyed our two week stay very much...terrific would be the word...The staff is wonderful in every way as are the cooks..The owner, however, should invest in some small relatively inexpensive items in order to bring this home to a top notch level...

Great house, beautiful views

John S. from Reston United States, 06. August 2012

Stayed for 8 days in July, 2012

Overall the house was incredible, if I were to be very picky I'd say it was obvious they put big bucks into buildig a quality structure, but it seemed odd to have such a nice place with some cheap fixtures like faucets - which were surrounded by beautiful tile. Again, that's being really picky and does not take away from the overall experience. The location was great - very close to some good snorkeling locations; you must have a car/moped something to get to town and back. Get the cook service, it was delicious and they clean everything for you - you'll get spoiled and love it too :)

Great Stay

Ward F. from Ventura United States, 03. July 2012

Stayed for 14 days in June, 2012

Excellent experience. Very Satisfied

Excellent Vacation House

Boulder United States, 03. April 2012

Stayed for 7 days in March, 2012

Perfect in every way.

Villa Yak a Lil has Everything for a Beach Vacation

Anne G. from Omaha US, 07. March 2012

Stayed for 7 days in February, 2012

Once a year we take a week to go diving in Cozumel. We have tried everything from traditional hotels and dive resorts to waterfront condos, but Villa Yak a Lil surpassed all previous stays. The villa is situated on a private beach away from the sounds of busy hotels or other properties.

We were taken by the courteous staff, the spaciousness of the home, the ample resting areas by the pool or shady hammocks. Each room has a beautiful view of the beach each with its own balcony or one nearby.

We can't wait to visit villa Yak a Lil on our next visit and would highly recommend it for a group of friends or family traveling to Cozumel.

great party house for large group, lots of space, lots to do,

Gerald U. from Knoxville United States, 28. December 2011

Stayed for 9 days in December, 2011

Had nine wonderful days in this huge, comfortable house. Cook service was exceptional, Jackie, the housekeeper couldn't have been kinder or more helpful. Weather was perfect, beach and snorkeling so convenient. Room for everyone, spacious bathrooms, spotlessly clean. Any problems solved by Miss Jackie. Edgar, the cook went out of his way to accomodate picky eaters and vegans. Garage space for your vehicles, games and cards available. Large porch and deck and spotless infinity pool. Once in a lifetime trip for our three generations. Would return in a heartbeat.

End of Summer Vacation

David A. from Kingwood United States, 25. August 2011

Stayed for 7 days in August, 2011

We stayed at the villa with 3 other families for a total of 16 people and had a great time! We were a little worried that we may get tired of each other or of the loud noises made by the little ones (4 were 3 years old) but the house is big enough that
you can be separated from everyone and have some me time. We paid for the cook service and we bought food for the lunch part of the day. However, we had so much good food left over from breakfast and dinner sometimes that we would not even need to make lunch.
Wish we would have known how much food we were going to have so we wouldn't have bought so much lunch items. Edgar, the cook, and his wife and niece (his assistants) did a wonderful job cooking delicious meals! The set our tables, brought the meals to the
table, cleared the table and always left the kitchen spotless. We all gained some weight while there I'm sure and everyone, even the kids, ate all their food! I miss the cooked meals already. The house itself was great and roomy. Jackie was very helpful offering
us tips on where to go and telling us to watch out for the taxi-mafia. A taxi cab (4ppl max) from the villa to downtown is 150 pesos, a taxi van (8ppl max) is 300 pesos. They'll try to give you different prices each time but these prices are the norm. She
did a great job cleaning the house. The kids really enjoyed the pool and didn't go to the beach that often. I would have like more beach area, less rocks and for the house to be a little closer into town. The cab drivers try to hustle you out of money and
you always get different quotes even when going to the same spot. Make sure to be firm on what you're paying and ask up front what the price is. We did see a crocodile one day to the left of the house. We used the kayak the first 2 days there but after we
saw the crocodile we were a little apprehensive and stuck to the right side of the beach. The hammocks were super handy and some of us even took naps in them. We vis

Two Birthdays and a Wedding

Danton H. from Abbeville United States, 02. August 2011

Stayed for 7 days in July, 2011

We had a group of 15 friends at the villa for the week. We were celebrating a 40th and 45th birthday for two of the ladies and the place was so beautiful that a couple that was getting married in the states in January decided to go ahead and get married there at the villa instead. We had a really great time and after the week was over it was hard to leave our home in Cozumel behind. The only comment I heard that may be improved on is that a few of the people said that their mattress was uncomfortable (hard). This was not my opinion though, I slept in the third floor bedroom and it was great. There is a beautiful roof top veranda but there is no furniture on it to sit out and enjoy sunrises with a cup of coffee and sunsets with a glass of wine, it needs to be furnished so that you don't have to bring the furniture from the bedroom outside. We would definately recommend this villa to anyone looking for a place in Cozumel, in fact we did just that to a couple that we met at the airport on the way home. LIFE IS GOOD!!!

Slovak/Hickerson Wedding Party

Susan S. from Ennis United States, 07. July 2011

Stayed for 5 days in June, 2011

This was a perfect place for the wedding party to stay! Lots of memories were made here. It was so convenient to Mr. Sancho's (where the wedding was) and to the Iberostar (where all of the guests stayed). It was really nice to have our private pool on the beach! I highly recommend it!!

John S. from United States, 21. June 2011

Stayed for 7 days in June, 2011

Dr. Bergman enjoyed his stay very much.

Windjammer Travel A. from Edgewater United States, 04. April 2011

Stayed for 7 days in March, 2011

Rothsay Canada, 21. February 2011

Stayed for 7 days in February, 2011

we loved the spacious house, use of Kayaks, hammocks, pool, and location. Would definitely return.

Outstanding facility and staff. I can't recommend the Villa Yak Alil highly enough. If you want a beautiful home with your own beach access along with very helpful staff this is the perfect place.

Doug D. from Bellvue US, 15. December 2010

Stayed for 3 days in December, 2010

Amazing vacation!

Aaron K. from Casper United States, 12. December 2010

Stayed for 7 days in December, 2010

Had a wonderful stay at Villa Yak'alil! The on site caretakers Jackie and David kept the house and grounds clean and were most helpful with anything else we needed. We used the cook service and can't say enough about how good it was. We are definitely planning a return trip in the near future.

Allison H. from Ellicott City United States, 16. July 2010

Stayed for 9 days in June, 2010

Vacation Palace

Jamey D. from Andover US, 14. June 2010

Stayed for 7 days in June, 2010

We've stayed in numerous villas in Mexico and this is the best kept place . The manager ws very helpful and the cooks were awesome. Kids rode the water bikesand kayaks daily. They rode next to dolphins with a baby on the last day. Great ending to a great vacation.

Cozumel May 2010

William T. from Pinetop United States, 18. May 2010

Stayed for 7 days in May, 2010

The house was much better than depicted in the photos available online. Anyone looking for a relaxing time on the beach will love it. Great for large families or multiple familes. The cooking service was well worth the additional money.

Dennis K. from Hill City United States, 10. May 2010

Stayed for 6 days in April, 2010

Great time at Villa Yak'alil - 3/13 thru 3/20.

Linda F. from Waukesha United States, 25. March 2010

Stayed for 7 days in March, 2010

Villa Yak'alil is wonderfully spacious and elegant. A great accommodation for our family of 8 adults and 4 childen. Cozumel is a great destination, and the villa exceeded all expectations. Jacqui took very good care of everybody and everything.

Ironman Cozumel 2009

Chelsea K. from Austin United States, 02. December 2009

Stayed for 7 days in November, 2009

What an incredible trip! Thank you so much to Jackie who made everything so easy on my family! We would have liked to have had an oven or a grill, but other than that it was an absolutely wonderful time!

cozumel getaway

David A. from Spring United States, 25. August 2009

Stayed for 5 days in August, 2009

great house, location, and staff

Best Trip Yet

Muskego United States, 17. March 2009

Stayed for 7 days in March, 2009

Second time to this property. New owners have made significant changes/upgrades making this our best trip yet to the island. Everything was superb!!!

Great Time

William A. from Forest Lake United States, 09. March 2009

Stayed for 7 days in February, 2009

Our whole clan (11 of us) enjoyed our week at Yak'alil very much. It was the best of the 3 Villas we have used. Jackie was the best ever.

Julie B. from Redmond United States, 27. February 2009

Stayed for 12 days in February, 2009

Christmas is Cozumel!!

Laine L. from Hamlin United States, 12. January 2009

Stayed for 6 days in December, 2008

WOW....what better way to spend Christmas. When we (16 adults & 1 baby) arrrived at the house it was so much more than I had expected. The house itself is beautiful and spacious. The ocean view is breath-taking. We took full advantage of the cook service and the meals were wonderful. It was great to wake up and know that someone was downstairs cooking breakfast. Suppertime was just as good, when at the end of the day we all gathered around the tables. We rented bicyles for the week, went scuba diving from San Franscico beach, twice, and also visited Chichen Itza. Jackie was wonderful in so many ways and helped with our spanish translating skills. Thank you "At Home in Cozumel" we had a wonderful time :)

Cozumel Trip

Lisa W. from Goodlettsville United States, 05. January 2009

Stayed for 7 days in December, 2008

The villa and staff were outstanding! The beach was beautiful and within close proximity to several public beaches. I highly recommend this property (especially the cooks!)! One complaint was broken beach chairs but that was easy to overcome. We will be back.

EXCELLENT! Would go back anytime!!!!!!!!!!!

Annette L. from Rio Rancho United States, 18. December 2008

Stayed for 10 days in November, 2008

Lane B. from Fraser United States, 03. December 2008

Stayed for 4 days in November, 2008

Jackie was amazing, 5 stars doesn't begin to accurately charectorize how helpful, attentive and kind she was. Anything we needed she provided and gave us ideas and resources we hadn't thought of. Our stay wouldn't have been the same without her.

WOW!!!!!

Jim K. from Huntington Beach United States, 13. November 2008

Stayed for 10 days in October, 2008

I have to say you never know exactly what you might be getting yourself into when booking a vacation home online. But I have to say that this house was everything they said it would be and more. From the moment we arrived we treated like family. Jackie who lives on the property and takes care of the house was so amazing. She will make your stay in Cozumel a better experience. She kept the house so clean and was always there when we needed her. There were 10 of who stayed at the house. We had more than enough room.
One of the highlights of the trip was our cook Luis. I highly recommend having a cook for the house. Everyday he was there bright and early making us an amazing breakfast. Then would be back at anytime you wanted to make us dinner. He always had such a big smile on his face. ALso many of us were diving on the trip. There is a pier within walking distance of the house that your dive company could pick us up at and drop us off at after the dive.
So to sum it up. We all had such a blast staying at Villa Yak'all.
We will be back there again very soon.

Best vacation ever

Victor O. from Little Rock United States, 21. October 2008

Stayed for 7 days in September, 2008

I love Cozumel! Locals are fantastic and their is so much to see and do. This is my 2nd booking with at home in Cozumel & both have exceeded my expectations. The Yak Allil was fabulous, I'm amazed at how cheap it is to rent a house of the caliber!!!

Paradise minus appliances

Courtney L. from Greencastle United States, 06. October 2008

Stayed for 7 days in September, 2008

The house was beautiful and our group of eight loved it. Jackie and Javier were very helpful and nice. Jackie especially was at our beck and call for any problems or concerns. HOWEVER, we were very disappointed to arrive to an ice maker that made about 10 cubes of ice a day and a freezer that took a day to make a tray of cubes. It cost use about $20 just to get some bags of ice to use the fist day since we didn't rent a car and had to send for it. Additionally, the oven didn't work at all. Only one side of the toaster worked, but they did replace that within a day or two. About halfway though our stay the microwave also broke and wasn't replaced until the day we were leaving. The roof leaked in several places and a fan in the larger of the main floor bedroom makes a banging noise that makes sleep difficult.
All in all, I think we just had some bad luck. We certainly made the best of it and still had a wonderful vacation, but all of the problems certainly made things inconvenient. I think the ice situation should have been taken care of without a charge to us.

Campbell/Graves Review

DONALD C. from Charlottesville United States, 01. July 2008

Stayed for 7 days in June, 2008

Perfect place to spend a family vacation!

Anna D. from Salem United States, 09. June 2008

Stayed for 7 days in May, 2008

The pictures on the website do not adequately show how great this house is. It far exceeded our expectations. The rooms are spacious. The view is terrific. Jackie, the caretaker, is wonderful and does a great job of keeping the house in order and answering any questions. We had 3 families and 2 babies and had a most memorable vacation. We would love to come back.

Response from At Home In Cozumel Inc

30. June 2008

Thanks for the perfect score. We tried and tried to get pictures that do the house justice but that's past our skill level. It was always a great house, but the new owners have taken it to an even higher level. Come back real soon.

Had a FANTASTIC time!

Algonquin United States, 14. April 2008

Stayed for 7 days in February, 2008

We have found how and where we want to travel to Mexico going forward. Staying at Villa Yak'alil was truly a memorial experience. The house is fantastic and Yackie makes it all the better. Make sure to do the cooks service and we recommend Edna! We'll be back for many years to come! Cannot wait until next year!!

Two Weeks in a Palace

Smithfield United States, 14. April 2008

Stayed for 14 days in January, 2008

This is an extrodinary home - every bedroom is fantastic! Two weeks of Mexican food was a bit much - perhaps every other day would have been better. Our ccok was great, the house well managed. MUST get the ice maker fixed!!! Phone to US did not work, internet very, very slow. Property landscaping was very well maintained on daily basis, house was kept very clean daily. This property is a great value for its cost and can sleep 8 adults very easily plus a few kids.

Shockey's Trip to Cozumel

Patty S. from Rupert United States, 13. April 2008

Stayed for 7 days in June, 2007

The staff and property was fabulous. We couldn't have been treated better. Luis the cook was awesome. I have already recommended it to others from Idaho and we are planning our next trip back asap. Thank you for a great trip.

GREAT HOUSE

Linda B. from Brownsville United States, 13. April 2008

Stayed for 7 days in May, 2007

Great place to stay with family or friends. I wished I could have stayed longer than a week. I would recommend this house to my friends. You definetly need to rent a car but it is very easy to get around Cozumel.

Don E. from Piedmont United States, 10. April 2008

Stayed for 7 days in January, 2008

The view was spectacular, the house lovely, the caretaker and her son delightful.

Edward M. from Bayport United States, 09. April 2008

Stayed for 9 days in March, 2007

We had a very nice stay and became quite taken with the caretaker and her son. They were just delightful. We did have a series of electrical and redridgeration problem that made things a little tense but the caretaker Jackie worked hard to resove these as did the property manager.

Great Stay!

Donny W. from St Charles United States, 09. April 2008

Stayed for 9 days in May, 2007

We had a wonderful time Villa Yak'alil. The home is wonderful and the location is beautiful! I can't wait to go back!

Villa Yak alil

Leslie N. from Great Falls United States, 09. April 2008

Stayed for 7 days in March, 2008

We are already talking about renting "our" villa again next year. It was a wonderful experience. Much cleaner (I'm fussy)and much more beautiful, than I thought it would be. Jackie was wonderful and was very helpful with hiring boats and giving advice.
Precise property address:
KM 12 Viejo Careterra Costera Sur
Cozumel
0 miles from San Francisco beach
Check in / out
Check in time
Check in after 3:00 PM (possibility to leave luggage in from )
Check out time
Check out by 10:00 AM (possibility to leave luggage in until )
Easy check in
Code locks or personal welcome allow you to go directly to ...
More info on check-in/out
Amenities
Amenities
Amenities
List of amenities in this specific property
List of amenities in this specific property
Culture

Lighthouse, Mayan Ruins, Museums

Entertainment

Big Screen TV, CD Player, Internet Connection: High Speed, Satellite Television, Wireless Internet

Family

Private Beach

Geographic

Beachfront, Close to Major Dive Sites, Exceptional Sunsets, Exceptional Views, Ocean Views, Oceanfront, On A Sandy Beach, Secluded, Unobstructed Ocean Views

Kitchen

Blender, Coffee Maker, Cook Service Recomended, Glassware and Utensils for 16 , Granite counter tops, Kitchen service for 16, Microwave, Oven, Propane Cooktop, Purified Water Provided, Refrigerator, Toaster
Living

Beach Towels, Ceiling Fans, Cook Service Available, Dining for 16, Fully Air Conditioned, Hairdryers in all Master Suites, Ironing Board, Linens, Maid Service 6 Days a Week, Safe

Outdoor

BBQ Grill, Balconies, Beach Chairs and Lounge Chairs, Directly on Sandy Beach, Freshwater Swimming Pool, Hammocks, Kayak, Outdoor Shower, Palapa (s), Private Freshwater Infinity Pool, Private Sandy Beach, Scuba Diving and Snorkeling, Volley Ball on the Beach
Find properties available for your stay dates
- Nearby properties you might be interested in.
Downloads
Additional information you might be interested in.