Search
Property detail & price proposal
Reserve
Thank you
Villa Ranas Sur 6 Bedroom Seafront Villa
6 BR Oceanfront Villa with Pool. Cook Svce Option. Spectacular Views!
6 Bedrooms for 16 guests (max. 16)
KM 14 Viejo Carretera Sur 400 Meters North Of Residencias Reef Condos, Cozumel
contact the manager
Call Annette
US 800-833-5971
or fill our mini-form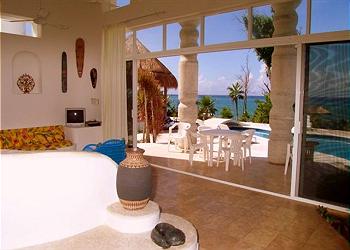 Description
VILLA RANAS SUR is a sea front home where blue and white dance in perfect harmony.
A well know architect and sculptor succeeded in blending fine lines and large spacious areas in beautiful Mexican flavor combined with Mediterranean style. It is more than a home..it is a piece of art!!
And to compliment the fine architecture, the owner added his personal touch of decoration.

There is lots of space in the house. It is functional space with various terraces and balconies facing the blue Caribbean Sea.

The house has 3 bedrooms and 3 suites.
All bedrooms and suites are individually air-conditioned and there are 5 bathrooms plus one half bath. The common areas including the living room, dining room and kitchen in the villa are ventilated by ceiling fans and have been designed with cross ventilation in mind. Meticulous care and tasteful attention has gone into this house's desig.


Ladder access to the ocean makes snorkeling off the property easy as pie!
Both Villa Ranas and its sister house Villa Iguanas can be rented together at a discount for groups of up to 30 guests.
SEE SISTER HOUSE "IGUANAS."

NOW WITH FREE CALLS TO THE USA, FREE LOCAL CALLS, HIGH SPEED WI FI! BRING YOUR LAPTOP!
Address

KM 14 Viejo Carretera Sur 400 Meters North Of Residencias Reef Condos,

Swimming pool

Freshwater Swimming Pool

Floor

0

Elevator

No
Bathrooms

5.5

Surface

4521 ft2

Sleeping arrangements

2 King, 7 Queen, 1 Twin, 3 Other
Reviews for this property
Great Spot and Amenities

Austin United States, 09. January 2023

Stayed for 7 days in December, 2022

The owner was helpful and communicative as we made our plans; recommended chef service was exceptional (Edgar & Daniel were amazing) and on-site groundskeeper (Elmer) was helpful as well. One recommendation would be to provide a binder on site with basic information (wifi access, how to walk to nearby beach, recommended gratuities, etc.); with language barrier, it took us a while to figure some things out upon arrival that should have been easily accessible. But the house is great for a large group and perfect location to get to everything, including diving right off the Dive Palancar pier.

Response from At Home In Cozumel Inc

16. January 2023

Glad you enjoyed your stay! There usually is a binder in the Villa but it must have been misplaced by the previous guests! We are getting a new one in there immediately! Sorry for any inconvenience this caused!. Hope to assist you with future travel plans!

Love Cozumel

Winnipeg CA, 16. February 2022

Stayed for 7 days in February, 2022

In the past we always stayed at the north end of the island. We decided to rent this large residence to have friends and family join us and experience the south end of Cozumel. We did this three years ago and Covid hit. The owners were very accommodating and allowed us to week extend to the next year. The next year was no better and they allowed us to extend to the third year. The communication between the owners and ourselves was excellent. We planned on having several people visit us but Covid reduced the numbers. This location is outstanding for divers. There is an excellent dive shop right beside the villa. Anyone staying here will need to have a Rent-A-Car to get to and from town. If you were a diver with a large group of friends this fella is perfect and the owners are very accommodating. However the cooking facilities and equipment Is tired

Amazing Vacation

Lou and Marianne R. from altamonte Springs Mexico, 15. December 2021

Stayed for 5 days in December, 2021

Place was awesome. Great location. Very clean.
Ana was attentive to all our needs. Edgar and Anita cooked for us daily. Food was amazing and the cleaned up each and every time. Ismael was ready and set up taxi's, shopping and any thing else we needed. Annette and Patti helped set up our vacation and were so informative and helpful. I highly recommend this place or any other place this company has to offer. We had 10 people in this home with room to spare. Thank you for a great time

Awesome!!!

ernest g. from McKinney United States, 12. June 2021

Stayed for 7 days in June, 2021

The property was fantastic and the location was perfect for us.

Response from At Home In Cozumel Inc

20. July 2021

Glad you had a great time! Come visit again soon!

Beautiful house!

Stacey B. from Austin US, 31. March 2021

Stayed for 3 days in March, 2021

Such a lovely house! About 20 min away from downtown, but quiet and peaceful! If you are diving, this house is prime location if you have a boat picking you up! It is next door to the Dive Palancar Pier, which is just $2 per person to use for boat access. Ana and her husband are the onsite care takers and are warm, caring and provided a very comfortable stay!

Response from At Home In Cozumel Inc

10. June 2021

We look forward to booking your next trip in Cozumel!

Beautiful villas, perfect location!

Debbie A. from Conroe United States, 04. August 2020

Stayed for 13 days in July, 2020

This is our second time to rent both villas and certainly will not be our last! Beautiful villas, very clean, perfect location. Ana and her husband are wonderful at answering any questions or addressing any issues and keep the property spotless. Thanks for an amazing stay!

Feb 22-26 2020

Rebecca M. from Cameron US, 05. March 2020

Stayed for 4 days in February, 2020

The house was very spacious and my family loved it! The property was clean, well maintained and we felt safe. The caretakers were very friendly and and helped us with anything we needed. We did have an issue with the stove as it was not explained to us on arrival, however they did take care of it first thing our second day.

Rena sur Cozumel

Brandon E. from Camden US, 21. July 2019

Stayed for 6 days in July, 2019

We enjoyed our time in the house! There were 3 couples and 4 kids . The house was in a good location off the beaten path but very accessible! The house was clean and the rooms are climate controlled. AC worked great in the rooms. We did not have hot water the first 4days and that was an inconvenience but we made it through it. Yet got it fixed and that was a big plus! We did the food plan breakfast and lunch and the food was amazing! I can't say enough about the food! This was our first time to rent a house in Cozumel and it's def a change from what we are use to but all in all it was a wonderful trip!! The couple that maintains the property we'regreat and very helpful! We have Ben to Cozumel probably 15 times and have always stayed at the presidenta and this was a change but for a large group of people I highly recommend it!!

Nice house. Good location

Kathryn T. from Tucson United States, 16. October 2018

Stayed for 4 days in October, 2018

Had a very nice time at this location. The only challenge was that there's no air conditioning in the communal space is. Air-conditioning is only in the bedrooms. This did lead to some discomfort at the dining table. But all in all it was a great trip. There's no beach at the actual site which was beneficial to us. We swim every night under the loan because we were able to access the water without having to walk over coral or was nice snuggling each day right off of the latter. On site staff was very does cost about $30 to get a taxi into town. We only did this once is everything we wanted was on the property. Going to town just put you in the masses of the cruiseship crowds. I would recommend this property if you're OK with no air-conditioning. We also did not have hot water the entire week.

Highly recommended!

Dominika N. from United States, 05. September 2018

Stayed for 4 days in August, 2018

Our family of about 30 stayed at the villas this past weekend. The view and scenery from the villas is beautiful, about 15 minutes away from downtown and within a short drive to the beaches. Sunsets are spectacular! Swimming and snorkeling is accessible right behind the villas and there's plentiful sea life to look at. The caretakers onsite and cleaning crew are very friendly and eager to assist. We loved our stay and were very happy with the accommodations.

Scuba Guys Stay April/May 2018

Dario D. from United States, 09. May 2018

Stayed for 7 days in April, 2018

Overall we enjoyed the property, great location and views especially very convenient for us divers as we were picked up and dropped off at pier right next door. Would do more to keep ants out of kitchen common area.. Also make sure a broom and dust pan are available to guests, for price, it would be nice if paper towels some coffee etc be included when first checking in.

Fantastic

John S. from Chaska United States, 04. April 2018

Stayed for 9 days in March, 2018

House was very clean and in a great location would defently come back

March 2018

David E. from San Antonio United States, 09. March 2018

Stayed for 3 days in March, 2018

We rented both Ranas and it's sister house Iguanas and they were both excellent houses to stay in. My family had a blast and we would go back.

Cozumel

merida Mexico, 11. October 2017

Stayed for 3 days in September, 2017

It was ok, good location, the house needs to be better taking care

Good location - it worked, but not exactly what we expected

Conroe United States, 19. June 2017

Stayed for 5 days in June, 2017

The house is in a very good location. The overall space is good. Room layout is a bit odd - though it will sleep a lot of people, you have to be ready to share quarters. The property management is very helpful. The house itself needs some deep cleaning and TLC.

Perfect place for a reunion!

Brenda and Charles F. from Jasper United States, 24. March 2017

Stayed for 7 days in March, 2017

We rented both the Ranas and the Iguanas. See my complete review under the Iguanas details.

Los Amigos Ski Club Scuba Trip

Weldon S. from United States, 18. October 2016

Stayed for 5 days in October, 2016

We had both Ranas and Iguanas. Excellent properties with outstanding location and access to the pier for dive boats. The contracted cook service was outstanding! Most of us were diving while the house staff was tending to rooms, so we never really saw them. As mentioned in the Iguanas review; many of us thought the beds were more comfortable than our previous trip (2012). Assuming new mattresses may have been there? Our trip ended on a Sunday, and with no new tenants coming in this day, or room service, our At Home in Cozumel rep (Annette) was very accommodating allowing us to hang out in the Villa a couple extra hours prior to departing for the airport. Much appreciated!

9 days in paradise

Trevor D. from Rocky Mountain Canada, 01. March 2016

Stayed for 9 days in February, 2016

28 of us stayed at both villas for 9 days for a family reunion and I must say It was priceless. The staff are very kind and will do anything for you. Our rooms were keep very clean and tidy the whole time. They do work really hard to make your stay welcome. I just wish I knew more Spanish to talk to them more. Ruben would even get us coconuts to sip on or mix drinks with. The property was is very good condition just like the pics, . The buildings were beautifull some of the patio doors didn't work well but that was just a small issue not even worth mentioning. Everything else in the buildings worked great for us. We cooked all meals there and they are stocked with all necessary items you would need. Including a big coffee pot,blender,toaster,two fridges,microwave. Perfect for our group. It's a little ways from town but we knew that and had rental cars as we were on the move everyday anyhow. If you did want a taxi to town they are close by and about 20 u.s. Dollars to town. Snorkelling from the property is quite good if you go by the pier there is hundreds of fish, if the pier is to busy just go along shore in front of villa and it's still very good not as many fish but still great for out your front door. My wife and I had the owners suite and its breath taking views will be missed, from our patio you can see for miles. You can see xcaret on the mainland and Tulum then get on the roof and you can see even further a great place for morning coffee and viewing the best sunsets you could ever ask for. I think everyone in our whole group would recommend these places in a heartbeat,they are huge comfortable and spotless. Annette from at home in Cozumel was easy to deal with and answered a ton of questions during or booking process sent us more pics of inside villas at our request. She will be highly recommended by anyone in our group. Thanks to all the staff that made this trip possible and the onsite staff that made us feel at home in Cozumel......

Location is awesome!

Jeff B. from North Fort Myers United States, 16. October 2015

Stayed for 5 days in October, 2015

Located about 15 minutes out of town. Right on the water. Spacious and well thought out. A dock 25 yards away for scuba pick up. On site staff is helpful.

A week at the Palace

St Louis United States, 25. January 2015

Stayed for 7 days in December, 2014

Villa was spacious for group of 11. Housekeepers did a good job cleaning. Alex the chef made the week most special, food delicious, even made alterations for our picky eater. Loved location on water and access to beach. Needed improvements: The master bedroom bed had extra padding which needs to be added to all the hard beds. Refrigerator should be replaced, barely chilled drinks. A second frig. should be added for a villa that holds this many guests, or smaller ones in each unit. Villa has peeling/worn off paint on entry doors, worn out, faded upholstery, missing art work, at least remove nails and patch holes. Exterior stucco is molded and needs power washing . Landscaping is so overgrown that only pockets of view can be seen, totally unlike the web pictures.
Directions need to be revised, the driveway is right after the scuba diver statue next door. The wall is white stucco, not brick and the landscaping has grown covering the Villa sign. We were lost for a good while in the dark. In spite of it all, we truly enjoyed our stay and would return with other guests if maintenance issues were tended to. It's the kind of place you would return to year after year. Also, Annette in customer service was most helpful. I would advise questioning the management before passing this one by. It was a stunning Villa at the time of the web pictures and could be again with a little TLC.


Great for Groups!

Vera R. from Condesa Mexico, 24. April 2014

Stayed for 5 days in March, 2014

We were a group of 20 and these two villas were perfect. Amenities were basic, but what more do you need when you have the Caribbean at your doorstep?! We rented both villas (I think it would be awkward only having one as they really are the same property) and so much deck and balcony space was scattered throughout they we rarely felt like such a large group. No hesitation in recommending these villas.

Family & Friends for a week

Lauren H. from Watertwon United States, 21. April 2014

Stayed for 7 days in March, 2014

We had a great trip. We had a group of family and friends totaling eleven adults. There were more than enough beds for everyone! A word to the wise though, the mattresses were quite firm. One person in our group read similar reviews and brought her own extra padding and slept like a baby. The bedrooms are well air conditioned.

The kitchen could use a little love though- we bought (and left in the house) a new sharp knife. Besides that one, they were all pretty dull. Additionally, there were no basics such as cooking oil and spices, as one might expect in such a vacation home. We easily remedied that situation though with a quick trip into town.

The pool was great. The daily maid service was exceptional- very professional and polite.

We couldn't have asked for a better week! Thank you At Home in Cozumel/VRBO!


Rental 4 of 5

Chris M. from Seattle United States, 20. September 2012

Stayed for 5 days in August, 2012

I personally stayed in the Ranas/Iguanas sister houses and had a great time. The houses are well laid out with the rooms spread out enough to give everyone their personal space. We also had our wedding and reception here for 45 guests and it was the perfect space. The beds were a bit hard but it's Mexico, what do you expect. We have already penciled in our 5 year anniversary in the Ranas/Iguanas because we had that much fun. We had a few minor issues that were generally attended to very quickly and the staff was good.

Loved the Houses!

Stacy L. from Monett United States, 17. May 2012

Stayed for 7 days in April, 2012

We rented both the Villa Ranas and the sister property Villa Iguanas. Both were gorgeous, and exceeded our expectations. The only thing that might improve the property is an outdoor grill.

Thanks for the memories!

Fantastic Way to Bring the New Year In!

Belton United States, 04. January 2012

Stayed for 7 days in December, 2011

Villa Ranas accomodations met the needs of 6 couples.
The outside pool area and grounds offered a great place for everyone to gather. Although we were not on the beach we had wonderful access to the water and snorkeling. An additional benefit was that we had easy access to a dock and dive operation.
Ruben and Maria were wonderful in taking care of our needs while there. The cook service was fantastic and would highly recommend it.
Cristina was very helpful in answering all of our questions.
Our group did not want to leave and look forward to coming back soon!

Family Vacation

Plymouth United States, 27. June 2011

Stayed for 7 days in June, 2011

My Husband and I took our 6 adult children and 2 of their spouses on a family vacation. We loved staying at the Villa because we could all be together yet, there was plenty of room for each to have privacy. Roberto and Maria were wonderful, always there to help and did a great job of keeping the villa clean. The website states there is a washer and dryer, however, they were not for guest use but Maria washed our clothes for us which was very nice. The accomodations were wonderful with the exception of a grill which would have been very useful as we did all our own cooking. We recommend the Villa Ranas Sur to everyone!!

Simone b. from Hampton Bays US, 06. June 2011

Stayed for 7 days in May, 2011

Good location for a dive trip

Robert B. from United States, 10. May 2011

Stayed for 7 days in April, 2011

The location and villa were pretty good. We had no problems and enjoyed ourselves. The property is large enough that you can get-away from the group when you want to. The only negatives were that the property could use a barbeque grill (even a cheap one!) and it needs a few more outside chairs / lounges.

Great stay. We will return!

Ted D. from Phoenix United States, 30. November 2010

Stayed for 8 days in November, 2010

Our cook Lucy was fantastic. Her assistant Candi was very nice.
Victor went out of his way to help us with anything we asked (even though he oversaw the Iguanas property) He was extremely kind and helpful.
However, the one thing that I would like to see improve is the beds. They were very hard and not comfortable.

Dawn H. from Shelbyville United States, 06. July 2010

Stayed for 8 days in June, 2010

The dive boat was able to pick us up right near the property which was wonderful. We found out that if you walk to San Fransisco Beach after 5 you could use the water activities free. The pool was awesome. We really enjoyed that fact that there was not anyone staying in the Iguana Sur so we had the pool all to ourselves.

Villa Ranas with 13 family members

Connie H. from Woodland United States, 14. June 2010

Stayed for 7 days in June, 2010

The Villa Ranas is lovely and in a beautiful spot. The caretakers, Maria and Rober were very good and took great care of the house. We had a wonderful time. There were 2 things that need improvement. The beds are all incredibly hard and all the guests complained about that. Also, there is no BBQ. The addition of a gas grill would have been great. We would have cooked outside instead of in the house. Overall, this was a wonderful place to stay and I woudl recommend it

John H. from Fairhope United States, 18. December 2009

Stayed for 7 days in November, 2009

The on site chefs and assistants were great!!!!!!!!!! Very helpful, great cooks and gratious!!!!!

Oklahoma City United States, 04. June 2009

Stayed for 9 days in May, 2009

Gries stay at Villa Ranas

Robbie G. from Lakewood United States, 03. December 2008

Stayed for 7 days in November, 2008

Sign on front...TINY and difficult to find in the dark...esp since it is after Villa Iguanas and when driving, very difficult to see. Since our plane was 2 hours late, we got in after dark because we needed to stop at the store on the way.

Kitchen needs some real updating and cleaning. Shelves are a little dirty, especially where high and the staff cannot reach. Refridge door shuts poorly. Purified water was handy and good.
Toaster was broken and not replaced. Villa needs an electric juicer (places I have rented before had one). Knives were un-usable they were so dull...we bought some and left them. Bought extra glasses, as we needed larger ones...left them there.

Phone information not clear. Website said no long distance calls, note inside the villa said free long distance calls to US and Canda? Which one?
We didn't use it in either case.

"Message" about not putting toilet paper in commode was behind the doors...which means some did not read it as they did not close this door when in the private suites.

A dishwasher would be make this much nicer because we had to do dishes ourselves most of the time...breakfast dishes were generally the only ones for Maria to do.


Wonderful stay in cozumel.

Alin A. from La Habra United States, 01. December 2008

Stayed for 4 days in November, 2008

We did this trip primarily because we wanted to dive, but several people who came did not dive and rented scooters to go around the island. They had a great time too. This was a wonderful trip and the house made it worth it. My only complaint was that the pool was a little cold for my taste, but the house was impecable and we completely enjoyed our stay. I would recommend this house to anyone.

Llano United States, 17. November 2008

Stayed for 4 days in October, 2008

the caretakers were very friendly and helpful. we will be staying at this villa again.

ranas sur.. we're talkin' HOT!!!!!

Marilyn H. from Dallas United States, 26. August 2008

Stayed for 5 days in August, 2008

overall... a really neat house, one you like to explore. BUT.. the lack of air conditioning in the greatroom, ie., living, dining, and kitchen is a major drawback. maybe it was a bad time when we arrived, maybe there was no breeze, the sun was hot, who knows? it was devastatingly hot. even fulvio, when he came in to greet us (a very nice gesture indeed)was wringing with perspiration when he left the house. i understand NOW as he explained, you never advertised the house was fully air-conditioned.. but in this day and age, really now.. it's just expected. it was so hot we could not, as our family from disparate parts of the country likes to do, cook meals there and gather in the living room. that was disappointing. otherwise, the staff was very nice. so was the place, but just too..darned..hot!

I can not say enough about how beautiful and clean the property was. Luis and Ellie were OUTSTANDING and Victor could have not been anymore helpful and sweeter. I was married there and took 29 family, friends f7 days and it was the perfect place

Lindsey W. from Las Vegas United States, 18. August 2008

Stayed for 7 days in August, 2008

The only complaint I would have is there is no ac in the kitchen or living room, but the ac does work wonderfully in the rooms

Nice

Darrin M. from Tecumseh United States, 06. July 2008

Stayed for 7 days in June, 2008

Villas Ranas Sur

pearland United States, 17. June 2008

Stayed for 7 days in May, 2008

We had a wonderful time. We took our entire family! Twelve of us went. There was plenty of room. We loved it. Town was farther than I thought. Next time I would do my own grocery shopping. There is a large market in town.

Response from At Home In Cozumel Inc

30. June 2008

The owner of Ranas put a lot of thought and effort in maintinain his homel We're glad you liked it. Shopping for food in town is fun. But getting the cook service for a few days is fun too. Anyway, we hope to see you again soon.

Robert B. from Baltimore United States, 27. April 2008

Stayed for 7 days in December, 2007

This is an excellent property; large, light, and comfortable, with wonderful views. The snorkeling also was quite good. The location is excellent if you want a quiet spot about 15 minutes by car from down town, if you hire a cook (especially Isabelle), or if you like to cook yourself. The only potential drawback is the drive to town and restaurants. However, that was no drawback to us.

Great family vacation house!

Frank P. from St Louis United States, 12. April 2008

Stayed for 7 days in March, 2007
Precise property address:
KM 14 Viejo Carretera Sur 400 Meters North Of Residencias Reef Condos
Cozumel
0 miles from San Francisco beach
Check in / out
Check in time
Check in after 3:30 PM (possibility to leave luggage in from )
Check out time
Check out by 11:30 AM (possibility to leave luggage in until )
Easy check in
Code locks or personal welcome allow you to go directly to ...
More info on check-in/out
Amenities
Amenities
Amenities
List of amenities in this specific property
List of amenities in this specific property
Business

Jack Nicklaus Pro Course-11miles, Nearby ATM

Convenience

Convenience Store

Culture

Lighthouse, Mayan Ruins, Museums

Entertainment

CD Music System, DVD Player, Internet Access (bring laptop), Internet Connection: High Speed, Internet is Wireless or Ethernet, Satellite Television

Geographic

Exceptional Sunsets, Exceptional Views, Ocean Views, Oceanfront, Secluded

Kitchen

Blender, Coffee Maker, Cookware, Full Kitchen, Microwave, Oven, Purified Water Provided, Refrigerator, Stove, Toaster, Utensils
Living

Air-Conditioned Bedrooms, Ceiling Fans, Cook Service Available, Linens, Maid Service 6 Days a Week, Rooftop Solarium, Safe, Telephone for Local Calls Only

Outdoor

Beach Walking, Dive Shop 150 Meters, Freshwater Swimming Pool, Hammocks, Jet Ski Rental, Ocean Kayaking, Outdoor Shower, Palapa (s), Parasailing, Pier for Dive Boat Pick Up, Scuba Diving, Sight-Seeing, Snorkeling , Swimming, Walk to Beach Restaurants
Find properties available for your stay dates
- Nearby properties you might be interested in.
Downloads
Additional information you might be interested in.