Search
Property detail & price proposal
Reserve
Thank you
Villa Las Uvas 5 Bedroom Villa
Oceanview Villa with Private Pool. Cook Svce Option. Brilliant Views!
5 Bedrooms for 14 guests (max. 14)
KM 11.0 Viejo Carretera Costera Sur, Cozumel
contact the manager
Call Annette
US 800-833-5971
or fill our mini-form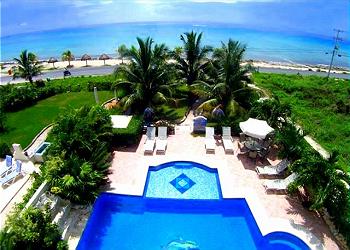 Description
Oceanview Villa with 5 air conditioned bedrooms, freshwater pool, and Uvas beach area, which is accessed across a quiet residential road.

Villa Las Uvas accommodates 14 guests comfortably and offers a unique homey environment decorated with furniture from Guadalajara and marble/granite accents to satisfy anyone's Caribbean dream vacation. Your stay will become a tradition and each time you return, you will find more treasures.

You may just wish to stay put and enjoy the full amenities of the Villa's expansive living and dining space, freshwater pool or beach area. Alternatively, you can explore the beautiful island.

The Villa's south shore location is the prime spot to enjoy what Jacques Cousteau said is one of the largest coral reef formations in the world! Enjoy the snorkel and divers' haven, as well as other water sports such as kayaking and sailing. These activities are accessible at Uvas beach or a 10 minute drive into downtown Cozumel. The Chankanaab National Underwater Park is also a short 15 minute walk away. You can also visit the Mayan ruins to learn about the history of Cozumel. FOR LARGE GROUPS YOU CAN ALSO RENT THE BRAND NEW UVAS II CONDOS AS BEAUTIFUL AS THE HOME AND RIGHT NEXT DOOR. THEY CAN ACCOMODATE AN ADDITIONAL 14-18 GUESTS!!!! FOR A GROUP TOTAL OF 30 GUESTS!!!!! Approval needed for guests under 10 years of age
Address

KM 11.0 Viejo Carretera Costera Sur,

Swimming pool

Private Freshwater Swimming Pool

Floor

0

Elevator

No
Bathrooms

5

Surface

0 ft2

Sleeping arrangements

2 King, 1 Queen, 4 Double/Full Bed
Reviews for this property
Winter vaca

Omaha Unknown, 06. January 2020

Stayed for 7 days in December, 2019

Nice pool. Across from water, small beach, decent for snorkeling. Bring your own beach towels and ask for bath towels. Not too close to main town, but not too far either.

Nice Villa

David B. from fishers US, 19. August 2019

Stayed for 4 days in August, 2019

My family really enjoyed out stay at Villa Las Uvas.
The onsite pool is very nice.

perfect vacation

janet z. from Columbus United States, 26. March 2018

Stayed for 7 days in March, 2018

The house was great, very clean and had everything we needed. We did buy beach towels for the pool. Toro and Maggie were fabulous..helpful and great cooks.

Perfect option for groups of couples

Jose D. from Laredo United States, 03. December 2015

Stayed for 5 days in November, 2015

Perfect, the house was very big and spacious, AC on the main area would have been great to have though

Group of 10

Edinburg United States, 01. June 2015

Stayed for 3 days in May, 2015

A group of us stayed during the month of May 2015. The inside of the villa was very clean and spacious fo the 10 of us. The backyard had a beautiful view and a great pool. I thought the location was good. There are a few places around the area and the main shopping center is not far via taxi. The only complaint was the front outside area, almost seemed to be under construction. There was no grass it was all rocks and dirt which made it seem dirty. Other than that it's an awesome place to stay. And the management was very nice and professional.

Wonderful Property - The Perfect Vacation

Preston H. from Davison United States, 28. April 2014

Stayed for 6 days in April, 2014

Villa Las Uvas in Cozumel was a wonderful home for my family to stay during Spring Break. Location was nearly perfect, Beach front, just a short drive from town yet still somewhat remote. Close to many great vacation activities and attractions. When renting a home, I expect nice clean accommodations, but not the Ritz, and this home did not disappoint. Beautiful home,with everything you could want and a very friendly and helpful staff.

Great accommodations!

Dieppe Canada, 13. January 2014

Stayed for 7 days in December, 2013

Our stay at Las Uvas was great. The on site caretakers (Ambrosio & Jennie) we're excellent and made sure that our family was comfortable. This property is ideal for a special family gathering. Our three grandchildren were delighted with the pool.

Beautiful Villa with an Amazing View

Lupe A. from Addison United States, 20. May 2013

Stayed for 5 days in May, 2013

This villa is clean and definitely spacious. The upstairs look out was great for catching the sunset. Plenty of room for everyone in this home. Pool area was terrific...we used it everyday. Just a short drive to downtown. The villas caretakers were most friendly and attentive to all our needs.

Welcome

Cypress United States, 07. April 2013

Stayed for 6 days in March, 2013

the husband and wife team were very nice and welcoming. Not crazy about Luis.

Fantastic Digs!

Ryan M. from Charleston United States, 20. February 2013

Stayed for 7 days in January, 2013

We arrived early and were accommodated by both the rental company and the housekeepers! They were professional, friendly and genuine. The house was clean, fully stocked and blew us all away. A lovely vacation home that leaves little to be desired. The housekeepers ensure that you have your privacy and clean each day that you require. Wonderful folks! We will most certainly entertain the idea of staying at Villa Las Uvas again, because we know we'll be in Cozumel on holiday a few more times!! Highly recommend going to Veradero Beach Bar next door (literally) and talking to Freddy. Good food, but unbelievable service! In this regard, Villa Las Uvas is PERFECTLY located!!

Vacation Paradise!!

Lynda W. from Phelps United States, 27. February 2012

Stayed for 7 days in February, 2012

We thoroughly enjoyed our stay at Villa Las Uvas!! It was just a ten minute drive to town on a quiet road across from a secluded beach. We were able to take walks on the road to Chankanaab State Marine Park where we swam with dolphins and snorkeled. We also snorkeled right across the road from Villa Las Uvas. The pool was sparkly clear and a great family place to gather. There were many nice restaurants nearby; a favorite was the Money Bar. We enjoyed many activities nearby such as Fly High (zipline), Tucan Sailing and Wild Adventures ATV tour in El Cedral. The highlight of our experience was the friendships we made with our wonderful cooks, Yeni and Ambrosio, and their four lovely children. The Mexican cuisine that they prepared for breakfast and lunch was beyond delicious. It was a great experience for our children to sample it as well as to interact with others who mainly speak Spanish to learn more about their culture. I would definitely recommend the cook service. This is the best place I have ever had the opportunity and priveledge to call home and I will be back!!

excellent stay, and would like book again, first week of dec!!! thank you!!!!!

Carol H. from Beverly Frams United States, 04. April 2011

Stayed for 7 days in March, 2011

Cozumel 2010

David M. from Inman US, 22. February 2010

Stayed for 7 days in February, 2010

Overall enjoyed our stay at Las Uvas. Only complaints were the lack of a washer and dryer which I would expect at this price level and the bed linens were very cheap.

The location was away from the town which was nice but only a ten minute ride. There was a smell when we first arrived which smelled like a pesticide was sprayed but it eventually dissipated (or we got use to it).

Perfect

Jeff G. from Bolton United States, 31. March 2009

Stayed for 9 days in February, 2009

It was exactly what we were looking for.

A great place to relax!

Beaumont United States, 15. March 2009

Stayed for 6 days in March, 2009

We all had a wonderful time and would like very much to visit again.

Villa Las Uvas is Fantastic!

Lana B. from Richmond United States, 06. January 2009

Stayed for 7 days in December, 2008

We stayed for a week at Villa Las Uvas with a family group of 7 of us. The house was better than what we could have possibly imagined! The location is also wonderful: right across from the beach but close to a few popular bars, restaurants, hotels and snorkel places. The people taking care of us were also fantastic and took care of us extremely well. BEWARE HOWEVER: We went on a fishing trip and caught a Barracuda and although the fisherguide "tested" it, we ate it and all came down with Ciguatera, a very serious toxin that put us in the mexican emergency room! Yikes. Do not risk eating reef fish in mexico, it was aweful.

Dream Vacation in Cozumel

Melissa C. from Sterling United States, 14. April 2008

Stayed for 4 days in March, 2008

What a beautiful property. We thoroughly enjoyed our stay at Villa Las Uvas. The house was beautiful and the grounds very well kept. We all enjoyed the pool table, big screen tv with surround sound, and the pool. The cook service was delicious. Thanks for an unforgettable vacation.

It was a great home, great location and was treated wonderful by the staff.

Joy B. from Cypress United States, 09. April 2008

Stayed for 5 days in March, 2007

Jill G. from King City Canada, 09. April 2008

Stayed for 9 days in March, 2008
Precise property address:
KM 11.0 Viejo Carretera Costera Sur
Cozumel
5 miles from San Francisco beach
Check in / out
Check in time
Check in after 3:30 PM (possibility to leave luggage in from )
Check out time
Check out by 11:30 AM (possibility to leave luggage in until )
Easy check in
Code locks or personal welcome allow you to go directly to ...
More info on check-in/out
Amenities
Amenities
Amenities
List of amenities in this specific property
List of amenities in this specific property
Business

Nearby ATM, Nearby Golf Course, Nearby Post Office

Convenience

On-site fitness center

Culture

Lighthouse, Mayan Ruins, Museums

Entertainment

Big Screen TV, Billiards Table, Board Games and Puzzles, Cable Television, DVD Movies, DVD Player, Internet Connection: High Speed, Satellite Television, Stereo System, Surround Sound System, Television in 2 bedrooms, Wireless Internet

Family

Beach , Children under 10 not allowed

Geographic

Across a Quiet Road From Beach, Close to Major Dive Sites, Exceptional Sunsets, Exceptional Views, Ocean Views, Short Walk to Beach

Kitchen

Blender, Breakfast Bar, Coffee Maker, Cookware, Full Kitchen, George Foreman Grill, Granite counter tops, Microwave, Oven, Purified Water Provided, Refrigerator, Stove, Toaster, Utensils
Living

Air-Conditioned Bedrooms, Breakfast Bar, Bring your own beach towels, Ceiling Fans, Cook Service Available, Dining Table w/Chairs for 8, FREE LONG DISTANCE to US or Can, Free outgoing local calls, Hair Dryer, Ironing Board, Linens, Maid Service 6 Days a Week, Non-Smoking Unit, Safe, Smoking on Terraces Only, Walk to Restaurants

Outdoor

BBQ Grill, Balcony, Beach Walking, Beachcombing, Dive Boat Pick-Up Adjacent Beach, Ocean Kayaking, Palapa (s), Private Freshwater Swimming Pool, Scuba Diving, Short walk to Restaurants, Snorkeling , Swimming, Walk to Beach Restaurants
Find properties available for your stay dates
- Nearby properties you might be interested in.
Downloads
Additional information you might be interested in.