Search
Property detail & price proposal
Reserve
Thank you
Villa Las Glorias 5 Bedroom
Villa Las Glorias 5 Bedroom Directly on the San Francisco Beach
5 Bedrooms for 12 guests (max. 12)
KM 14.150 Carretera Costera Sur Between Residencias Reef Condo and Playa San Francisco, Cozumel
contact the manager
Call Annette
US 800-833-5971
or fill our mini-form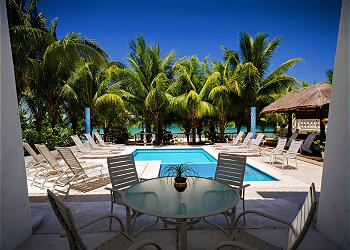 Description
The GLORIOUS Villa Las Glorias is back on our inventory and ready to be reserved once again for your vacation in Paradise. This spacious 5 Bedroom home is located right on Cozumel's San Francisco Beach and is complete with beach side patios, balconies, and its own private pool with palapa tiki hut overlooking the amazing ocean. Imagine a vacation where you can enjoy the tranquility of the Caribbean but yet in only steps away at the beach clubs you have access to jet ski's, parasailing, rock wall/trampoline/slide on the water, and many other water sports that can be enjoyed by yourself or with your family. You can walk for miles on beautiful, soft, white sand lapped by turquoise Caribbean water. FREE HIGH SPEED INTERNET WIFI, FULLY AIR CONDITIONED WITH INDIVIDUAL CONTROLS/UNITS IN ALL BEDROOMS. ENGLISH SPEAKING CARETAKERS INCLUDED. Meal plan optional! New mattresses, HD TV, and FREE local calls. There is a long grand entrance driveway to bring you to the house itself. At the entrance, there is a guard house where the staff live. There is a palapa-covered parking area big enough for two cars.
Address

KM 14.150 Carretera Costera Sur Between Residencias Reef Condo and Playa San Francisco,

Swimming pool

Private Freshwater Swimming Pool

Floor

0

Elevator

No
Bathrooms

4.5

Surface

5382 ft2

Sleeping arrangements

2 King, 2 Queen, 2 Double/Full Bed
Reviews for this property
Great vacation

Lisa F. from Laguna Beach United States, 05. January 2022

Stayed for 7 days in December, 2021

The home is in a beautiful location. Alex was great cook and so helpful.

Amazing home

Ana R. from Casa Grande United States, 26. October 2021

Stayed for 7 days in October, 2021

The house is absolutely gorgeous, we love the location, the beds are pretty comfortable. Clean and quiet making it a perfect week of relaxation. The living room furniture is a little hard so hanging out with our family at night is not ideal. Other than that, we are in love with the house.

Great rental

Julie J. from Niwot United States, 28. June 2021

Stayed for 5 days in June, 2021

The house was perfect with a Great location right on beach. Our family of 4 (2 teens) was very happy with this house.
Kitchen well stocked; A/C units keep house very comfortable; pool and pool furniture nice. The couches in living room area are not cozy at all. But we were hardly ever sitting down or hanging out in that room. If you're wanting comfy couches or a nice space to sit and watch TV or read...you might want a different rental. We wouls definitely rent again.


Response from At Home In Cozumel Inc

20. July 2021

Glad to hear you had a great time!

family of 7

Edmond US, 31. July 2019

Stayed for 7 days in July, 2019

great location! Away from downtown and the cruise ships. Great beach right in the backyard! House and pool were perfect for us. Alex was great and on top of anything we needed.

las glorias

ana l g. from del rio US, 11. June 2019

Stayed for 7 days in June, 2019

was awsome, maybe more clean but was perfect.
nice helpers

Villa Las Glorias

Maragret B. from Sherborn United States, 14. January 2016

Stayed for 7 days in December, 2015

We had a wonderful stay over Christmas week at Villa Las Glorias. The beachfront location is beautiful although you cannot swim right out in front due to the ironstone. Alex and his wife who live on the property are great. His meals were excellent, plentiful, and always on time. Local Yucatan cuisine. Liz cleaned and made the beds. The pool is small but nice. There are lots of all-inclusive beach clubs right down the beach if you want activities and noise. This villa is among a group of 4 and slightly back from the beach which was nice. We were able to meet the dive company right down the beach at a pier. Incredible diving and snorkeling off of Cozumel. Nothing to see right off the villa beach though. It is best to have a rental car to explore the island, go to other beaches and get into town for shopping or restaurants. The weather was perfect the entire week! We would like to return.

Great Family Vacation

Mark H. from Prospect United States, 22. July 2015

Stayed for 7 days in June, 2015

Great location and outstanding cook (Alex). House needs TLC (outside paint, pool lights not working, speakers outside broke, bed linens need to be updated, light bulbs burned out)
Would recommend the Whale Shark snorkel experience on Cancun. The dolphin experience was also enjoyable. Used Scuba Tony for diving and it was great. Alex, the cook, was amazing. If you get the house I highly recommend his food service.

Fantastic Vacation!

Debbie F. from Lake Dallas United States, 19. May 2014

Stayed for 7 days in April, 2014

We stayed at this villa for seven days awesome location. Our caretaker Alex was the best took great care of us all and is an amazing chef his family is amazing also. Alfredo Baez the manager of the property was checking on us to see if we needed help with tours and taxis and arranged for us to be taken to the airport the last day. We will be back because of the location, cleanliness and service. We had an amazing time. Thanks again Alex and Alfredo!

3 generation family vacation

Roie H. from Calgary Canada, 06. March 2014

Stayed for 9 days in February, 2014

Villa Las Glorias was an excellent choice for our 9 day vacation. There were 10 of us which included a 70 year old and a 6 month old and every age in between and we all had a get-away place to be alone, or not depending on what was happening. The bedrooms were adequate with air conditioning, etc. The kitchen was also adequate for 10 people. We did cook most dinners and all breakfasts. Some went fishing and caught dinner for us one night. We also had a bonfire on the beach one night and cooked hot dogs and s'moors. What a great experience for the kids. We only rented one car which worked fine, if all of us wanted to go to town then we got cabs. (14 km from town and cost about $15)
The location of the house to the beach is amazing, loved every minute being able to sit and watch the sunset and all the other activity on the beach. Liz and Alec were a jewel in the whole cozumel experience with info on what to do and where to go to see the culture, also about what fish to catch. We were there during Carnival and made reservations at the Thirsty Cougar for a table for dinner and see the parade. Fantastic way the enjoy it all. Thanks so much to Alec for adding to our good time. At Home in Cozumel representative ( can't remember his name) was also a wealth of information. They came by twice in the 9 days to see if everything was okay. Very nice touch. Never felt abandoned, even though nothing went wrong.
Loved this place and would definitely go back.

It was fantastic!

Boise United States, 08. February 2014

Stayed for 6 days in January, 2014

We really enjoyed our stay at Villa Las Glorias. Alex, the caretaker was amazing. He kept the place clean and helped us get to town to buy groceries. HE also made us an amazing meal one night. A beautiful white sand beach is directly in front of the house. The pool is great. You can walk to several beach clubs for food or drink if you want. The Carlos and Charlies is 2 doors down but is only busy during the daylight hours when the cruise boats are visiting. It then quiets down at sunset. The dive boats can pick you up at the dock about 1/2 block down the beach. We loved our vacation there.... we had 12 adults and the house was plenty big for us. The only thing that needs improvement is the stove, if you are a foodie, you may be challenged by the gas stove-top.

Overall Great Experience at Villa Las Glorias!

Sara K. from Eagan United States, 06. January 2014

Stayed for 7 days in December, 2013

Overall great experience! worked great for a party of 14 with kids, teens and adults! Great location - liked being out of downtown on great sandy beach with a nice pool and ability to snorkel right from beach! Few items to improve: roof was leaking last few days due to rain...also ran out of toilet paper and there wasn't a stock pile in the house? Also there is a dishwasher but no one told us to bring our own detergent for it...only sam's club carries it on the island. Wasn't told staff was off for New Year's Day - not a big deal but would have been nice to know going in versus the day before. We were unclear about exactly what cleaning took place and when - sheets changed, towels replaced wasn't every other day consistently,. Roting deck under palapa was concerning with kids around...staff was very nice though!

Good, not great

Beachwood United States, 31. December 2013

Stayed for 7 days in December, 2013

We were a group of 11 that stayed here in December 2013. Had a great time and want to share some feedback:

Pros
Great location, right on the beach. Away from town, so that has to work for you.
Big house, plenty of common space.
Like having a pool, we hung on the chairs around the pool a lot.
Wifi worked ok. At times some of us couldn't get on but we had a lot of devices going.
Annette, who helped with reservations, was great.

Cons
House seemed 'tired'. BBQ was on its last legs, dishwasher was old, kitchen supplies were cheap and limited, shower controls in the master were either broker or hard to work, toilet dripped, lights that don't work, exterior needs painting, etc.
House works best with 10 people. They were nice and brought in an air mattress for our 11th. Dining room table seats 8.
After a few days they let us use the washer/dryer, but typically just reserve them for the caretakers to use for linens.
Side road to get to the house is full of potholes.
Getting cabs to show up were a challenge a few times. Once you find a good cab driver just arrange for them to keep picking you up.

NICE VACATIONS

JUAN CARLOS L. from Monterrey Mexico, 08. August 2013

Stayed for 14 days in July, 2013

I would like to expend another week in Quinta Las Glorias soon.

Lovely House, Great location, Nice Beach

John P. from Austin United States, 05. July 2013

Stayed for 7 days in June, 2013

House was lovely. Can't beat the view, sandy beaches, nice pool. Steps away from a couple of beach clubs - so you can eat or get a few drinks. Prices were a little high, but so convenient. Rooms were a nice size and clean. Beds were comfortable but pillows were a little lumpy. Water pressure was good and water was warm. Only downside is the wifi isn't very strong so you must sit downstairs next to the router to get service. Otherwise, no complaints! Great home - Alex and Liz were fabulous. Recommend hiring the chef (Alex) - his food was amazing! Worth every penny. Was a bit $$ catching a cab into town ($15 each way) and Pizza can't be delivered (too far out) -- but for the views, it is totally worth it! Lots of activities at the beach clubs too you are interested- parasailing, jet skies, boating, fishing, diving, etc.

Everything not quite as expected

Timothy S. from Olmstead Falls United States, 03. April 2013

Stayed for 9 days in March, 2013

House and grounds are beautiful. The house had issues, such as non-working TV's (tough when it rains), non-functioning stove pilots (dangerous) and other small items. The biggest issue was not being able to directly get into the ocean (wear water shoes!!!) and the fact that the restaurants that were supposed to be open for dinner closed at 4:00! Alex, who takes care of the house, is very accommodating, but his English makes it difficult sometimes for him to fix things.......

Perfect Location, Great Home . . . We would definitely return

Choctaw United States, 09. March 2013

Stayed for 5 days in March, 2013

We researched many, many options before deciding on Villa Las Glorias. It was perfect for our family.
Location: The location on San Francisco Beach was wonderful. About 15 minutes from the airport. The beach is right outside the villa. The beach entry is a bit rocky on entry, but there is plenty of great sand for play. Just to the south is a busy beach club, with parasailing, waverunners, etc. Your family will not be bored.
Food: We elected to do the cook service. WOW! Lucy was amazing! We only did 3 days of service, but would probably do the whole week next time. Every meal was wonderful, even for some of our picky eaters. Everything was fresh, made from scratch . . . the sauces, tortillas. WOW. If you are debating on food service, just do it.
Diving: This location is perfect for diving, as the majority of reefs are within 10 minutes of San Francisco Beach. The dive operators will (should) pick you up at the nearby pier--about a 5 minute walk.
Staff: Alex, the caretaker, was great. As another reviewer mentioned, yes, he is around every day. That is his job! He made sure the pool area was clean, the house was impeccable. He and his family were very kind. I did not feel he was intrusive in any way.
The Home: This 5 bedroom home is really neat. It has a truly Mexican flare, with beautiful artwork. If I had to find a "needs improvement" area, I would say the linens could use an update, and the pillows were not the best.
Groceries: We made several grocery store trips for snacks, drinks, etc. Although the Mega is fairly easy to navigate, I would use a shopping service next time and pay the 20%.

All is all, a wonderful trip! We were all very pleased with the Villa Las Glorias. Would I return to this property? Absolutely.

Great location for divers - mixed experience for the money spent

Danville United States, 26. January 2013

Stayed for 6 days in January, 2013

Pros-great location for diving, swimable beachfront
Cons-annoying on-site mgmt constantly around;
Next to beach clubs catering to cruise ships, a/c unit in masterbedroom was very loud; Lucy from the cook service was outstanding!

Great place to stay

Gail W. from La Plata US, 14. October 2012

Stayed for 9 days in October, 2012

The five of us spent a wonderful 9 days at Villa Las Glorias.This was our second time staying at this Villa. Liz and Alejandro take great pride in keeping the Villa in spotless condition.Our dive boat Cha Cha Cha,picked us up and droped us of at the beach just a few yards away. The pool was wonderful and there was amble furniture to use outside. We rented a van and went to our favorite places in town to eat, El Mora and of course Mezcalito's.
This was another great vacation in Cozumel.

Great Vacation

Sarah N. from United States, 18. July 2012

Stayed for 7 days in July, 2012

Everything was great. Only downfall was that the internet went down the day before our vacation ended when we needed it most to make changes to flights due to delays. We had to go next door and use their internet. Phone didn't work so we had to use our cell phones.

Cozumel Diving Vacation

Nina W. from Little Rock United States, 02. July 2012

Stayed for 7 days in June, 2012

My family greatly enjoyed the Villa Las Glorias. The house is large and beautiful, and the surrounding property makes it a true paradise. The location was great for us as our dive boat picked us up every day right at the pier just a few yards away. We definitely plan on using the Villa Las Glorias next time we visit Cozumel.

A Scubadero Getaway

Nels W. from Capitola United States, 12. March 2012

Stayed for 7 days in March, 2012

A great villa on a beautiful beach for our 10 person reunion. Nice pool. Wonderful staff. Only complaint concerned maintenance issues (inoperative oven, WiFi chronically down, 9 dining room chairs for 10 guests, poor selection of glassware). Regardless, it is a great place to rent and the staff is first class. We scuba dived daily with Living Underwater who picked us up at a nearby dock. Two thumbs up.

Response from At Home In Cozumel Inc

11. June 2012

Thanks for your input regarding our home. We are glad you enjoyed your stay. Just to let you know we have replaced both the oven and the dishwasher. We have also upgraded our wifi connection which will provide a more stable signal in the future. Please come visit us again!

Lovely Villa. Very well set up. Stayed a week and had a great time.

David M. from Easton United States, 22. July 2011

Stayed for 7 days in June, 2011

Reason for 3 -star rating on "location".

Beaumont United States, 17. July 2011

Stayed for 5 days in July, 2011

We have been renting from At Home in Cozumel for over 10 years. We love the location of the villas near San Francisco beach - they are well kept and have great layouts for families - we also love the beachside pools. The management company is first rate, been in the business for along time, with a very fine staff. Our only issue was unfortunately one of the beach bars has moved very close to villa Glorias - the rap music all day was not for us old folks. Next time we will probably rent Villa Dos or Villa Chango which are a bit further away from the music. All in all, another great stay in Cozumel.

Jason H. from United States, 14. April 2011

Stayed for 8 days in March, 2011

The house and location were excellent! Alex was outstanding and helped to make our stay even more enjoyable.

Had a wonderful time with extended family in this beautiful home situated on a beautiful beach.

austin United States, 21. March 2011

Stayed for 7 days in March, 2011

James B. from United States, 30. April 2010

Stayed for 5 days in April, 2010

Villa Great, Staff not so much

Houston United States, 30. June 2008

Stayed for 6 days in June, 2008

The villa was excellent. The cooks made the week with their delicious dishes. The one bad mark was their primary contact in Cozumel - Javier. He was rude, gave lots of misinformation and overall was not helpful. If he were replaced, I would have given an all 5 star experience.

Response from At Home In Cozumel Inc

07. August 2008

Great House, great cook staff, great caretakers. The incorrect information about tours and horsebackriding excursions was our fault. I am sorry Javier didnt have the up to date information. I hope your holiday wasnt marred by any mix-up related to his mistakes. He extends his apology, and will try to make it up to you next time.

Gorgeous View, Tranquil, Very comfortable

Longview United States, 28. April 2008

Stayed for 7 days in April, 2007

enjoyed our stay and would recommend this property! hopefully the construction behind us will be fininshed, not noisy, just not great for first time drive in appearance

Over our expectation !!

Charles M. from Boucherville Canada, 27. April 2008

Stayed for 14 days in July, 2007

Every year our group (13 peoples 6 adults and 7 kids) we rent a house for 2 weeks in July. In 2007 we stayed at Villa Las Glorias in Cozumel. Everybody in the group still talk about our trip the house is spacious, lots of space, well maintained and especially well located. You do have to walk 150 feet for sand access to the ocean but you have great snorkling in front of the Glorias lots of fish and if your lucky small sea ray. We took the meal service it's a must great food and service the staff wil make your stay a relaxing experience. By car or taxi you're less than 10 miles (14 Km) from el centro or national park. A experience to repeat.

Lara T. from Austin United States, 12. April 2008

Stayed for 6 days in March, 2007

Darin D. from Austin United States, 10. April 2008

Stayed for 6 days in April, 2007

Villa Las Glorias

Benet S. from Austin United States, 09. April 2008

Stayed for 7 days in March, 2008

My primary complaint, as we have rented this property twice, was that the pool was not working properly and was not clear for our entire vacation. It was not this way the previous year, so I have to assume that the pump/filter needs repair or replacement. Secondly, the house adjacent was rented out to a photographer that spent the entire week photographing nude models. As we took this trip with young children and the properties are side by side, this made for some awkward moments as these women were walking around all day fully nude. Otherwise, the vacation was wonderful.

Las Glorias in Cozumel

Boulder United States, 09. April 2008

Stayed for 7 days in March, 2008

You couild tell the house had been used ALOT for a rental property. The beds were very hard & very uncomfortable, as was the furniture . No water pressure in the showers. The pool was nice, as was the location , but overall would not rent this house again.
Precise property address:
KM 14.150 Carretera Costera Sur Between Residencias Reef Condo and Playa San Francisco
Cozumel
0 miles from San Francisco beach
Check in / out
Check in time
Check in after 3:30 PM (possibility to leave luggage in from )
Check out time
Check out by 11:30 AM (possibility to leave luggage in until )
Easy check in
Code locks or personal welcome allow you to go directly to ...
More info on check-in/out
Amenities
Amenities
Amenities
List of amenities in this specific property
List of amenities in this specific property
Business

Golf Course within 11 miles

Culture

Lighthouse, Mayan Ruins, Military Base, Museums, Soccer Stadium, Theatre

Entertainment

40" Flat Screen Television, Board Games and Puzzles, CD Player, Cable Television, DVD Player, Flat Screen Television, Internet Connection: High Speed, Plasma TV, Stereo System, Television, VCR, Wi Fi Hotspot, Wireless Internet, iPod charger/player

Geographic

Beachfront, Exceptional Sunsets, Ocean Views, Oceanfront, On Beach

Kitchen

Blender, Breakfast Bar, Ceramic Tile Counter Tops, Coffee Maker, Cookware, Dishwasher, Full Kitchen, Microwave, Oven, Purified Water Provided, Refrigerator, Stove, Toaster, Utensils
Living

Beach Towels, Breakfast Bar, Ceiling Fans, Cook Service Available, Dishwasher, FREE LONG DISTANCE to US or Can, Free outgoing local calls, Fully Air Conditioned, Ironing Board, Linens, Maid Service 6 Days a Week, Non-Smoking Unit, Safe, Smoking on Terraces Only

Outdoor

Balcony, Beach Chairs, Beach Volleyball, Beach Walking, Beachcombing, Deep Sea Fishing, Directly on Sandy Beach, Dive Boat Pick-Up Adjacent Beach, Gas Grill, Jet Ski Rental, Ocean Kayaking, Outdoor Shower, Palapa (s), Private Freshwater Swimming Pool, Scuba Diving, Snorkeling , Swimming, Walk to Beach Restaurants
Find properties available for your stay dates
- Nearby properties you might be interested in.
Downloads
Additional information you might be interested in.