Search
Property detail & price proposal
Reserve
Thank you
Villa Iguanas Sur 5 Bedrooms
Oceanfront Villa with Pool. Cook Service Option. Spectacular Views
5 Bedrooms for 14 guests (max. 14)
KM 14 Viejo Carretera Sur 300 Meters North Of Residencias Reef Condos, Cozumel
contact the manager
Call Annette
US 800-833-5971
or fill our mini-form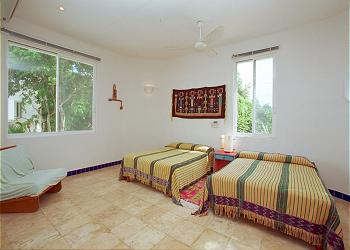 Description
The Villa Iguanas Sur is a seafront home that holds 3 bedrooms and 2 suites; both suites have private entry.
All of the bedrooms are air-conditioned and have complete baths. The common areas including the living room, dining room and kitchen in the villa are ventilated by ceiling fans and have been designed with cross ventilation in mind. Ladder access to the ocean makes it easy to snorkel right off premise!

There is a huge communal roof top terrace. Being at the highest point in the vicinity, it offers unparalleled vistas and sunsets.


Both Villa Iguanas and its sister house Villa Ranas can be rented together at a discount for groups of up to 30 guests.
CLICK HERE TO SEE SISTER HOUSE "RANAS."
Address

KM 14 Viejo Carretera Sur 300 Meters North Of Residencias Reef Condos,

Swimming pool

Freshwater Swimming Pool

Floor

0

Elevator

No
Bathrooms

5.5

Surface

0 ft2

Sleeping arrangements

1 King, 6 Queen, 2 Other
Reviews for this property
A week with family

Jerry K. from Rochester United States, 27. February 2023

Stayed for 7 days in February, 2023

Our stay at Villa Iguana Sur was perfect for our 3 generations. Good cooks, helpful caretaker, beautiful site, and lovely accommodations. Our dive master picked us up at the pier next to the property, and mid to late afternoons were spent talking and playing games by the pool.

Awesome rental and staff!!!

Lou and Marianne R. from altamonte Springs Mexico, 15. December 2021

Stayed for 5 days in December, 2021

Great location. Plenty of room and the staff were awesome. Ana is attentive to all your needs. Ismael is Johnny on the spot for all your shopping needs and more. We also had both Edgar and Anita cook for us daily. The food was amazing and they cleaned up each and every time. They made our stay feel like we were all so special. Annette and Patti helped book and plan our stay. They were amazing. I would highly recommend staying here or at any other of their properties. I would go back in a heartbeat. Every bedroom was ice cold and comfortable. A great place if you have a lot of guest. Were had 10 in this home and there was room to spare!!

Fabulous!

Aliso Viejo United States, 29. November 2021

Stayed for 3 days in November, 2021

The home was beautiful and quiet. The pool and lush gardens were amazing. No beach.
The directions should be updated as was difficult to find the property- turn right at residencias reef, go past secrets then 1km and property has large white walls gated on the left. If you get to costa Del sol you've gone too far. Ishmael is no longer the caretaker so could not call for location. Ana is new caretaker and was lovely.
Pier access for boat tour- walk through garden to palancar divers' pier.
We would stay again.

Beautiful villas, perfect location!

Debbie A. from Conroe United States, 05. August 2020

Stayed for 13 days in July, 2020

This is our second time to rent both villas and certainly will not be our last! Beautiful villas, very clean, perfect location. Ana and her husband are wonderful at answering any questions or addressing any issues and keep the property spotless. Thanks for an amazing stay!

Wonder Week in Paradise

Allison B. from Mendenhall United States, 20. March 2020

Stayed for 6 days in March, 2020

The house is HUGE. Several families can stay comfortably. The view is amazing. The snorkeling right behind the house is great. The housekeepers are great. Anna that lives behind the houses speakes great English and is available if needed. The taxis are stationed just a few half a mile or so from the house so it's easy to go into town. I could not have asked for anything better.

Wonderful home & staff

Karen W. from Park City US, 11. June 2019

Stayed for 7 days in June, 2019

We thoroughly enjoyed our stay at Villa Iguana for a two-family dive trip in June. The home's layout worked great with 5 spacious bedrooms dispersed throughout the house providing privacy and comfort. The views from every room were incredible and most had large private balconies overlooking the ocean. Anna and Sayib the caretakers were wonderful!!! They helped us arrange chef meals a few nights and transportation when needed, super helpful and kept the home and bedrooms immaculate. They were extremely welcoming, friendly and helpful. We had been concerned about the main rooms lacking AC, but the breezes through the home were fine. Bedrooms all nicely air conditioned. The pool was fantastic and the home location next to a dive pier was a huge benefit for our Dive Master to pick our group up each day ($2 per person fee paid at dock to access) we enjoyed the snorkel area from house steps too. Overall a

Great House

Nicole H. from Vancouver United States, 29. March 2019

Stayed for 7 days in March, 2019

Loved this house it was perfect for our group of 9. The house was super clean and location was amazing. Anna and her husband live onsite and take care of the houses. They were wonderful! We went with the cook option for the week sooooo amazing! Marsella and Ferandis were our cooks and they were unbelievable every day they would come twice to cook amazing authentic food. We felt so spoiled and loved it so much we hardly left the house. There is a dock next door so you can set up a dive boat to pick you up there (small fee). I would recommend getting a car since its pretty far to town but we never had a problem getting a taxi if you didnt want to drive. The property management company was very attentive. Thanks for the great vacation cant wait to stay there again.

Igunas-Raunas One of the best stays in Cozumel!

Shirley Simolari D. from CT United States, 02. March 2019

Stayed for 11 days in February, 2019

My sister and I rented this lovely home for the two of us! With a few other guests who came for a few days. I recently sold my home in Cozumel and wanted to go back to enjoy a stay without the hassle of being a homeowner, I am so happy Annette from AHIC recommended this spot for us! From the minute we arrived we were cared for by the home keepers Anna and Sahib. They went out of their way consists to make sure we had what we needed to be over the moon content from sunrise to sunset! The first few days were very windy and Sahib worked tirelessly to keep the pool spotless for us and he worked constantly around the grounds maintaining the gardens with a smile. Anna kept everything fluffed and buffed on the inside and always asked if everything was okay and asked if we needed anything. Being a former home owner on the island with employees, I'd have to say I would hire them in an instant to work with me. What a beautiful couple to have attending to guests and property. We will return again in the future and would love to rent both Igunas&Raunas with lots of guests. The views are spectacular, the grounds are private and well kept. We lived the colorful Igunas, like no other on the island. The birds are also very colorful and plentiful. We had a small gathering of friends from the neighborhood as this was very close to the property we sold. Our friends will surely look to rent this for their families in the future. The property had everything we needed to cook in which is our preference. Thank you Annette and a double the gratitude to Anna and Sahib. Truly a gem with the caretakers who really care about the guests and the property. It's not always about the place that makes the difference. It's about the people who care! Fondly, Shirl Simolari

Exceeding Expectations

Mike M. from Evans United States, 05. November 2018

Stayed for 5 days in October, 2018

The villa was much larger and more spacious than advertised. The couple that watch over the place were exceptional. ZERO complaints. ZERO!!

March 2018

David E. from San Antonio United States, 09. March 2018

Stayed for 3 days in March, 2018

We rented this house and it's sister house Ranas and both houses were excellent. My family loved these houses.

GREAT FAMILY VACATION IN COZUMEL

Arnoldo S. from Garza Garcia Mexico, 17. April 2017

Stayed for 7 days in April, 2017

The house is in a great location, outside of town and very close to beautiful places to dive!
The house was clean and confortable!
The cook service was nice! the lady that did the cleaning was wonderful!!
We will repeat this vacation again!

Perfect property for a reunion!

Brenda and Charles F. from Jasper United States, 24. March 2017

Stayed for 7 days in March, 2017

We rented both the Iguanas and the Ranas for a family vacation and couldn't have been more pleased. I had read a few reviews that were less than totally favorable so I didn't really know what to expect, but upon arrival was pleasantly surprised. The properties are obviously not new but we're in very good repair, both functionally and cosmetically. We had previously spent a lot of time in Cozumel and were able to find our own cook through friends there, thus saving a lot of money over the offered food service. I had read about the beds being hard, and while they were very firm, I slept well and awoke refreshed. The staff were all friendly and helpful, with the quarters and grounds cleaned promptly every day except Sunday. That posed a small problem in that not only did the beds not get made that day, but they left no garbage bags, etc. for the extra day. I would suggest that the maid service needs to include Sunday. I would also clear all the underbrush between the houses and the water to improve the view. Other than that there were really no problems worth mentioning and we had a great time. I would definitely rent again if I needed a facility of that size. I would not consider renting one of the houses without the other, it would be a little awkward with strangers in the other house. They really are more like one property consisting of two houses. They are really close together. As far the temperature, we were there in March and the outside temperature was perfect, so the fact that only the bedrooms were air conditioned didn't matter.

Villa Iranians Sur 5

Larry & Adrienne B. from Detroit Lakes United States, 17. January 2017

Stayed for 8 days in December, 2016

We had 14 people in our group. We enjoyed the house, pool and the snorkeling. The kitchen was lacking with equipment but we purchased items or got by.

Los Amigos Ski Club Scuba Trip

Weldon S. from United States, 18. October 2016

Stayed for 5 days in October, 2016

Overall, very pleased. The villa was just as I recalled from 2 previous trips. We had an air conditioning issue the first day; but it was quickly resolved. Many of us thought the beds were more comfortable than our last stay in 2012. Assume there were some new mattresses. That was very good!

A relaxing time with my girls!

ASHLEY T. from SAN MATEO United States, 17. August 2016

Stayed for 3 days in July, 2016

A group of 14 stayed at Villa Iguanas for 4 days in July. The house was perfect for our group and the staff was very friendly! We didn't use the house chef since it was such a short stay but it seems to come highly recommended. The house was very clean and Ruben took great care of the grounds. If I ever return to Cozumel I will definitely use At Home in Cozumel.

9 days in paradise

Trevor D. from Rocky Mountain Canada, 01. March 2016

Stayed for 9 days in February, 2016

28 of us stayed at both villas for 9 days for a family reunion and I must say It was priceless. The staff are very kind and will do anything for you. Our rooms were keep very clean and tidy the whole time. They do work really hard to make your stay welcome. I just wish I knew more Spanish to talk to them more. Ruben would even get us coconuts to sip on or mix drinks with. The property was is very good condition just like the pics. The buildings were beautifull some of the patio doors didn't work well but that was just a small issue not even worth mentioning. Everything else in the buildings worked great for us. We cooked all meals there and they are stocked with all necessary items you would need. Including a big coffee pot,blender,toaster,two fridges,microwave. Perfect for our group. It's a little ways from town but we knew that and had rental cars as we were on the move everyday anyhow. If you did want a taxi to town they are close by and about 20 u.s. Dollars to town. Snorkelling from the property is quite good if you go by the pier there is hundreds of fish, if the pier is to busy just go along shore in front of villa and it's still very good not as many fish but still great for out your front door. My wife and I had the owners suite and its breath taking views will be missed, from our patio you can see for miles. You can see xcaret on the mainland and Tulum then get on the roof and you can see even further a great place for morning coffee and viewing the best sunsets you could ever ask for. I think everyone in our whole group would recommend these places in a heartbeat,they are huge comfortable and spotless. Annette from at home in Cozumel was easy to deal with and answered a ton of questions during or booking process sent us more pics of inside villas at our request. She will be highly recommended by anyone in our group. Thanks to all the staff that made this trip possible and the onsite staff that made us feel at home in Cozumel......

Beautiful place but dated for the price $$$

Jason G. from Okotoks Canada, 01. February 2016

Stayed for 10 days in December, 2015

We stayed over the Christmas holidays with two other families. The house is older and so it is in need of some upgrading. The linens and towels are something to be desired. We had to conserve the towels and reuse for several days...which is fine but our shower leaked everywhere so we needed to use our towels to dry the floor constantly. We did have some of our won towels from home so that helped our cause. We are very easy going people so if we are mentioning this it is a concern. The staff were very friendly and helpful if we asked for anything.
We had a chef come in and it was a great experience. They cooked enough food to feed and army and it was really delicious. I would recommend the service. We would not stay here agin because the location is a bit too far from town for us but on the flip side it is closer to the beaches and ocean. So if you have a rental car this is great. We all felt some updates, new towels, sheets, dishes and cups are in much need. If those things were handled the home would be great. For the cost it is definitely a let down.

Nice Villa with great sunsets. Must choose the CHEF option

Tracy H. from Cincinnati United States, 06. January 2015

Stayed for 8 days in December, 2014

My family of 21 travels to Mexico every year, over the New Year. Some were at a villa down the road (wish we were able to get Ranas next door). This was the first time we used the "Chefs" and it was the best thing. I don't know how we survived in years past. They worked with us on the menu ahead of time to simplify some of the meals since we had a lot of picky eaters. But it was awesome having breakfast ready every morning and being able to stay outside and watch the sunset every night, then returning to a prepared meal. They also brought the food with them and cleaned up after. This option is a MUST. As far as the house, it was nice. A typical Mexican Villa. We are used to hard beds and not enough hot water, but nothing that would stop us from returning in the future. The pool was a lot of fun and the toddler loved playing on the shallow ledge around the entire pool. Bring your water shoes for snorkeling out back. The ladder into the water is now a sturdy metal one (not like in some of the pictures). The 3 year old was able to do the ladder, as was the 65 year old grandma. We used noodles to hold ourselves up while snorkeling and it was something we did every day. I just wish there was a sandy beach too - that was the only thing missing from this property. This is the first time we got a rental car. It was worth it for running to the grocery store, getting ice, and people going in to town for sightseeing.

What a Way to Celebrate a 60th Birthday

Colleen W. from Charleston United States, 22. May 2014

Stayed for 7 days in May, 2014

A group of 12 stayed in this beautiful house for a week to celebrate one guest's 60th birthday. Loved the quiet location, the wonderful pool and ocean, and the food service was FANTASTIC. We would love to come back! and may do so in a few years.

Iguanas

Lerryn T. from Coweta United States, 12. June 2013

Stayed for 7 days in June, 2013

It was interesting because we rented Iguanas and Ranas Sur. Iguanas seemed to be more up to date but more importantly did not have the same leakage issues the other house did.

Spring break

Kathleen J. from Salt Lake City United States, 05. April 2013

Stayed for 6 days in March, 2013

My family stayed at Villa Iguana for our spring break last week. The home is perfect for a large group or a family. We had a terrific trip. The meal plan was definitely the way to go and our food was excellent. Everything was easy and seamless, it was relaxing, private and we would love to plan a return trip. The beds are hard and the towels are old and fraying but other than that we were able to completely relax and enjoy ourselves.

Iguanas Sur

Peter M. from United States, 30. November 2012

Stayed for 8 days in November, 2012

Perfect place to stay for Ironman Cozumel. Food plan was a no brainer. Would stay here again in a heartbeat. Dock right out front where the scuba boat picked us up too post race, how cool, would suggest to anyone on a scuba trip to stay here too, or for any other trip for that matter.

Rental 5 of 5

Chris M. from Seattle United States, 20. September 2012

Stayed for 5 days in August, 2012

I will repeat my review of Ranas here as we basically considered the two houses 1 huge house:

I personally stayed in the Ranas/Iguanas sister houses and had a great time. The houses are well laid out with the rooms spread out enough to give everyone their personal space. We also had our wedding and reception here for 45 guests and it was the perfect space. The beds were a bit hard but it's Mexico, what do you expect. We have already penciled in our 5 year anniversary in the Ranas/Iguanas because we had that much fun. We had a few minor issues that were generally attended to very quickly and the staff was good.

We were planning on staying at The Presidente Hotel but with 29 people comming the cost was too much, we found this villa on an internet search and this was exactly what we needed. This place is fantastic. We had guests from all ove the globe come to

James S. from Salisbury United States, 16. August 2010

Stayed for 7 days in July, 2010

our wedding there at the villa. Lots of space, The 3 cooks were excellent, making authentic mexican food. We will be back some day, a great place to gather with friends.Cozumel is a great island, easy to get around by car and so much to see. The east coast has breathtaking views and small beach bars open during the day. The west coast has beach clubs and the resorts and villas. This villa was perfect, so much better then if we booked a bunch of rooms at a resort. I cant't wait to go back, and get a group together to rent this villa. Thank you so much, Jim and Diane

Great location, but house had wierd layout

Heidi V. from University City United States, 19. April 2009

Stayed for 7 days in April, 2009

OUr stay here was good for a large group (12 people) but the bedroom/suites were strange: only 2 bedrooms entered via the main house. the others all required going outside. Provides good privacy but the 2 suites were overkill in terms of added kitchenettes/dining areas. Vincent and Ellie were very attentive as was Javier and the staff at . The kitchen was sparsely stocked (eg no corkscrew), no salt/pepper, no matches, etc. Living area was beautiful to look at but not very comfortable with built in couches, etc. Many lightbulbs were out and screens loose (letting in bugs at night but again, the staff were reponsive to things we reported. Loved the pool and grounds, very safe, well maintained. Great location just north of SanFrancisco beach.

Villa Ranas and Villa Iguana in Cozumel

Janet and Martin N. from East Setauket United States, 14. July 2008

Stayed for 7 days in June, 2008

Overall we really enjoyed our stay. It would have been more convenient a bit closer to town, but we were closer to great beaches which the entire family enjoyed. The kids really loved the floating trampolines and iceberg rock wall in the water. Snorkeling and jet skiing was terriffic, and some family members swam with the dolphins. The condos caretakers were all wonderful, worked very hard, and kept the villas spotless, We really enjoyed all the interesting ways Victors wife folded the towels into an animal or some sort. The views from the Villa were breathtaking! One evening there was an incident where someone wandered up into our pool area. We called our manager and he immediately sent someone over from next door, then showed up with security from the Wyndam. They found the intoxicated individual and escorted him home. They handled the incident very professionally and quickly. The staff took care of all our requests and were very friendly. It was a bit hot and humid in the main living areas of the house but the bedrooms were very comfortable. Overall, Cozumel is a friendly place with wonderful people. The furniture and artwork in the villa was lovely and interesting. The kitchen was a bit outdated and a few appliances in the kitchen could use replacement. Sorry I took so long for a review. Our luggage didn't return with us back to New York until two days later, so when the review just came I didn't think I was in the proper frame of mind to write. I was a bit frazzled! I would definitely recommend cozumel and the villas. Sincerely, Janet and Martin Nix and Family

Response from At Home In Cozumel Inc

18. July 2008

Hi Jan, Actually, thanks for your detailed review. We really appreciate it when our guests let us know details like yours. And we'e really glad you liked the villas. For a large group they are just about ideal. We hope to host you and your family again some time in Cozumel. Thanks Again. At Home in Cozumel

Cozumel Round 2

Leisa Q. from New Iberia United States, 06. July 2008

Stayed for 7 days in June, 2008

This is the second time we stayed at Iguana Sur. We went last year and had such a great time that we all went back for round 2. The house is really big and comfortable. It is a real layed back vacation. Everyone had a great time and we will be back for round 3 next year. The staff taking care of the house are awsome. We had 13 people this year with us and still had plenty of room. One room stayed empty the whole trip.I had nine teenagers with us from age 14 to 18 and they all agreed that this was the best vacation they have had. We will be back.

Ann M. from Kremmling United States, 26. May 2008

Stayed for 7 days in May, 2008

Memories are made at this home!

Kimberly Z. from River Forrest United States, 14. April 2008

Stayed for 7 days in July, 2007

A wonderful home. We stayed with our 2 kids and 3 other family couples. The pool was awesome. Great for Kids. We hope we can get back there someday. Need a car, far from groceries etc but with food in the house, you never need to leave. We have rented from At Home for years and they are great.
Precise property address:
KM 14 Viejo Carretera Sur 300 Meters North Of Residencias Reef Condos
Cozumel
1 minute from San Francisco beach
Check in / out
Check in time
Check in after 3:30 PM (possibility to leave luggage in from )
Check out time
Check out by 11:30 AM (possibility to leave luggage in until )
Easy check in
Code locks or personal welcome allow you to go directly to ...
More info on check-in/out
Amenities
Amenities
Amenities
List of amenities in this specific property
List of amenities in this specific property
Business

Golf Course within 11 miles

Culture

Mayan Ruins, Museums

Entertainment

CD Player, DVD Player, Internet Access (bring laptop), Internet Connection: High Speed, Internet is Wireless or Ethernet, Satellite Television, Television

Geographic

Exceptional Sunsets, Ocean Views, Oceanfront, Secluded
Kitchen

Blender, Coffee Maker, Cookware, Full Kitchen, Microwave, Oven, Refrigerator, Stove, Toaster, Utensils

Living

Air-Conditioned Bedrooms, Cook Service Available, FREE LONG DISTANCE to US or Can, Linens, Maid Service 6 Days a Week

Outdoor

Freshwater Swimming Pool, Scuba Diving, Snorkeling
Find properties available for your stay dates
- Nearby properties you might be interested in.
Downloads
Additional information you might be interested in.