Search
Property detail & price proposal
Reserve
Thank you
Villa Alegria 5 Bedroom Villa
Villa Alegria directly on San Francisco Beach with private pool!
5 Bedrooms for 12 guests (max. 12)
KM 14.150 Carretera Costera Sur Between Residencias Reef Condo and Playa San Francisco, Cozumel
contact the manager
Call Annette
US 800-833-5971
or fill our mini-form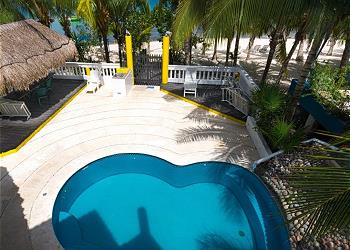 Description
You'll find Villa Alegria right on Cozumel's renowned San Francisco beach, a 5 BR home with its own private freshwater pool. Villa Alegria (fully air-conditioned) has been designed to take full advantage of its spectacular location. With multiple balconies you'll be able to take in the splendor of your surroundings both in and out of the tropic sun. The sunsets from the rooftop balcony cannot be beat and the swings and hammocks are always a hit! Beach Clubs right next door provides easy access to lunch, drinks and all water sports!
The house itself has been divided into 2 sections each with its own kitchen and living room (not to worry - only 1 group can occupy the house at any time). FREE LOCAL CALLS AND FREE LONG DISTANCE TO THE USA AND CANADA PLUS FREE HIGH SPEED INTERNET. For your comfort ALL of the mattresses and all the bedding has been redone!
Address

KM 14.150 Carretera Costera Sur Between Residencias Reef Condo and Playa San Francisco,

Swimming pool

Private Freshwater Swimming Pool

Floor

0

Elevator

No
Bathrooms

3

Surface

0 ft2

Sleeping arrangements

3 King, 4 Twin, 1 Other
Reviews for this property
It was pretty good!

Eastchester United States, 30. January 2023

Stayed for 6 days in December, 2022


Our family spent a lovely holiday break staying with At Home in Cozumel. While on vacation, things sometimes go wrong, but the experience is determined by the support you receive from your hosts and the actions they take to make it better. In our case, we had unusually extreme seasonal weather that revealed some previously unseen issues in the home we'd reserved. Although the issues were minor, the local staff was amazing in taking time -- on Christmas Day -- to work on a resolution as quickly as possible. And, in the meantime, the At Home in Cozumel team worked behind the scenes to immediately move us to another one of their properties that happened to be available. (Despite it being a larger property at a higher price point, there was no charge.) Most importantly, we experienced responsiveness and care from the whole team in the face of unforeseen events. They take good care of their properties and their guests, so we can recommend choosing them for your next stay.

Paradise

mark s. from Mexico, 20. June 2022

Stayed for 4 days in May, 2022

This place is Paradise! The location of the Villa is just a 15 taxi ride from downtown shopping, bars and restaurants. This is just far enough to escape into your own private paradise. We had 2 families stay at this beautiful Villa. Because of the layout of the house(s), each family had its own full living quarters. Each living quarter was well cared for and maintained throughout our stay. When we had rental car issues, the property management team located a rental car for us and withing 90 minutes had it delivered to the Villa. Talk about service! Tranquil morning walks along the beach as well as stunning sunsets were on display every day. It does not get any better than you own private freshwater pool!. Also, you can grab some fish tacos and Margaritas within a 5-10 minute walk on the beach.
No doubt we will be back!



Response from At Home In Cozumel Inc

24. June 2022

So glad to hear you enjoyed your stay! Let us know when you are ready to return to paradise!

3 family vacay

Lakeville US, 13. January 2020

Stayed for 7 days in January, 2020

We spent a week at Villa Alegria with 2 other families. 13 of us had a lovely time, in and around the villa. Ample space, great access to the beach, a well equipped kitchen and wonderful caretakers made for a great vacation! We really enjoyed enjoyed our stay!

Great family getaway

Redwood Falls United States, 23. March 2019

Stayed for 5 days in March, 2019

We enjoyed our stay with our whole family. We loved the location being close to restaurants and bars yet having our own private beach. The home accommodated our family of 11 people very nicely. The beds were comfortable and the house was very clean. Would come back to this house again.

Good Stay

Stilwell United States, 20. March 2018

Stayed for 7 days in March, 2018

This was a marvelous house for our stay in Cozumel. Despite being next to an area that was a little commercial, the activity died down in the afternoon and we always had a quiet and relaxing sunset. Wifi and AC were a little touch and go but that didn't matter much - we were there to be with family on the beach.

Blissfully Fun Girls Getaway!

Britta A. from Duncansville United States, 26. February 2018

Stayed for 7 days in February, 2018

We recently stayed at Villa Alegria for 7 days for an extended family girls trip! The villa was more than we could have ever expected! It is meticulously maintained and so well cared for. We opted for the chef option and could not have been more satisfied! Lucy and Candy would do anything to please the guests. We absolutely cannot wait to return! Do yourself a favor and book this! And get the in-villa masseuse one day to really treat yourself! You won't be disappointed! A vacation truly worth every penny!

Overall enjoyed my stay

Fort Worth United States, 14. August 2017

Stayed for 6 days in August, 2017

The house was clean and the pictures were accurate
The house is lacking in some maintenance. It rained during our stay and one of the 2nd floor windows leaked and flooded the stairwell and 1st floor in the main house. There were also several roof leaks that need to be fixed.
The beds were not very comfortable could use new mattresses or foam toppers

Mott/Rozell

Connie M. from Austin United States, 24. July 2017

Stayed for 7 days in July, 2017

Lucy and Norma made the stay. They are the most awesome chefs. Sylvia and her team keep the villa extremely clean.

Cozumel 2017

Pat U. from Metairie United States, 12. July 2017

Stayed for 8 days in July, 2017

Great vacation spot. Management and staff gave great customer service. Went out of their way to make our stay a great one. Beautiful scenery.


Just right

Heather I. from Discovery Bay United States, 27. March 2017

Stayed for 6 days in March, 2017

The villa is clean, well attended, and in a great location for those who want the option of walking to bars & restaurants. There is very little beach front solicitation, good snorkeling, amazing views, and beautiful decor. The staff were very helpful and the food was outstanding.

Villa Alegria Stay

Horseheads United States, 13. March 2017

Stayed for 7 days in February, 2017

The screen doors leading out to the pool area should all be replaced or repaired

Quick Family Getaway

Catherine B. from Atlanta United States, 30. October 2016

Stayed for 4 days in October, 2016

We LOVED the stay here at Villa Alegria! SO much space we couldn't even use it all! Was nice to have the two seperate living spacces and an extra kitchen on property. Great for grown families that need some space. The master bedroom was phenominal and had great views and the balconies were to die for! Over all the upkeep was good and the on site professionals were excellent. There is a little music from the neighbors but to us it was a HUGE positive as there are several bars and restaurants within walking distance. We love Cozumel and this was a great place to stay. Would recomend to anyone!

Model Home

Woodridge United States, 19. September 2016

Stayed for 4 days in August, 2016

Excellent all around experience. I am so happy I chose this home. Villa Alegria has everything you need in a luxurious space with private beach and pool.

Villa Alegria

Pat U. from Metairie United States, 12. July 2016

Stayed for 8 days in July, 2016

Overall good

Beach paradise

Loveland United States, 08. July 2016

Stayed for 4 days in June, 2016

What an amazing location! Right on the beautiful beach and next to the beach club restaurants / bars / activities. Very beautiful villa with lots of room and two separate sections. Staff were amazing, extremely courteous and nice.

We were arriving later than expected and no one was picking up the phone when I was trying to call, however the house keeper was waiting for us outside when we have arrived!

Be aware that all beach restaurants open after 8 and close at 5, but the beach is empty after that!

We had 5 people in our party, but this villa can easily accommodate 10 or more.

Paradise on the Beach

Pat U. from Metairie United States, 08. July 2015

Stayed for 7 days in June, 2015

Perfect location - on beach - beautiful. Right next to beach clubs/restaurants/jet skis. Terrific caretakers. Recommend to anyone looking for a paradise on the beach.

Walls-Villa Alegria

Adam W. from Chicago United States, 13. April 2015

Stayed for 8 days in April, 2015

The staff and accommodations, far exceeded expectations. House was clean, nice, and the location was great. Only critique I would offer is that the air conditioner in the master bedroom has a very loud humming / rattling that would remain for most of the time when we were sleeping. But overall, we had an amazing time, and the staff both in the states as well as Mexico were fantastic. Thank you.

A week in paradise

Abbotsford Canada, 23. February 2015

Stayed for 7 days in February, 2015

Forget your all inclusive vacations, and think Villa. Viva la Villa! Our family group holiday of 10 looked forward with anticipation to the villa shown in the pictures, but they were eclipsed by the reality of the lovely location and traditional Mexican buildings. The beach is just a few steps away, your own private pool whenever you feel like a dip, complete privacy, what more could you ask for? The decision to have in-villa meals provided by local ladies was something we all enjoyed, meals were varied, always served with a smile, in quantities that guaranteed a weight gain. The household janitorial staff were quiet and kept the villa "ship-shape" all week long. We would recommend this villa to any large family group. One word of caution, the beach is somewhat rocky, and rubber overshoes would be recommended for walking in the ocean

Awesome Vacation Home

Pat U. from Metairie United States, 09. July 2014

Stayed for 8 days in June, 2014

I was impressed with everything, except for the manager who was assigned to our home. We saw him briefly the first day. He did not show us anything or how anything worked. Electricity went out 6 times, not from weather, but main breaker kept on tripping. It's not in the house, it;s at the end of the road. Repairman came out twice, was not fixed, we finally got fed up and drove to the end of the road and tripped the breaker ourselves. Could stock house with more towels for so many people. Was clean, caretaker was wonderful, beautiful location & close to activities, etc. Great vacation home.

multi-generation family vacation

Detriot United States, 13. March 2012

Stayed for 8 days in March, 2012

This was our first time in Mexico with a group of 12 from 65 to 16 months. The villa was more than appropriate for four families. The catering service worked out well and made life easy. I didn't understand that laundry meant that the housekeeping folks would actually DO our laundry. This was great except that we had no access to dry wet swimsuits on the last day. If you only need half of the house, definitely ask for the 4 bedroom half. The third floor has the most remarkable balcony with hammocks and swings. Everyone wanted to be up there. The only drawback was location. This villa is almost on top of a private beach club. The music starts at 8 am and doesn't end until 10 pm. We had beach guests wander onto our patio daily but never had any particular problems with safety. A "private property" sign would have been nice. The concierge part was not thorough so you need to research where you want to go before asking for help with tickets.

Lovely house, perfect multiple families

burleson United States, 23. July 2011

Stayed for 6 days in July, 2011

My family loved our stay in the Villa Alegria. We are already making plans to return next summer! The bedroom arrangement was perfect for our two families and grandparents. Everyone had a comfortable bed with plenty of privacy. I can't describe all of the wonderful features of this home, but here are a few: the view is spectacular from the upper balconies (don't miss the sunset and the stargazing), the pool and patio area were fantastic, both kitchens were well equipped, and snorkling was good just steps from the patio. The home was very clean, and the staff was hepful and friendly. We found the businesses next door very nice and visited a few for drinks, food and water activities. The only negative for this property is the music directly next door. It was sometimes a little loud and not our choice of "beach" music.

Quinton F., 11. January 2011

Stayed for 7 days in January, 2011

The Anderson's of Minnesota review Villa Alegria

David A. from United States, 12. April 2010

Stayed for 7 days in April, 2010

April 3-10, 2010 was our 4th stay at Vila Alegria. Our first trip was in March of 2005. We have always had great stays, enjoying the swimming (in the pool & ocean)shopping, snorkeling, para sailing, and just relaxing in the Villa and veranda. Slvia & Enrique keep the place spotless and won't let you wash a dish or fold a towel while they are there,you're on vacation! Over the years the palm trees have grown uo around the villa offering great privacy, while a few steps away you are on the beach enjoying the beautiful ocean. The beach clubs next door offer a festive atmosphere during the day, and close at 5 pm for peaceful tranquilty. Its a great vacation where adults and kids can all find things to do. We will be back next year!

Great Place..but, Music from public Beach too loud.

Rothsay Canada, 09. March 2010

Stayed for 7 days in February, 2010

The music from public beach next door was blaring till 5:00pm every day. Get them to crank it down.

50th wedding anniversary in Cozumel

Barrington United States, 12. January 2010

Stayed for 7 days in December, 2009

All in all the property was wonderful, with a few inconveniences. The actual property needed some updating. The kitchens were not modern. One kitchen needed a new oven. And there was no dish washer. We did all our cooking, and we could have left dished for housekeeper, but we didn't want dirty kitchen all day and nite. Lighting not good for reading in bedrooms. Views from the house were outstanding, and grounds and pool were great. Property is located directly next to the public beach, which was o.k. Lots of people traffic, and the music was playing all day next door which got a little annoying. Next time we would fly directly into Cozumel instead of Cancun. We were misinformed that the ferry was every 1/2 hour or hour, but it was every 2 to 3 hours. Overall the house was adequate with tons of room, and was comfortable for all 10 adults.

Great stay in Cozumel

Ventura United States, 18. December 2009

Stayed for 14 days in December, 2009

Donna K. from Santa Fe United States, 30. April 2009

Stayed for 5 days in April, 2009

SYLIVA AND ENRIQUE WERE GREAT. LOVED THE OVERALL LOOK OF THE HOUSE. CONSTRUCTION NEXT WAS A NEGATIVE. DIDN'T LIKE THAT BOTH TV'S WERE ON ONE DISH, SO BOTH HAD TO WATCH THE SAME CHANNEL. A/C DOWNSTAIRS IN SOUTHERN UNIT NEEDED WORK. APPLIANCES COULD USE UPDATING, AND COULD USE A DISHWASHER.
NO HOT TUB AS LISTED ON WEBSITE.

40th Anniversary Vacation

Gary C. from Fort Scott United States, 06. January 2009

Stayed for 1 days in December, 2008

My wife and I celebrated our 40th wedding anniversary by taking our children and grandchildren for a family vaction in Cozumel. We could not have picked a better place to stay than Villa Alegria. It was great to walk out the door past the pool and a few steps to the beach. Also, being a short distance to Carlos n' Charlies bar and beach play area was a real plus. We could not have planned a better vacation!!
Gary & Sally Cullor, Fort Scott, Kansas

Villa Alegria Beach Wedding Hideaway

Linda Jo H. from Paris France, 22. October 2008

Stayed for 7 days in July, 2007

Dubuque United States, 06. July 2008

Stayed for 6 days in June, 2008

Everything was perfect!

Elizabeth M. from The Woodlands United States, 01. July 2008

Stayed for 7 days in June, 2008

We all loved our vacation. The house was beautiful and the staff (property manager, housekeeper, gardener, and chef) were all hard working and eager to please. The SCUBA shop you recommended, Papa Hogs, were very helpful with general suggestions as well as arranging our diving. We look forward to our next vacation through your agency.

Bismarck United States, 09. May 2008

Stayed for 6 days in May, 2008

Great family trip

Mike E. from Mountain View United States, 14. April 2008

Stayed for 8 days in November, 2007

Our group stayed at Villa Alegria in November of '07 and had a wonderful time. We selected it over a number of other villas for rent in the same part of Cozumel with some slight concern about the "construction" next door, but it was a non-issue. The location is great - on a nice beach which is close to, but not a part of, some of the daytime beach clubs. The house is in good condition, and the master bedroom was a spectacular set up. If you're going to rent, you should know that the house is actually two units, so although it has 5 bedrooms, they are split. The diving was, of course, excellent. We went with Dive Palancar, which operates out of the Occidental Allegro and were happy with the service and site selection. Finally, the staff that cares for the house does an excellent job. The place was always clean despite all our diving activity and us cooking just about every night. I'd happily go back and would recommend this house.

Villa Alegria

Susan E. from Yukon United States, 12. April 2008

Stayed for 4 days in October, 2007

We have stayed at this Villa two years in a row and have loved it. It has a great view. Is within walking distance of other beach activities. The cooks are fantastic too! The only drawback on this house is it's distance from town, but otherwise a great place to stay.

our cozumel stay

Rachelle C. from Sturgis United States, 12. April 2008

Stayed for 7 days in January, 2008

The actual people who left the key for us and was supposed to help if we needed anything and recommended the car rental place, never returned our 3 calls. We went through 4 cars at smart rental. Cars broke down on open roads, tops flew off, door wouldnt shut without holding on to it. It was a mess. Because of the language barrier,we had a very hard time. We ended up having to go back to the airport after 2 days and 4 cars later and re-renting a car so we could enjoy the rest of our trip. Other than that, we loved the house and the housekeepers that maintained the property. Sylvia was an absolute doll and even tried to help with the car situation. We are planning another trip to cozumel right now. THanks
Precise property address:
KM 14.150 Carretera Costera Sur Between Residencias Reef Condo and Playa San Francisco
Cozumel
0 miles from San Francisco beach
Check in / out
Check in time
Check in after 3:30 PM (possibility to leave luggage in from )
Check out time
Check out by 11:30 AM (possibility to leave luggage in until )
Easy check in
Code locks or personal welcome allow you to go directly to ...
More info on check-in/out
Amenities
Amenities
Amenities
List of amenities in this specific property
List of amenities in this specific property
Business

Golf Course within 11 miles

Culture

Lighthouse, Mayan Ruins, Museums

Entertainment

CD Player, Cable Television, DVD Player, Flat Screen Television, Internet Connection: High Speed, Stereo System, Wireless Internet

Family

Kids Games

Geographic

Beachfront, Exceptional Sunsets, Exceptional Views, Ocean Views

Kitchen

Blender, Breakfast Bar, Coffee Maker, Cookware, Full Kitchen, Microwave, Oven, Purified Water Provided, Refrigerator, Stove, Toaster, Utensils
Living

Ceiling Fans, Cook Service Available, Fully Air Conditioned, Laundry Service Available, Linens, Maid Service 6 Days a Week, Safe

Outdoor

Beach Chairs, Beach Volleyball, Beach Walking, Beachcombing, Deep Sea Fishing, Directly on Sandy Beach, Dive Boat Pick-Up Adjacent Beach, Grill, Jet Ski Rental, Ocean Kayaking, Outdoor Shower, Patio, Private Freshwater Swimming Pool, Scuba Diving, Snorkeling , Swimming, Wildlife Viewing
Find properties available for your stay dates
- Nearby properties you might be interested in.
Downloads
Additional information you might be interested in.