Search
Property detail & price proposal
Reserve
Thank you
Residencias Reef 8180 Two Bedroom
UNDER NEW OWNERSHIP! Residencias Reef 8180 2bdrm/2ba Priced right!
2 Bedrooms for 6 guests (max. 6)
KM 14 Carretera Costera Sur, Cozumel
contact the manager
Call Annette
US 800-833-5971
or fill our mini-form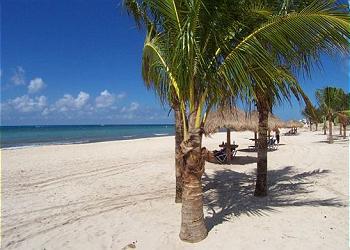 Description
UNDER NEW OWNERSHIP! NEWLY RENOVATED 2 bedroom 2 bath Residencias Reef 8180 has all you could want at the right price! Owners just revamped the whole unit for your pleasure. Located in Building #4 on the ground floor this unit has all the comforts of home and more. Enjoy this piece of paradise in the most popular condo development in Cozumel! Spend your days walking the sandy beach or lounging at one of the 2 heated pools and the nights watching the most amazing sunset you have ever seen. Just a 5 minute boat ride to some of the greatest reefs, it's perfect for beachcombers. There's also good snorkeling just off the beach. And that beach stretches on for miles and miles so you can run or jog for as long and as far as you like.

This unit offers maid service 3 days a week and is fully air conditioned. Bedroom 1 has a king bed and a sleeper sofa. Bedroom 2 has a king bed as well. There is also a sleeper sofa in the living area. The condos are located about 9 miles south of Cozumel's only town, San Miguel. This unit is up one flight of stairs and down another. Once inside you are located on BEACH level.
Address

KM 14 Carretera Costera Sur,

Swimming pool

2 Heated Freshwater Pools

Floor

0

Elevator

No
Bathrooms

2

Surface

0 ft2

Sleeping arrangements

2 King, 2 Sleeper
Reviews for this property
Cozy and calm

Friedrich G. from Vienna Austria, 10. August 2018

Stayed for 9 days in July, 2018

It was a very calm location and access to the beach and pool was only a few steps away. The only thing that got broken was in the last day an air condition system began to leak, but nothing serious. Overall the price / value is absolutely great. We had a great time. Also a nice place for kids.

Very nice condo close to the beach

Jeremy C. from Bradenton United States, 14. March 2017

Stayed for 8 days in March, 2017

3 of us stayed here for 8 nights. The condo is very well-equipped and conveniently situated. I am a scuba diver so appreciated the proximity to the jetty where the boats pick up the divers. My wife and her sister are not divers but they enjoyed the pool and beach. My only (small) gripe was that the wifi went out twice during our stay, but that was an issue with the wifi service provider, not the condo modem. Ishmael from ATIC provided excellent service.

Great family vacation

Stephen B. from chicago United States, 28. March 2016

Stayed for 7 days in March, 2016

Excellent. Perfect location for families with small children.

nice stay

Littleton United States, 04. June 2015

Stayed for 5 days in May, 2015

The location and set up was fantastic and the condo was pretty. There were basics in the kitchen (pots/pans/dishware etc.) Linens were fine. Internet did not work most of the stay which was difficult since we planned on this for our business. It would connect then disconnect constantly. The master bed was ok but the second one was very uncomfortable. Also there was nothing basic in the kitchen like oil, pan spray, salt/pepper etc so make sure to get it all.

Quiet Peaceful Beach and Dive Boat access

Thomas P. from Skokie United States, 04. April 2015

Stayed for 5 days in March, 2015

The Condo setting was quiet, private and peaceful with other nice renters from divers, to families, to nice couples. Condo itself is spacious and functional with a nice kitchen. Great breezes as corner unit allows two patio doors to slide open. Had an active and restful week. Condo was monitored by friendly staff. I rented a car to gain access to town for dinner and to tour the island. Jogging was easy along the one-way access road that parallels the only highway. Diving with Dive House and Water sports with Dive Plancar was also easily accessed.

Great place to stay!

Santa Ana United States, 07. October 2014

Stayed for 3 days in October, 2014

Clean, modern, comfortable, great spot for divers.

Good Condo for divers

Sacramento United States, 11. August 2014

Stayed for 7 days in August, 2014

Very nice condo. Close proximity to the boat dock - especially good for divers. Spacious and clean, strong showers were awesome. All the necessities provided such as large clean towels, soap, etc. The air conditioning system was a little noisy in the living area and one leaked a bit in a bedroom but they overall worked well. No light over the stove which was a little difficult at times but I didn't cook much. TV wasn't hooked up in one bedroom. Good condo for the price.

Great Location!

Erik S. from DENVER United States, 10. July 2014

Stayed for 7 days in June, 2014

Very nice and comfortable. Perfect for diving as the pier is very close.

Cozumel getaway

Paula S. from Colton United States, 08. March 2014

Stayed for 4 days in February, 2014

We were pleasantly surprised when we walked into to this condo.Very spacious ground floor corner unit and well appointed. We would stay here again.

Good times except for the bush

James L. from Ham Lake United States, 05. March 2014

Stayed for 6 days in February, 2014

off the patio step there is a thorny bush that needs to be trimmed, also the dirt at the bottom of the step could use a couple pavers to walk on so dirt doesn't get tracked in.

New bed would be good

James L. from Ham Lake United States, 28. February 2014

Stayed for 1 days in February, 2014

But we love it here,staff is great.

Alfredo is top notch!

Ron N. from Cypress United States, 25. October 2013

Stayed for 5 days in October, 2013

Very Nice. Good location. Dive shops will pick you up at a pier that is 200 yards from condo. Clean, Air conditioned, friendly....what more could a person want?

Great family vacation spot!

Richmond Hill Canada, 23. May 2013

Stayed for 7 days in April, 2013

Stayed for a week with our young baby. Perfect location with beach and pool only steps away! Never felt crowded, very peaceful place. Condo is in fine condition, cleaned everyday, no complaints. Would return for sure!

A time well spent, I place I would gladly return to again!

Alex G. from Keizer United States, 19. April 2013

Stayed for 13 days in April, 2013

The unit was very good. We enjoyed it! A kitchen could be better stocked. We read online that the kitchen was poorly stocked and the knives were dull. So, we brought our own set of knives, which turned out to be a good decision. We could not use any of the property's knives. It would be nice to have a tea pot, an obvious missing item. The matresses were of very poor quality. We were actually surprised that such a nice property would fail to invest in quality matress. A matress would be sach a small expece, but would make a world of difference for the owner or the guest.
It was very nice to have a phone in the room. The TV was a plus.
The maid service was prompt and efficient. Thank you.
The staff was always curtious and eager to help.
We did enjoy our stay and would gladly return to this property, given the opportunity. Thank you!

Relaxing and comfortable

Sandra D. from Kellowna Canada, 15. April 2013

Stayed for 7 days in February, 2013

We really enjoyed our stay at Residencias Reef. The condo was clean, and other than the hard bed, was very comfortable. Orlando and Esther took very good care of all of our needs. The pool and beach was perfect. It was a fair distance from town but cabs were readily available and we rented a vehicle for a day. The snorkeling off the beach wasn't very good this year but we were told by other guests that it was usually better. I would definitely stay here again!

Paradise on hearth

nathalie p., 22. March 2013

Stayed for 4 days in March, 2013

Every thing was just perfect it s a very quiet place
Whit a nice beach a little rocky ocean but
Very nice place 15 min drive from donw town
The condo was just perfect very clean
And well equip ( juste missing a little cooler ) :( but
I will return a the the same place for sure


residencias 8180

Lorraine M. from Gimli Canada, 14. March 2013

Stayed for 21 days in February, 2013

overall our stay was very good. when we arrived the condo very moldy smelling. we had to buy air fresheners to get rid of the smell. the condo was clean and everything worked. the dishes were old and a lot of them were cracked which can be a major health hazard, we could not use them. the knives were rusted and old, this was shown to the manager Orlando. the pots and pans were old and very meager. we knew some of this based on reviews we had read so we brought our own chef knife and frying pan and managed pretty well as i(Jose) cook alot. shopping in town was very good and ingrdients purchased there were excellent. the patio furniture was basically unusable and was shown to Orlando. he managed to get some better furniture for us. the owner should take more pride in his or her property and update things on a regular basis, especially the mold smell. that smell was in all suit cases and clothing when we got back home. the grounds and pools were excellent. the staff here were amazing, from the security who would remember us after the first day( amazing )to our very hard working maid Estre and the manager (Orlando) who checked on us regularly and aided us in rentals etc. this young man is going places. we would recommend this place to stay, but hope the owner does some upgrading. we would definately come back here. one more thing, this complex should at least set up a central bar b que that all could use. this also makes a good place for people to meet. a special thanks to Orlando.

Great Condo Complex

Hopewell Jct New York United States, 17. December 2012

Stayed for 7 days in December, 2012

The place is spotless and modern. Maid service is great. It's not a party location but there is a dive outfit right on the beach (not associated with Condos). They will set you up for your dive package. Carry/clean your gear daily (they do expect a tip for the service). The one and only thing I didn't like was the sheets on the bed. They were rough and uncomfortable compared to what I'm used to at home. The bed was also a bit short. So if you're very tall your feet will hang out.

my stay at 8180

Sugar Land United States, 17. August 2012

Stayed for 3 days in July, 2012

Overall it was fine. The knives need to be sharpened. The TV in the bedroom did not work.
These were minor issues. I would gladly stay there again.


Residencias Reef Condo's 8180

Moscow United States, 19. January 2012

Stayed for 7 days in January, 2012

We had an excellent stay at the Residencias Reef and unit 8180. Our housekeeper was delightful and very accomodating.
This is a nice and quiet unit and well set up for two couples.
The unit had internet, but was not wireless. The TV's shown in each bedroom are not hooked up to cable or satellite so only the set in the Family area was usable. The latter was not a big deal as we were there for diving, the beach, and warm weather break from the northern winter climates.
Thank you Raul for helping us to feel at home and making our stay wonderful. I would go back:)

Susan S. from Ennis United States, 21. June 2011

Stayed for 1 days in June, 2011

best beach in cozumel

maricela v. from port hope Canada, 14. March 2011

Stayed for 3 days in February, 2011

bring own linnen & mattres pads, + beach towels

Great service, beautiful condo, highlight of a 30 day vacation

Jaime S. from Springfield United States, 09. November 2010

Stayed for 5 days in October, 2010

Arrival to Residencias Reef was a great experience. The cab ride to the condo was around $15.00 us. Once arrived was let in by a very friendly guard and got help with a rental car from next door at the resort. $44.00 per day. Our room had problems with the air conditioner and the manager camer to the condo that evening to move us to another room. It was beautiful!!! He had alot of great suggestions for my trip and made sure we were very comfortable. The grounds, pools, beach, staff and other residents are amazing!!! I will definately be back on my next visit to beautiful Cozumel!

virginia s. from Portland United States, 22. March 2010

Stayed for 7 days in March, 2010

We never did figure out ow to work the dvd player. Also it was not possible to access allthe tv channels-it would be nice to have instructions for these things. We also had trouble making local phone calls. There was tv noise from the condo next door late at night which Javier helped us with.

Great place to stay

Edward L. from Cypress United States, 08. February 2010

Stayed for 7 days in January, 2010

Quiet and away from the circus that the cruise ships bring to town. Beach 50 yards from the villas. If you want entertainment, Carlos and Charlies is a short walk down the beach. Very clean villa and the grounds are well maintained. A great place to spend a few days in Cozumel.

Residencias Reef is a great development but this unit is neglected.

Cameron United States, 19. January 2010

Stayed for 7 days in January, 2010

Great location,great property. This unit is nice, clean overall and was convenient to the beach and pool. I recommend this unit but I do have a few complaints. There are no sharp knives. Bring your own can opener cause the one there is worthless. Bring a cheese grater. Terrible pans. Tiny coffee cups, no mugs. Dishwasher, but be sure to bring your own dishwasher detergent. The red couches you see in the pictures are disgustingly dirty. I suggest to immediately cover them with a sheet. The air conditioner in 1 bedroom is always on and the air conditioner in the other bedroom is always off. Their are no controls on the units to turn them on or off, and the remote controls are no where to be found. Plan on spending some time plunging the toilets.
The beds are slightly better than sleeping on a board. We really did enjoy staying here, but these are things we had to "put up with". Not huge issues, but I feel it is only right that they are disclosed so you know what you are getting into.

Great Vacation! What a place away from home...

Grand Blanc United States, 12. December 2009

Stayed for 7 days in July, 2009

The condo could have used some better outside lawn chairs, but other than that it was paradise!

great place, would reccommend to a friend

Woodland Park United States, 26. October 2009

Stayed for 7 days in October, 2009

would suggest a way to lock rear doors to access pools & beach more securely, how 'bout a cutting board, (sharp) knives, coffee mugs, cheese grater and garlic press for the kitchen??

Rick D. from Mission Viejo United States, 31. August 2009

Stayed for 7 days in August, 2009

Steven B. from Glendale United States, 19. July 2009

Stayed for 5 days in July, 2009

Overall we are very happy with the property we rented. There were a few minor things we thought were odd, such as sheets that seemed a bit old -- tiny holes, but they were clean. All of the staff, especially the maid, were friendly and helpful. We would rent here again.

Great place to stay, everything was wonderful.

STORMI B. from BULLARD United States, 22. June 2009

Stayed for 6 days in June, 2009

We had a wonderful time...

Tulsa United States, 17. June 2009

Stayed for 7 days in May, 2009

We had a wonderful time at the Residencias Reef # 8180. The facility is very nice and well kept. This specific condo was nicely furnished and comfortable. The management staff was helpful and easy to contact when we needed them. We met other people at the pool who have been coming back to stay at these condos for over four years. It is someplace we would come back to and recommend to others.


Nice and quiet. Great location.

lorie g. from daytona beach United States, 30. April 2009

Stayed for 7 days in April, 2009

The only improvements would be to have a cutting board and sharpen the knives.
$3 dive boat pick up fee daily from the dock next door.

Nice property

Roxanne H. from United States, 02. April 2009

Stayed for 11 days in March, 2009

My family and I stayed in this unit for approximately two weeks and it was a lot of fun and worth it. The cost of the unit is fair and overall it was comfortable. I would recommend this unit.

John H. from Austin United States, 12. January 2009

Stayed for 7 days in January, 2009

- should have lock/key for sliding glass door to go to the beach without having to exit to the parking lock to lock up.
- need a few things in the kitchen: a decent can-opener, sugar packets would be nice.
- smell from 8170 floor drain -- could be that its trap has run dry (try pouring a litre of water down)

Melissa D. from Shirley United States, 29. December 2008

Stayed for 7 days in December, 2008

Great time great place

Gerda M. from Calgary Canada, 18. December 2008

Stayed for 9 days in November, 2008

Ther were 4 of us in a 2 bedroom unit. Pleny of room for all of us. the security staff and manager on site were very friendly and helpful when asked. The grounds and pools were kept very clean and the beach was great. Within walking distance to the Wyndem resort as well as a couple of beach resteraunts and plenty of activities ie parasailing, jet boats, bannana boats, mini sailboats. The scuba diving from here is awesome. Lots of choices and pickup on the beach dock.

Great family vacation to Cozumel

Brian C. from San Antonio United States, 12. September 2008

Stayed for 7 days in August, 2008

The weather was a little warm but the water was great and so was the location of our condo. Everythng was top notch. We had a blast and will do it again. The staff of "at home in Cozumel" were great.

Great Stay!

Waller United States, 09. September 2008

Stayed for 8 days in August, 2008

Residencia Reefs

David B. from Calgary Canada, 19. August 2008

Stayed for 9 days in August, 2008

Great facility - clean, well appointed. Would be nice of all TVs had worked. Overall very pleased with value for the money.

Perfect for Families

Ben H. from Cleveland United States, 14. August 2008

Stayed for 9 days in July, 2008

Beautiful, well maintained property. The 10 minute drive to town provided just enough seclusion from the cruise ship crowds.

Scott P. from Woodside United States, 30. June 2008

Stayed for 8 days in June, 2008

Great place, very clean and pretty!!! The only things I would change is put a cushy toper on the bed to make is softer and make the TV's in the bedrooms work.

Great Vacation

Copperas Cove United States, 16. June 2008

Stayed for 7 days in May, 2008

We had a phenomenal time in Cozumel. The Condo was very nice, the beds were a bit hard for our taste but overall the condo was fantastic. Located South of town, away from cruise ship patrons and crowds. You will need a rental car, be sure to get the insurance. We highly recommend the cook, the meals were phenomenal, well worth price. The pools were very nice, the beach did not offer much snorkel opportunity, but plenty down the road. Most dive boats pick up at the dock, very convenient. Go ahead, splurge!

Response from At Home In Cozumel Inc

30. June 2008

We seem to get pretty much nothing but praise about the units we manage at the Residencias Reef. With reason, we like to think. That beach and that view are great. And as you noted, the cook service is great. Our cooks are people who have been taught to cook genuine, traditional foods and love preparing food for our guests.

WONDERFUL VACTION

Chad G. from Delight United States, 22. May 2008

Stayed for 7 days in May, 2008

GOOD LOCATION ON BEACH,MAID WAS GOOD AND MANAGEMENT WAS HELPFUL

Very nice.

Gilbert United States, 05. May 2008

Stayed for 7 days in April, 2008

Paul R. from Murray United States, 29. April 2008

Stayed for 7 days in March, 2008

We would be delighted to stay at the same condo next year. There was a little problem with hot water, but the staff was very responsive when it was brought to their attention. The 3 ring binder at the condo had lots of useful information about taxi rates and car rentals. The pool and beach were beautiful and quiet.

Patrick S. from Kamloops Canada, 28. April 2008

Stayed for 11 days in March, 2008

would love to go back...perfect location, but somewhat limited for dining nearby if you don't want a cook or to cook! That was the only real issue!

beautiful!

Laura O. from Iowa City United States, 12. April 2008

Stayed for 4 days in January, 2008

fun in mexico

Erin O. from Scotsdale United States, 09. April 2008

Stayed for 4 days in May, 2007

clean updated condo with convienient location near beach club. we were able to be picked up for scuba at the nearby dock. the beach club food was delicious. having groceries in the condo upon arrival was great.

Awesome Place

Tiana H. from Peachland Canada, 09. April 2008

Stayed for 6 days in February, 2008

The only complaint i had was that it was too far away from everything, and taxis were very expense, for our family of 5 they charged us 25$ usd one way. So we rented a car, otherwise you felt stranded there.
Precise property address:
KM 14 Carretera Costera Sur
Cozumel
0 miles from San Francisco beach
Check in / out
Check in time
Check in after 3:30 PM (possibility to leave luggage in from )
Check out time
Check out by 11:30 AM (possibility to leave luggage in until )
Easy check in
Code locks or personal welcome allow you to go directly to ...
More info on check-in/out
Amenities
Amenities
Amenities
List of amenities in this specific property
List of amenities in this specific property
Culture

Lighthouse, Mayan Ruins, Museums

Entertainment

3 Smart TV'S, Television in 2 bedrooms, Wireless Internet

Family

Beach

Geographic

Beachfront Development, Exceptional Sunsets, Ground Floor Unit

Kitchen

Blender, Coffee Maker, Cookware, Full Kitchen, Granite counter tops, Microwave, Oven, Purified Water Provided, Refrigerator, Stove, Toaster, Utensils
Living

24 Hour Security, Beach Towels, Ceiling Fans, Cook Service Available, Dining table w/Chairs for 6, Fully Air Conditioned, Ironing Board, Linens, Maid Service 3 Days a Week, Non-Smoking Unit, Private Gated Community, Safe, Short walk to Restaurants, Washer & Dryer

Outdoor

2 Heated Freshwater Pools, Balcony, Beach Walking, Beachcombing, Directly on Sandy Beach, Pier for Dive Boat Pick Up, Scuba Diving, Snorkeling , Swimming, Walk to Beach Restaurants, Wrap-Around Balcony
Find properties available for your stay dates
- Nearby properties you might be interested in.
Downloads
Additional information you might be interested in.