Search
Property detail & price proposal
Reserve
Thank you
Residencias Reef 8170 Large Studio
Residencias Reef 8170 Large Studio, San Francisco Beach!
Studio for 2 guests (max. 2)
KM 14 Carretera Costera Sur, Cozumel
contact the manager
Call Annette
US 800-833-5971
or fill our mini-form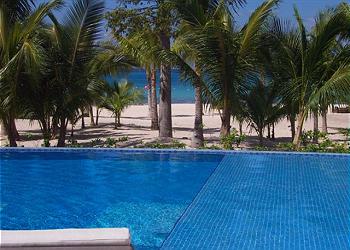 Description
8170 NEWLY RENOVATED LARGE STUDIO UNIT WITH FULL KITCHEN. Owners just renovated the entire unit for your comfort and added a washer and dryer for your convenience! Freshly painted, all new bedding and towels, this unit is ready for you! Enjoy your vacation in Paradise!
The Residencias Reef Condominiums on Cozumel are located right on San Francisco Beach, the most beautiful beach on Cozumel. Just a 5 minute boat ride to some of the greatest reefs, it's perfect for beachcombers. There's also good snorkeling just off the beach.
esidencias Reef 8170 is fully air conditioned, has maid service 6 days a week, and access to two large heated freshwater pools.The condos are located about 9 miles south of Cozumel's only town, San Miguel. This unit is up one flight of stairs and down another. Once inside you are located on BEACH level. This unit has a private patio and easy access to the beach. The Residencias Reef luxury condominium complex is composed of four low-rise condo buildings and a small all inclusive boutique hotel. Pier on premise for dive boat pick up!
Address

KM 14 Carretera Costera Sur,

Swimming pool

2 Heated Freshwater Pools

Floor

0

Elevator

No
Bathrooms

1

Surface

0 ft2

Sleeping arrangements

1 Queen
Reviews for this property
Wonderful stay!

Amy G. from San Antonio United States, 15. July 2023

Stayed for 12 days in July, 2023

We have been coming to Residencias Reef for over 10 years and this was our first time in a studio - what a wonderful stay we had! The room is clean, spacious, enough for 2-4 people. We cooked, enjoyed movies, and the beach was literally 20 steps away! WOW! Our stay was most enjoyable and we will definitely stay in 8170 again! Thanks!

Response from At Home In Cozumel Inc

17. August 2023

So glad you enjoyed your stay! Can't wait to assist you in the futuree!

Cozumel. . Our second time around!

nicole y. from lAC lA bICHE Canada, 20. February 2022

Stayed for 24 days in January, 2022

It's our second time at Residencias Reef . . We definitely would want to come back again! ! The resort is well maintained, quiet and super clean! The staff are helpful and friendly! We stayed in a basic studio apartment that was comfortable but needs a little TLC and more attention to details! Our Wifi and bedside lamp didn't work, limited beach towels and the patio furniture needs a upgrade. Other wise, we thoroughly enjoyed the sun and the beach. . A great relaxing holiday! Hoping to come back soon!

Like in Paradise

Petra L. from Bad Füssing Germany, 19. October 2021

Stayed for 13 days in September, 2021

For me the best place to stay on Cozumel. Especially if you travel alone. It is absolutely safe. I come to dive. I was picked up by the dive boat at the private pier every morning. Simply brilliant. Really liked this Studio 8170!

Great service

ROBERTO T. from GUADALAJARA Mexico, 15. July 2018

Stayed for 5 days in June, 2018

Excellent even whwen AC broke at pur arrival manager imemdiatle answered my call and solved the problem giving us another unit that was even better than the one we originaly have. Great customers service and problem solving.

Excelente

Florencia D. from buenos aires Argentina, 26. April 2017

Stayed for 6 days in March, 2017

excelente experience

Nice but...

Brigitte L. from Trois-Rivieres Canada, 08. March 2017

Stayed for 7 days in February, 2017

It's the fourth time we rent an apartment at the Residencias Reef. We have been always very satisfied but this time a little bit less. On the other hand, the studio was fine but I would have appreciated a little more furniture (wine bottle opener, a better quality kitchen "furniture", two chairs on the balcony were broken, the mattress is not very comfortable). The hotel was very noisy this time and finally, music from two visitors was allowed on the beach which is very disturbing. It was little things that make our stay a little less enthusiastic. However, I should say that the studio was very clean and the manager very convenient. The area is wonderful and the workers always very polite. Thanks.

Residencias Reef

Groton United States, 01. March 2017

Stayed for 3 days in February, 2017

We stayed at Residencias Reef in order to attend a wedding. We were pleasantly surprised by the fact that it was right next door to the hotel where the wedding took place. Very nice location, so close to the beach. We had all we needed in the Condominium and staff were friendly and courteous.

A week in Paradise

Robert L. from Gatineau Canada, 10. March 2016

Stayed for 7 days in March, 2016

After about 13 hours of travel time (Taxi/Airplane/Taxi/Ferry/Taxi) we finally got to our destination, a nice studio with all the facility to cook our own meals. The studio is exactly what we were looking for. We had direct access to the beach and to 4 pools. The place is quiet with a nice landscape. The groceries and most of the restaurants are 15 Km away in San Miguel. We enjoyed the paved bicycle path around the Island, mainly used by scooters. We did a lot of snorkeling using our own gear in front of the residence and in other location close by. The weather was a bit cloudy and it rained a few times (nothing to bother us).

Residencias Reef 8170 Large Studio

Ronald H. from Dowagiac United States, 04. March 2016

Stayed for 22 days in February, 2016

This room was very nice it work well for my wife and I for our 3 week stay there, only complaints would be it needed better/ more kitchen dishes and silverware including sharp kitchen knives, also the wifi needed not work well most of the time, other than that everything was good.

Perfect quiet vacation

grand rapids United States, 08. February 2016

Stayed for 8 days in January, 2016

8 days was not enough. We will be back some day for much longer. Very clean and well decorated condo. Loved the ground floor for convenient access to pool and ocean. Internet was slow but once we used another wifi address we were fine. Could use sharper kitchen knives and nicer patio furniture but when you are having a great time those things are minor. Rented s car which we used everyday. Money Bar just north of condo was my favorite bar and restaurant. Will recommend to friends and family. We never met the manager.

A very good experience nice beach

Charles R. from Ft lauderdale United States, 10. August 2015

Stayed for 4 days in July, 2015

Great

Nice Beach

Ronald B. from Flower Mound United States, 28. February 2015

Stayed for 6 days in January, 2015

Overall our week stay in this condo was great. The beach area is beautiful - lots of sun and shade, and plenty of chairs. The 2 pools are nice as well. The condo had a nice kitchen, with upgraded appliances and granite counters. I suggest buying a few potholders. The bed is very hard, even with the foam pad.

This condo is located close to the edge of the property - right next to Aura resort. If the resort has an event in the area close to the condo, it is extremely loud. On our first night - the party went until 1 am. Our last night it ended around 11 pm. If you are light sleepers, the noise is definitely a problem. There is a nice view from the patio area, but the only furniture is cheap plastic chairs. It would be nice to have comfortable chairs to relax outside.

Great stay in 8170

---- United States, 17. January 2015

Stayed for 10 days in January, 2015

My husband and I just returned from a wonderful 10 days at RR 8170 on the beautiful island. The space was great, clean, comfortable and it's a quiet spot on the end. Alfredo was a great host -- so responsive and professional! Only wish was for screens (to let in the lovely air) on doors/window and more comfortable chairs/hammock to better use patio.

Perfect place to stay!

tim b. from cleburne United States, 01. November 2014

Stayed for 5 days in October, 2014

This was our first time staying at Residencias Reef, but we had heard only great things about it. We could not have been happier with the condo. It was very nice and clean. The whole property is quiet and peaceful. We loved having a kitchen and being able to buy groceries and cook our own meals, but still have the option of eating out as well. Can't wait to do it again!

Diving week stay

kelly c. from lago vista United States, 11. August 2014

Stayed for 7 days in August, 2014

Upon arriving at residential reef and seeing my room for the first time I thought it looked incredible. The room was the perfect size for one person and I had plenty of kitchenware while I was there. There was no washer and the dryer was broken which I found inconvenient since I packed only enough clothes for a few days and I feel it should be addressed. The maid service was very thorough in cleaning, the room was always spotless when I returned. However after I came back to my room one day after the maid had already been there i noticed that one of my pans was missing. While it was not a personal pan I don't want to be charged for the pan with the cost of my room.

Love it

James L. from Ham Lake United States, 28. February 2014

Stayed for 4 days in February, 2014

I can imagine the washer and dryer get a workout, you need new,I'm sure you know. We would have a hard time finding things not to like. As always the staff is wonderful.

Wonderful stay! Will definately go again!

Lincoln United States, 23. January 2014

Stayed for 8 days in January, 2014

Everyone was very helpful and pleasant. Loved the condo and will go again!

Great getaway

John Q., 13. September 2013

Stayed for 5 days in August, 2013

I really enjoyed my stay. The studio is perfect for one or two people. If you dive, you are 200ft from the pier where you can get picked up and dropped off. Very comfortable, clean, modern condo. Access to the pool is right out your patio door. They need new chairs outside for sure, but other than that no complaints. I would definitely stay again!

Un paradis de relaxation

Montreal Canada, 12. September 2013

Stayed for 7 days in August, 2013

L'endroit est vraiment très bien entretenu et les gens très gentil. Nous avons été plus que satisfait par l'endroit.

À noter que c'est un endroit très tranquille, parfait pour la détente.

De plus, il est préférable de se louer une voiture si vous y séjournez. C'est à 15 km du centre-ville et les autres attractions sont à de bonnes distances.



Great Place

Saint Paul United States, 04. July 2013

Stayed for 10 days in June, 2013

For those who like tranquility and peace, excellent location and facilities. The beach is very close, snorkeling wonderful, and a very hospitable atmosphere.

Residencies 8170

Matthew L. from Mammoth Lakes United States, 03. April 2013

Stayed for 7 days in March, 2013

The stay was excellent. I would stay here again. Unit location was on the ground floor making it easy to walk to and from the pool/beach. Clean and comfortable. Only slight negatives: tv was somewhat small when watching from bed at night and many remote controls didn't work (fan, t.v volume/on and off). Batteries likely dead.

unit 8130

Victoria B. from North Freedom United States, 05. March 2013

Stayed for 9 days in February, 2013

this was my second time staying in 8170. a great place, valued price, great location on the whole property. my last stay 2-23-13 found the need for a maintenance man to fix the out door fan,and change some overhead light bulbs. Would be nice if the owners would purchase a simple patio set to enhance the deck experience. the two plastic chairs on the deck are ready to collapse.

Delightful beach condo

Stayed for 8 days in January, 2013

Fabulous location! The condo was as shown online; the kitchen was a nice feature. The condo was quite nice and very clean, but it could use a bit of freshening up. New bath linens would be welcome, as would a table and lounge chairs on patio. Javier, the rep from the rental agency, was awesome! He worked diligently to successfully address a problem with the wifi access, and brought in a repairman to fix a minor problem with the freezer--on what would have been his day off, no less. He checked back a couple of times during our stay to be sure that all was well. We would definitely stay here in the future.

Fridge leeked and we told the personal and nothing was address,ot

david v. from cheektowaga United States, 29. November 2012

Stayed for 5 days in November, 2012

Nice place comfortable, a few extra pillows , some real pots and pand, with some glasses would have been nice.

Our Other Home In Paradise

Cove United States, 04. May 2012

Stayed for 9 days in March, 2012

The hardest part was finding our Condo. Once we got there and met up with Raul it was pretty seamless. The router in our room didn't work but the internet was high speed. The cleaning services were great, the condo was fully furnished and all you need is your consumables. The staff around the property were very nice and even fed us coconuts. We had heard you would run out of things to do and see in just a couple of days on Cozumel and after ten days we needed another ten days for a vacation because there is to much to see and do in 2 weeks if you like to get out and be active. The beach was very quiet and close to our room and we were able to get to know our condo-mates and go deep sea fishing right off our condo shore. WE WILL BE BACK..... It is so much safer than you think coming from the states. The Island has there own security and armed services.

Mind the sofa!

Jeff B. from Saskatoon Canada, 19. April 2012

Stayed for 7 days in April, 2012

This is a very nice unit with very good appliances, excellent location, great new bed,and so forth. I have only two observations/cautions for other renters. First, the furniture. The room is replete with warnings that virtually everything (suntan lotion, wet bathing suits, etc.)will stain the sofa and chair, and that renters will be charged for a new sofa if they stain it. I have to wonder how appropriate such furniture is in a place where people go for a beach vacation. Second, there are only minimal cooking utensils, plates, bowls, and so forth. You won't be having your friends over from another unit for a meal, unless they bring their own things. These are not deal breakers by any means, but I have to admit that I became annoyed at tipsy-toeing around the sofa, especially since there were no extra towels or sheets to use to cover it. Otherwise, this is an attractive, spacious, ground floor suite in a fantastic place.

More Than Expected!!!

Chicago United States, 01. April 2012

Stayed for 11 days in February, 2012

I could not be happier with my choice of staying here. I had completed hours upon hours of research of this place considering I had never been here. Not only was everything as they described, It was more.

The moment I walked through the door, my face lit up with a smile. Extremely clean and not outdated. Everything worked and even a few extra "BONUS" amenities were added that was not in the room description (wifi & safe). Bathroom was a concern considering no pics to evaluate prior to coming but was immediately satisfied as I walked into the bathroom having tile floors, double vanity, clean toilet, clean shower, and rather large & colorful. Bed is firm but surprisingly good. With all the outdoor fun in the day, I slept like a baby and woke up refreshed with no back pain.
The cleaning service was incredible! Trustworthy and timely every day except Sunday.

The property is more than what you see in the pics. Beautiful trees have developed, no construction anywhere, beaches are raked clean daily, pool is stunning, and the sun sets directly over it! Even the fact that this building is more in the back of the property, I assure you, I walked off the balcony and not more than 100 steps and my toes were in the sand. Yes, the beach is that close. Do not be fooled by the picture off the balcony.

I definitely wanted a place outside of town for peace and I love to cook (Kitchen has Everything for large meal planning!!!) so this was the perfect fit. If you like dining out more often make sure to rent a car. Since I cooked, I didn't need the car. A taxi took me to the MEGA food store that did in fact have everything I needed. One big shopping trip did the trick for me.

If your here for diving, I strongly recommend Scuba Tony. He is very passionate about diving, outstanding service, super friendly, reasonable rates, and he will pick you up from the pier next door.
This place was great and I will be returning!
Safe &

Febuary 2012 Wonderful weeks stay

Battle Lake United States, 12. February 2012

Stayed for 7 days in February, 2012

We were very, very pleased with our stay. Especially since we booked just one day before arriving. Residencias Reef is beautifully set up, maintained and quiet. The only glitch was at check in when the security people did not have us on the roster which led to about a ten minute wait. Not bad and probably caused by late booking. Would definetly recommend to anyone wanting a very quiet place to spend time in a well maintained place. If they were wanting to spend alot of time in town this might not be the place as taxi fare could eat up some vacation money.
Overall an excellent short vacation for us.

A quiet and calm condo village, just 10 minutes from town

Erin M. from DeKalb United States, 12. January 2012

Stayed for 7 days in January, 2012

Staff was excellent. First time in Cozumel so we were a little unsure about travel, car rental, locations of restaurants, etc. But the maid was awesome and Raul was, too.

We loved our stay at Residencias Reef #8170

Dylan K. from Bayside United States, 30. December 2011

Stayed for 6 days in December, 2011

We loved Cozumel in general and Residencias Reef 8170 in particular -- it is away from the bustle in San Miguel (which means a newer pre-reserved rental car from a reputable company is highly recommended, as the taxi service is $15/$150mx to San Miguel one way, and service to the rest of the island is limited). Fail to reserve in advance, and you are likely to get a lousy older car at high prices.

RR #8170 does not have much of an ocean view, but one of the pools has a dynamite view, and is away from most of the condos, and at least while we were there, few people were using it. The beach is a very quick walk (beach front for one of the condo buildings) and adequate snorkeling is possible there if ocean conditions are calm, though boat and jet ski traffic limits how far you can go out away from the beach. We saw many types of fish, along with spiny lobsters and some conchs, but better snorkeling can be found elsewhere.

The roof was free of any odors (many hotels and resorts rooms smell like mold from the humid environment) and very clean.

We loved the freshwater "dunk tank" for snorkeling/scuba gear next to the outdoor shower -- a brilliant idea.

The "swamp" may not appeal to some -- it looked to be designed to help filter the stormwater and graywater rather than dumping directly into the ocean like most resorts, but we loved it, as the bridge / walkways were very scenic and pretty, and we saw several birds resting there, along with the ubiquitous geckos and iguanas.

Luis and Raul were available by phone for questions or concerns, but don't expect the gate guards to speak English well or be able to help much with the room.

We loved RR and will likely stay again the next time we come to Cozumel, or else a private house or smaller condo.

Residencias Reef 8170

St George United States, 30. December 2011

Stayed for 14 days in November, 2011

We had a very good two week stay at Residencias Reef. We were very impressed with the grounds and the swimming pools. Lovely! Our maid service was terrific. The unit was clean and comfortable and in a very convenient location. Everything worked well except for the air conditioning unit. It was very loud and disruptive, so we hardly ever used it. We didn't see our agent from At Home in Cozumel until we'd been there about a week, so I would suggest that he should check in much earlier with guests.

A truly beautiful location.

Lisa M. from Carbondale United States, 13. June 2011

Stayed for 5 days in June, 2011

The unit was beautiful and very comfortable and clean. The location was truly ideal. It would have been nice to have actual beach towels and the veranda with the perfect setting could use some comfortable furniture and made into a beautiful extenstion of the unit.

We loved everything about the studio condo. It was beatiful and in the best location on a sandy beach where we watched great sunsets every day. We would go on adventures every day and come back and it would be clean.

Sherry r. from bemidji United States, 04. February 2011

Stayed for 7 days in January, 2011

The staff from security to grounds keepers were very friendly. It was very safe. It has a telephone with free calls. It had a lovely view. The Residencia Reef is a wonderful place to stay. The only negative is the studio has a slight musty odor when you 1st walk in. We would definitely stay again.

Great Place - Not Maintained

Danielle Z. from Brooklyn United States, 20. January 2011

Stayed for 3 days in January, 2011

We were greeted by Javier - he was amazing, and gave us some wonderful advice and suggestions, many that we took! The furniture, size of apartment was great. The bed was very dirty, the sheets had dirt on them and the pillow case had an old blood stain on it. Not to mention that the bed was uncomfortable. Also the condo could have used some new dishes - there were only two of us, and almost everything was chipped. This was unfortunate because it could have been a perfect place to stay. We would return if they totally stepped up their cleaning standards and made it more comfortable. Again - thanks to Javier! Also the location was great - we had an amazing snorkeling trip, we booked right there along the beach! Love Cozumel!!!

Stayed 1-8-11 to 1-15-11

Steven W. from Bartlett United States, 17. January 2011

Stayed for 7 days in January, 2011

We would book here again in a second but there were a couple of concerns. The insects were brutal. My wife and I both were chewed up. I don't beleive that they spray. If you sleep on your back or like a hard mattress, you will love the bed. If not, I would ask for an extra foam pad. Our so called property manager was nowhere to be found. Saw him on the second day and nothing after. we had a couple of small issues that were handled right away. The maid was great! I could have done without the information provided in the book regarding how you should tip basically everyone $2 per person per day. Location was great. Very clean and well kept. They must really love their couch a lot because there were multiple warnings about not staining or damaging it or you will be charged. Furnishings were basic but fine.

Jane O. from Eveleth United States, 25. December 2010

Stayed for 8 days in December, 2010

Residencias Reef 8170

Patricia M. from Asheville United States, 31. May 2010

Stayed for 10 days in April, 2010

The cando was great. Very roomy for a studio. Nice kitchen, great refrigerator. The pot & pan situation was quickly remidied by the person in charge of the housekeeping. We had a problem with the internet access and the safe but the manager came in a timely maner with help, he failed to address the fact that there was supposed to be a stero/CD player. The washer did not work, but the housekeeper did our laundry for us-she did a fantastic job everyday with the cleaning. The grounds were very nice, pool and rooftop area excelent. All in all a terific value.

Great Property located in wonderful area just south of town. Very peaceful, quiet & very laid back . Two great pools with easy access to the beach. Staff and security very polite and helpful. I have stayed there now 5 times and will continue

Hector A. from New Braunels Unknown, 27. April 2010

Stayed for 3 days in April, 2010

Condo Units are always clean and just perfect for two or for the whole family.
Diving and snorkeling is just perfect of the beach

Great Place to stay, location was amazing

Craig N. from Hermosa United States, 21. January 2010

Stayed for 7 days in January, 2010

The only negative comments I have about our stay is that we were approached by staff 2 times wanting to know what room we were in and what our name was, I assumed that when we went thru the security gate when we arrived they would inform all of the staff we were there, was somewhat embarrassing when we were approached on the beach and then again at the pool. I would recommend you have your entire staff made aware who checks in. Also the washing machine leaked 3 times and there was water all over the floor, we told our house mgr about it, kept leaking, we cleaned it up 3 times, I finally called the Homes in Cozumel office and the Manager took care of it.


Leanne L. from Kamloops Canada, 07. January 2010

Stayed for 7 days in December, 2009

It would have been nice to be a little closer to a dinner restaurant as everything around was all inclusive but otherwise this property was excellent. Javiar & Christina were very responsive, excellent service!

Roseville United States, 06. January 2010

Stayed for 7 days in December, 2009

studio apartment

Lake Placid United States, 20. April 2009

Stayed for 7 days in April, 2009

2nd time here- wonderful except for a couple of small things- kitchen lacked basic cookware, not enough towels.

Great stay at Residencias Reef

William S. from Hayward United States, 14. March 2009

Stayed for 6 days in March, 2009

Cant wait to go back to condo 8170. The place and grounds were kept in excellent shape. We cooked a couple of meals and made coffee in the kitchen and found it very funtional. there is a roof top patio that is not mentioned that is beautiful for cocktails in the evening. I dove with the Blue Angels dive shop, and they picked me up at the Wyndams dock, a 200 meter walk. The staff and grounds keepers were very friendly and helpful. the Beach, and pool were never crowded, and it was the start of spring break! the beach has rocks as it enters the water for a few meters,if your fussy bring water shoes or Tevas. Its a short walk to other beach clubs for lunch if you like. We rented a car to Explore the island and get groceries. Theres great snorkeling spots just north of the Wyndam on the beach front road. Great spot, good location, good value!

George M. from Vancouver United States, 08. March 2009

Stayed for 7 days in February, 2009

Vercy nice condo; the property is very quiet and uncrowded. Need a car to get to town but we knew that going in, and the distance from town was worth the trade off.

Beautiful and Quiet

Christi D. from Vernon Canada, 24. February 2009

Stayed for 7 days in February, 2009

We spent a wonderful 7 days at Residencias Reef. The property is gorgeous and very well kept. The people were friendly and welcoming and made us feel like we were home.

Our condo was very nice and had almost everything we needed (could use a few more things in the kitchen). We really appreciated the washer and dryer as our previous rental did not have this available.

The roof top was a wonderful place to sit in the morning while we drank our coffee and met new people. The view of the ocean is unforgettable, we even had the pleasure of listening to a Mariachi band while we enjoyed the view in the evening, with marguerita in hand!

The snorkelling was quite good under the nearby warf with many colourful fish.

Thank you for a great place to stay, we will be back.

Connie L. from Concord United States, 02. February 2009

Stayed for 9 days in January, 2009

There were a couple of problems with the condo, but I emailed the property management and everything was taken care of.

8170 residencias reef

John H. from Austin United States, 13. January 2009

Stayed for 7 days in January, 2009

- there is a smell in the bathroom - possibly cause by the trap in the floor drain running dry - try filling it with water


Nice Property

Jeffrel S. from Moosomin Canada, 05. January 2009

Stayed for 7 days in December, 2008

We really enjoyed the property and our stay. The property is a ten to fifteen minute drive from down town. The grounds were excellent and our room was very nice. The maids cleaned daily. the kitchewn was very nice and stocked with all the needed utensils. Loved being on the ground floor.

I will always try to stay here when I am in Cozumel

MInneapolis United States, 30. December 2008

Stayed for 13 days in December, 2008

Family Vacation over Christmas

Shawn D. from Olympia United States, 27. December 2008

Stayed for 7 days in December, 2008

Beatiful setting on the sea, the water was warm and clear, my daughter had a blast snorkeling and I had no worries as the water was shallow and no current or waves. 2 pools were very nice, great for kids. The beach was nice, however reef shoes would be recommended as there are some rocks. Great shell hunting. A short walk to Carlos and Charlies down the beach, but drinks were expensive. Condo had a full kitchen, so shopping in town for groceries saved a ton of money, nice clean Mega Foods in town. Taxi cost about $15 to town. I recommend converting your dollars to pesos, as locals are not accurate for the conversion and you tend to get overcharged. Great Scuba and snorkeling, boat picks you up right your pier on your beach, very convienient. Big lizards hang out near the grass, kids loved them. Downside was bed not very comfortable. Great place and would highly recommend for a family or a couple.

Nice Complex, Overall OK Unit

Shana L. from Somerville United States, 03. December 2008

Stayed for 7 days in November, 2008

We stayed for a week at RR 8170 and loved the complex. There are two nice pools and a beautiful beach. The unit itself was in great condition but had some fixable problems. The bed is very small. It's a double bed. In most cases, if there's only one bed in a unit, you expect at least a queen if not a king. It's also very hard. Both my husband and I had back pain by night 2. Also, the hot water tank is WAY too small. We were unable to complete a single hot 5 minute shower without it running out. If these two problems were fixed, RR 8170 would be a five star unit that we'd happily return to. Everything else about it is top notch.

Beautiful Condo... beautiful location. We will be back!

Margaret P. from Lake in the Hills United States, 12. November 2008

Stayed for 5 days in November, 2008

Awesome!

Rachel R. from Flower Mound United States, 11. September 2008

Stayed for 2 days in August, 2008

Everything was great!!

Jon B. from Racine United States, 03. September 2008

Stayed for 10 days in August, 2008

Overall, we had a great stay. Aside from a ceiling fan that didn't work and radom bouts of difficulty making local calls, our stay was pleasant. The couch bed wasn't very comfortable, but I haven't ever slept on one that was. The area grocery store wasn't that close, but it did have the basic needs,which helped us get through breakfast and snacks. Eating out next door at Aura was expensive and not worth the money. Aura does have nice ambiance, but annoying music. This is a boring place for teenage children. Thank goodness for the beach clubs ($$$). This location offers tranquility, which is much better suited for older couples.

Loved it!

Grace B. from Beloeil Canada, 15. August 2008

Stayed for 7 days in July, 2008

It was just perfect - Better than anticipated - Amazingly surprised - Would love to go back - Javier (manager) was very available and very pleasant!!!

Thank you!

Grace Barbiera

We Love the Property!

Austin United States, 29. July 2008

Stayed for 7 days in July, 2008

The Residencias Reef is a beautiful Property. Unit 8170 was perfect for just the two of us. The pictures on the website do not do it justice. First of all, it has a georgous bathroom. We were not sure it even had a bathroom from the website. The unit is on the ground floor with a nice patio that steps down to the beautifully landscaped grounds. Both lovely pools are just feet away. You can see the wonderful beach and the tourqoise sea, through a forest of majestic palms. The photos on the website need to be updated! We had the best vacation, yet. We will most definitly stay here again.

Review of 8170 Residencias Reef

Philip H. from Austin United States, 07. July 2008

Stayed for 7 days in June, 2008

Great place! Very beautiful accommodations and location right on the beach. Very quiet as there were few other tenants. However, next door at Wyndham they were partying all day and into the night. Had the pool to ourselves on several occasions. Only disappointment was the quality of snorkeling off of beach and very warm water. Loved the ability to cook own meals and great maid service. Had the most fun at the Chaudraui grocery store! Also, really enjoyed the parks, particularly the Punta Sur with great snorkelling... saw a huge sea turtle! Got my boyfriend to experience Discovery Dive and highly recommend Mario at Studio Blue Dive Shop. Overall, great experience and would truly love to own a condo at Residencias Reef. Will return!

Good Time

Matthew S. from Norfolk United States, 30. June 2008

Stayed for 4 days in June, 2008

This place was clean, quiet and had a well outfitted kitchen. There was plenty to see and do.

Perfect Studio

Lawrenceburg United States, 21. June 2008

Stayed for 7 days in June, 2008

This studio was very nice. Had everything we could ever need except for a hair dryer and clock by the bed. Staff was very friendly. It was very peaceful. I think most people go sight seeing for the day, so there weren't many people at the pool or the beach. Sometimes we had it all to ourselves. If you want a party atmosphere, all you have to do is walk down the beach a bit and you are at Carlos N Charlies or the San Francisco public beach with food and drinks. Awesome value.

Response from At Home In Cozumel Inc

30. June 2008

Glad you liked the place so much. It really does offer so much for so little.

Cozumel Vacation May 08\

William O. from Pelham United States, 09. June 2008

Stayed for 7 days in May, 2008

Response from At Home In Cozumel Inc

30. June 2008

We're glad you would recommend Residiencias Reef 8170 to others. But a little distressed that our manager got only a "2". If you care to, could you please contact us? We always are trying to make our places better.

Karen L. from Albuquerque United States, 04. June 2008

Stayed for 10 days in April, 2008

Excellent

Laurie O. from Pine Lake Canada, 03. June 2008

Stayed for 5 days in May, 2008

The whole stay was exactly what we were looking for. the only thing that wasn't great was the grocery delivery, we only got some of What we ordered, the things that were not in the room we did see in the grocery store(not sure why they did not get them for us)

LouAnn J. from Moore United States, 28. May 2008

Stayed for 5 days in May, 2008

From our first phone call to inquire about the property to driving out the gate to leave, everyone was polite and helpful. The condo we stayed in (8170) was a studio but absolutely perfect for us. Having a kitchen was wonderful...we bought drinks and snacks to keep in the room which was nice. The property is beautiful and the staff is amazing, always working so hard to keep it clean and to make sure you have a great place to stay. We will definitely stay here on our next trip.

WONDERFULL VACTION

Chad G. from Delight United States, 23. May 2008

Stayed for 7 days in May, 2008

great rental

Point Richmond United States, 16. April 2008

Stayed for 10 days in December, 2007

My rental was great value for the money at $90/night for ten nights. It wasn't too convenient requiring a taxi, car rental or scooter from town. However the unit was in great condition, nicely appointed and I enjoyed my stay.

Great accomodation

Mark D. from North Vancouver Canada, 12. April 2008

Stayed for 1 days in March, 2007

We had a wonderful stay at the RR. We would definitely go back. Cozumel is amazing!

Great stay!

Sheboygan Falls United States, 12. April 2008

Stayed for 7 days in February, 2008

My husband and I had a wonderful time in Cozumel, especially where we stayed. Our little studio was a one minute walk to the beach. Everything was quiet and peaceful at the resort and if you wanted a little more excitement and adventure, you could walk down the beach and go jet skiing, snorkeling, etc. The resort isn't in the hustle and bustle of the city, as it is about five minutes out of town but thats what we loved so much about it. The staff is infinately helpful and there are always taxis available any time of the day or night. We had a wonderful time and would suggest this resort to anyone!
Precise property address:
KM 14 Carretera Costera Sur
Cozumel
0 miles from San Francisco beach
Check in / out
Check in time
Check in after 3:30 PM (possibility to leave luggage in from )
Check out time
Check out by 11:30 AM (possibility to leave luggage in until )
Easy check in
Code locks or personal welcome allow you to go directly to ...
More info on check-in/out
Amenities
Amenities
Amenities
List of amenities in this specific property
List of amenities in this specific property
Business

Golf Course within 11 miles

Culture

Lighthouse, Mayan Ruins, Museums

Entertainment

Smart TV, Wireless Internet

Family

Beach , Resort Day Pass Available

Geographic

Beachfront Development, Exceptional Sunsets, Ground Floor Unit

Kitchen

Blender, Coffee Maker, Cookware, Granite counter tops, Microwave, Oven, Purified Water Provided, Refrigerator, Stove, Toaster, Utensils
Living

24 Hour Security, Beach Towels, Breakfast Bar, Ceiling Fans, Ironing Board, Linens, Maid Service 6 Days a Week, Non-Smoking Unit, Private Gated Community, Safe, Washer & Dryer

Outdoor

2 Heated Freshwater Pools, Beach Walking, Beachcombing, Pier for Dive Boat Pick Up, Scuba Diving, Snorkeling , Swimming, Walk to Beach Restaurants
Find properties available for your stay dates
- Nearby properties you might be interested in.
Downloads
Additional information you might be interested in.