Search
Property detail & price proposal
Reserve
Thank you
Residencias Reef 7360 5 Bedroom
Newly renovated 5 bedroom with private solarium MUST SEE!
5 Bedrooms for 8 guests (max. 10)
KM 14 Carretera Costera Sur, Cozumel
contact the manager
Call Annette
US 800-833-5971
or fill our mini-form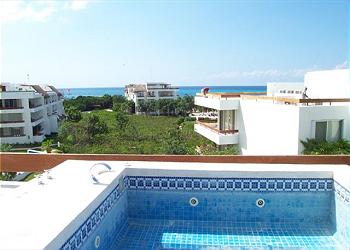 Description
The Residencias Reef Condominiums on Cozumel are located right on San Francisco Beach, the most beautiful beach on Cozumel. Just a 5 minute boat ride to some of the greatest reefs, it's perfect for beachcombers. There's also good snorkeling just off the beach. And that beach stretches on for miles and miles so you can run or jog for as long and as far as you like.

All the Residencias Reef condos are fully air conditioned, have maid service, and access to two large heated freshwater infinity edge pools, the 2nd swimming pool is directly in front of building three where this unit is located. The condos are located about 9 miles south of Cozumel's only town, San Miguel.This unit has 5 bedrooms and 5 baths + a private solarium with amazing views and sunsets. Not to mention the wet bar and jetted tub for your enjoyment. This unit truly has everything you could ask for. Easy access to the beach and either of the 2 swimming pools.
New Photos on the way!
Address

KM 14 Carretera Costera Sur,

Swimming pool

2 Heated Freshwater Pools

Floor

0

Elevator

No
Bathrooms

5

Surface

0 ft2

Sleeping arrangements

2 King, 3 Queen, 2 Twin
Reviews for this property
Great Trip!

Terence M. from Lyman United States, 15. May 2022

Stayed for 7 days in April, 2022

Had a wonderful time. We stayed in unit 7360, the 5BR/5 BR unit. Excellent. Grounds were well maintained, security was excellent, and the weather was wonderful! Visited many of our favorite places (Casa Denis, La Choza). We LOVE Cozumel. Cannot wait for our next trip!

Response from At Home In Cozumel Inc

08. June 2022

Glad you enjoyed your stay! Give us a call when you are ready to return!

Residential Reef Condos = 5 stars

Joseph L. from Ausitn United States, 16. August 2021

Stayed for 7 days in August, 2021

Residential reef condos have become our go-to vacation rentals. The condos are family oriented, quiet and safe. The neighboring north hotel complex is a loud, party facility and unfortunately the blaring music and noise transfers over to the Residential Reef condos. I simply filter out the noise by staying indoors after 8PM as the condo walls are well insulated.

Beautiful place!

Barbara L. from United States, 15. April 2021

Stayed for 4 days in April, 2021

This condo was just wonderful! Nicely decorated, fantastic views and very attentive management. Very roomy and slept 8 of us very comfortably. Would highly recommend. We love Cozumel!


Response from At Home In Cozumel Inc

10. June 2021

Glad it was an amazing birthday celebration!

Perfect for 8

Gary G. from Fort Edward United States, 23. March 2020

Stayed for 7 days in March, 2020

The condo was perfect for 8 of us, bedrooms large and each had own bathroom, which was great. I only have a few suggestions. A light outside on deck would be nice for evening games. A ceiling fan in master bedroom would help as we like to keep air conditioning off at night. We could not get rooftop tub to hold water. We called maintenance and they could not fix it. The kitchen was well stocked, but needs a cutting board.
Otherwise, a great place to stay and we plan to rent this unit again for a large group.

Well rested

Michael S. from Georgetown United States, 16. March 2020

Stayed for 7 days in March, 2020

Great time and accommodations. I will be back.

Great experience!

Kelsey M. from Saint Robert United States, 13. November 2019

Stayed for 4 days in November, 2019

I was apprehensive about booking with a third party, but was pleasantly surprised by our experience. The ladies with At Home in Cozumel were wonderful to work with. The condo was perfect for our group of 7. It was clean and spacious, though decorated very simply (but that's not why you go to Cozumel, now is it?). The rooftop patio was a great bonus with enough space for our dance party. We love staying at Residencias Reef and would never hesitate to stay at this condo again.

3RD TIME

Grapevine United States, 15. August 2019

Stayed for 7 days in August, 2019

We've been to this unit three times now. Could it be better... yes I suppose. But they are little things. Like there wasn't a sharp knife in the place, so we bought one. The toaster didn't work so we used the oven. Things like that. I would think that is pretty common for a condo. The blender did work and that's important! The beds aren't super luxurious but I've slept on worse. I do know that each of these condos are equipped differently. So some could be better and some worse.

The reason we like this unit is A) it is huge and a good value B) even though this condo is in the back building, it's not far at all from the beach and you actually have a nice view. C) the beach and pool areas are awesome D) rooftop is very nice E) Washer and Dryer come in handy

First day in we stop at Mega and load up on groceries. We cook breakfast and lunch in the condo and go out for dinner. Here are some of our go to restaurants. BTW, we don't like the over priced tourist traps.

Cielito Lindo Bistro - Amazing Mole, Pork Shank and Stuffed Poblano. Can't say enough about those three dishes.

Los Otates (I think the name might have changed) - great tacos and cheap beer

La Pescanderia San Carlos - Off the beaten path but amazing fried whole fish. We had grouper and snapper.

El Foco - another small off the beaten path restaurant. Get the sangrias.

Money Bar - They have live music on the weekends. You are on the ocean but are paying for it.

Carlos and Charlies - Touristy but right next to condo. You can walk.

Hope this helps! We'll be back for sure.

Great Condo

Grapevine United States, 15. June 2017

Stayed for 6 days in June, 2017

We have been to RR several times and this Condo is very nice. It is huge. We have stayed in this one 2X. While this building is the furthest from the beach, it really isn't that far to walk and you still have a great view. The rooftop is amazing. All I can tell you is that all of these condos are not equipped the same. They will all have the basics, but this unit is way better equipped. We like to cook breakfast and lunch in the condo and go out to eat in the evening.

I will say if you have not been to this part of the island, you really need to rent a car. We met a family that was expecting a lot of restaurants to be in the area. While you can eat at a couple of places nearby, they close early. Most of the resorts next to RR are All Inclusive. Cab ride each way to town will easily exceed the car rental for a week. Cozumel is a really easy place to navigate in case you are worried about driving. Just pay attention to the roads in town. Most are one way.

Great vacation Rental

Boulder United States, 05. April 2017

Stayed for 7 days in March, 2017

This was a great vacation rental. We got moved to this unit after a terrible stay for one night at another property . Thank you for taking care of us Ishmael. My only few suggestions to the owner would be , that it would be great to have a hammock outside on the deck. Also the upstairs beds could use the same great foam pads that you had on all the other beds. Unit was super clean and very well stocked in the kitchen. A few more plastic cups would be helpful and a small cooler for trips to the wild side would be a bonus. The boogie boards were a huge hit .Great diving and loved being picked up at the dock. Plenty of room for our party of eight. Nice quite location .

Beautiful, spacious, private

Priscilla G. from Los Angeles United States, 06. July 2016

Stayed for 7 days in June, 2016

Walked in to a huge home, love the sliding glass doors in the living room and the fact that they have a laundry room upstairs. The grounds at the reef are beautiful and never too busy. Most of the time we were the only people on the beach and the pool. Awesome vacation. Downfall tip Cozumel is the need for a car rental as it is very expensive to get around by taxi. Visit the money bar and take a tour snorkel tour with tiger to visit el cielo.

Amazing Vacation!

Christine W. from Gainesville United States, 12. June 2016

Stayed for 7 days in May, 2016

This rental was spacious, comfortable and clean. We spent most of our time at the beach or at one of the 2 pools. The property was well maintained and the staff was attentive and very friendly. We had an issue with one of the A/C units that was resolved immediately by the maintenance team. One of the highlights was using the cook service, which made it a TRUE vacation! The meals were delicious!! Given the opportunity, we would definitely visit here again!

Great stay

Marina D. from Chicago United States, 07. December 2015

Stayed for 4 days in December, 2015

This place saved us in the middle of our vacation from a another terrible, run down place. This condo was wonderful! Everything you need, it has. Very pretty views and pretty quite. I would definetly stay here again.

Spring Break 2015

Joe M. from Muskego United States, 19. April 2015

Stayed for 7 days in April, 2015

Unit was very nice. Staff was quick to fix the wifi and direct TV. Housekeeping service was great. Furnishing was ok, not great. The mattresses need to be replaced. Very hard. Condo location is great. Very quiet and away from the cruise ships. Dive and snorkel tours picked us up right from the pier next door. The pools and beach were very nice. Make sure to try the taco stand right at the entrance off the main road. They were amazing.

A little piece of paradise!

Chrysti B. from Dayton United States, 16. March 2015

Stayed for 5 days in March, 2015

We had 8 people in our group and had plenty of room to roam. We spent most of our time outside and around the beach. It was beautiful! We had the cook services, which I would highly recommend. Maricela was amazing and worked around food allergies. It was delicious! The maid did a very good job while we were there! If you are looking for quiet and 100 yard walk to the beach is ok, you will love any of theses condos. We hope to return soon!

Beautiful beach front complex

Lucia D. from Rochester United States, 16. February 2015

Stayed for 14 days in January, 2015

The Residencial Reef is a wonderful front beach property. The place look like a breautiful garden, very well maintained, 2 heated pools, nice private beach, very nice staff from the security gate to the cleanning lady.
The place was very spacious, but the kitchen needs to have more pots and dishes. We also needed beach towls. The 2 people who take care of the place were very nice and responded quikly to our requests.

7360 Residencia Reef Cozumel

Altona Canada, 12. March 2014

Stayed for 8 days in March, 2014

This place was fabulous for a larger group. We had three family groups and had lots of space. Someone commented on an earlier review that there was not enough seating space in the living room, well there was so much outside space on the balconies and roof top that we barely saw the living room. Everyone loved it.

No need for Air Conditioning!

Paul P. from New York United States, 22. February 2014

Stayed for 7 days in February, 2014

Good Condo with sliding door / walls that can open up to make an indoor outdoor unit. We had to waste water waiting for the hot water to reach our unit. (A hot water recurculating pump woudl solve this.)

Very clean.

A midsummer dream in Cozumel

Ivan S. from Katy United States, 16. July 2013

Stayed for 8 days in July, 2013

Words would get short of what we have experienced in our week at Residencias Reef 7360, the only negative little spot is the Chaise Long at the TV area is not in good working condition as of the rest of the property, should be replaced ASAP. The rest of the property spotless, beds, great, furniture good, view great, maintenance great, staff at RR, very professional ant polite, pools, beach and showers, great condition. I did SCUBA diving and used the pier on the side of the property, great shape and easy to use. In general terms a five star experience with a minor spot. I am looking forward to planning my next vacations in Residencias Reef.

Had great time.

KEITH C. from HUNTSVILLE United States, 21. June 2013

Stayed for 7 days in May, 2013

.

Clean, Quiet and Spacious!

Lacombe Canada, 02. April 2013

Stayed for 7 days in March, 2013

This property was an excellent accommodation for our group of 7 adults. We enjoyed the view from the balcony and sitting on the rooftop deck. A couple of small critiques: we found the that there was not quite enough living room furniture (for our group) and the lighting was a bit dim. Other than that - excellent!

VERY spacious and comfortable - GREAT place for divers

Mark K. from Blackhawk United States, 10. February 2013

Stayed for 9 days in January, 2013

The condo's wi-fi router went out but after contacting the manager it was repaired within 2 hours. Wi-fi coverage was at least 95%. Only problem area that I notified was in the master bathroom.
Beds were a little on the hard side for my taste but that did not keep me from getting a good night sleep.
Kitchen pans were OK but just what you would expect from a condo rental
Fry pans have been slightly abused from past guests - partially curved bottoms with the Teflon scraped off. However, I was the only one in my party of 5 that noticed. A few more ice trays would be nice. Kitchen was spacious and equipped with a good refrigerator ( double door in size) and stove.
Maids and condo staff were very helpful and a pleasure to deal with.
Condo area had a fresh water rinse tank and showers in between the 2 pools
Dive dock was only a 5 minute stroll away
Even the tight *** of the group found it acceptable and reasonably priced
All in all I was very pleased and would re-book on my next trip


Second time staying at an At Home in Cozumel property

Joan d. from Morgantown United States, 27. November 2012

Stayed for 8 days in November, 2012

This was our second time staying at an At Home in Cozumel property and we have been extremely happy with them both times. The option of having someone come in and cook for us is a big plus! We dive and the last thing I want to think about after a day of diving is, "What's for dinner?", whether I have to cook it myself, or go out somewhere to find it. The food is much better than anything you get in a restaurant, too. The cleaning service is fantastic, as well. All the staff members are great and respond to any questions or concerns almost immediately. Orlando was especially helpful whenever we needed anything. Bottom line, we will always stay at an At Home in Cozumel whenever we visit the Island!!

Great place but hard beds!

Stacey E. from Cedar Park United States, 06. November 2012

Stayed for 4 days in October, 2012

We loved the place but the beds were EXTREMELY uncomfortable! Very hard! It also seemed to have a lack of living room furniture for the amount of people that could sleep there. One couch and the "lounge" chair was all ripped up so it hurt if you sat on it. We were told there was a bathroom on the roof deck but we couldn't get a key to work in the door. Otherwise, it was a wonderful place to stay. The beach was beautiful and very quiet. Beach and pool chairs were nice. We literally felt like we owned the beach! Rooms were cleaned daily which was great.

Very good for a big family

Daniela F. from Midland United States, 06. February 2012

Stayed for 4 days in January, 2012

Our stay was very good, the staff at Residencias Reef are very friendly and the location was good for us, no noisy at all!!!

The only advice is to check everything in the apartment when you start using it, because we were asked for a broken chair in one of the bedrooms the day before of the check-out and we had no idea of that occurrence. I explained that we did not used the chair and we didn't check all the things when we arrived, so the concierge accepted our arguments, but the situation was very uncomfortable. Overall the apartment is great and the condo is fantastic!

The unit was beautiful and very spacious. However, it was not equipped with very many of the usual kitchen utensils, ie. knives, cooking spoons, pots and pans.

Molly H. from Springfield United States, 23. June 2011

Stayed for 7 days in June, 2011

My parents stayed in 7120. Their kitchen probably had more cooking utensils and supplies than mine. It obviously is owner occupied and 7360 is used just as a rental. Theirs felt more like home, where ours there wasn't much else to do there besides eat and sleep.

Sulphur US, 18. October 2010

Stayed for 4 days in October, 2010

Safes need to be in working, other than that our second stay at this unit was excellent!

Sean A. from Cedar Falls US, 23. March 2010

Stayed for 7 days in March, 2010

the place was wonderful in every way, great location , clean, quiet beaches & great sunsets. the only comment I would share is that the house could use a few more large pots and pans & cooking utinsils.

Sulphur US, 16. August 2009

Stayed for 5 days in August, 2009

Fantastic Condo! Great value.

Elizabeth P. from Houston United States, 12. May 2009

Stayed for 3 days in May, 2009

The condo was fantastic, it exceeded our expectations. It was very roomy, nicely decorated, had great views and was very convenient to the pool and the beach. The only issue was that one of the bedrooms had bed bugs! I woke up in the middle of the night being attacked. My arm and back looked like a war zone. As long as they take care of that situation, I would still highly recommend the condo.

plenty of room, good condition, great location, spending a little bit of money to get the kitchen utensils and amenities in order would be appreciated.

Jason H. from United States, 10. April 2009

Stayed for 8 days in March, 2009

Novato United States, 04. January 2009

Stayed for 11 days in December, 2008

Beautiful and spacious appartment. Seemed like we might have been the first guests to ever stay there. On the downside the appartment was a bit too bare. Although an enourmous deck on the roof, there were no furniture there so the space was rather useless. Also, some color and something on the walls would have made the place much more inviting. The kitchen had all appliances that you might need but was limited in utensils - only one large knife, no wine glasses. Enough plates for us (4) but not really enough if you were 8 people. Appartment could very comfortably fit 8 people (4 couples or 2 families) though. The location is very quiet, the view beautiful but there is really NOTHING around - in the evening there is not even a restaurant/bar within walking distance.
Precise property address:
KM 14 Carretera Costera Sur
Cozumel
0 miles from San Francisco beach
Check in / out
Check in time
Check in after 3:30 PM (possibility to leave luggage in from )
Check out time
Check out by 11:30 AM (possibility to leave luggage in until )
Easy check in
Code locks or personal welcome allow you to go directly to ...
More info on check-in/out
Amenities
Amenities
Amenities
List of amenities in this specific property
List of amenities in this specific property
Business

Jack Nicklaus Pro Course-11miles, Nearby ATM

Convenience

Convenience Store, Elevators

Culture

Lighthouse, Mayan Ruins, Museums

Entertainment

CD Player, DVD Player, Flat Screen Television, Internet Connection: High Speed, Satellite Television, Television, Wireless Internet

Family

Beach , Resort Day Pass Available

Geographic

Beachfront Development, Beachfront Subdivision, Exceptional Sunrises, Exceptional Sunsets, Exceptional Views, Oceanfront, On A Sandy Beach, Penthouse Unit, Private Rooftop Solarium, Secluded, Third Floor Unit, Unubstructed Ocean Views, Wrap Around Balcony

Kitchen

Blender, Coffee Maker, Cookware, Dishwasher, Full Kitchen, Granite counter tops, Microwave, Oven, Purified Water Provided, Refrigerator, Stove, Toaster, Utensils
Living

24 Hour Security, Bring your own beach towels, Ceiling Fans, Dining Table w/Chairs for 8, Fully Air Conditioned, Ironing Board, Linens, Maid Service 6 Days a Week, No Telephone, Non-Smoking Unit, Private Rooftop Tub, Rooftop Solarium, Safe, Smoking on Terraces Only

Outdoor

2 Heated Freshwater Pools, Balcony, Beach Chairs, Beach Walking, Beachcombing, Dive Shop 150 Meters, Jet Ski Rental, Palapa (s), Parasailing, Pier for Dive Boat Pick Up, Scuba Diving, Snorkeling , Surfing, Swimming, Walk to Beach Restaurants, Wrap-Around Balcony
Find properties available for your stay dates
- Nearby properties you might be interested in.
Downloads
Additional information you might be interested in.