Search
Property detail & price proposal
Reserve
Thank you
Residencias Reef 7160 One Bedroom
At San Francisco Beach.Great Rate! 2 Pools. Fast Internet, Near Reefs, Dining
1 Bedrooms for 6 guests (max. 6)
KM 14 Carretera Costera Sur, Cozumel
contact the manager
Call Annette
US 800-833-5971
or fill our mini-form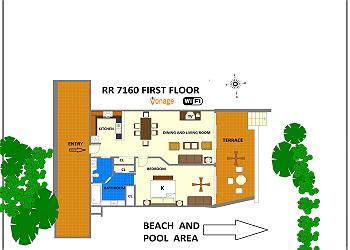 Description
Building 3 - 7160 ONE BEDROOM UNIT: The Residencias Reef Condominiums in Cozumel are located right on San Francisco Beach, the most beautiful beach on Cozumel.
Just a 5 minute boat ride to some of the greatest reefs, it's perfect for beachcombers. There's also good snorkeling just off the beach.
And that beach stretches on for miles and miles so you can run or jog for as long and as far as you like.


All the Residencias Reef condos have central air conditioning, maid service, and access to 2 swimming pools one of which is a large freshwater infinity edge pool right on the beach.


THIS CONDO IS ON THE GROUND FLOOR FOR MAXIMUM CONVENIENCE TO THE BEACH, POOL, PLUS FREE INTERNET!


The condos are located about 9 miles south of Cozumel's only town, San Miguel where you will find a virtual smorgasbord of wonderful shops and restaurants.
Address

KM 14 Carretera Costera Sur,

Swimming pool

2 Heated Freshwater Pools

Floor

0

Elevator

No
Bathrooms

1

Surface

0 ft2

Sleeping arrangements

2 Sleeper, 1 King
Reviews
recommended by
-
-
Cozumel Info
TRAVEL INFO AND FAQ
Reviews for this property
Residencies Reef Condo

Forest Lake United States, 14. March 2018

Stayed for 8 days in March, 2018

It was very nice. Our house cleaner did an excellent job. It would be nice to have a grill and some basic spices in the cupboard to cook with. The grounds and pools were great! We rented a car so that worked well to get groceries and go to restaurants.

Lovely one bedroom at Residencias Reef!

Cameron M. from Austin United States, 12. December 2017

Stayed for 3 days in December, 2017

We've stayed at several units at the Residencias Reef, and this was one of our favorites. Even being on the first level, the views were fantastic. We had a little trouble with the wifi and satellite TV, but overall a very good experience. Would rent here again.

Room 7160

Naperville United States, 30. March 2017

Stayed for 5 days in March, 2017

Overall a great place.

Very nice place!

Karen F. from Uvalde United States, 31. August 2015

Stayed for 7 days in August, 2015

We stayed for 7 days August 2015. The condo was a great place to stay. It was very spacious and roomy. The furnishings were very nice and comfortable. We were disappointed that Internet not working well. Took us a couple of days to get in touch with manager, but he gave us a solution. There is no phone, which was very inconvenient, especially with no internet. The TV only had a couple of English stations, so that was disappointing. No videos available. The patio was very comfortable, the view would have been great without the Hibiscus plant right in front. We loved access to pool out back door. We have stayed many times in Residencia Reef condos. There are two pools, which are very fun to swim in. We absolutely love location, water and pier. It is so quiet and peaceful. You need a car, if you plan on getting to town or south end. The maid was so sweet and did a great job. We were disappointed that on website it had stated washer and dryer. But that meant maid did laundry. She did without us asking. But we like to dry suits in between swims, so would have liked access. I also was told no blow dryer, but after finding place in suitcase, got there and one was already there. The bed was semi comfortable, we wished we had had a little extra covers at night sometimes. Overall, this was a great place! Would recommend to couples and families with small children.

I would recommend this condo highly!

Rae Ann P. from Gig Harbor United States, 17. May 2015

Stayed for 10 days in May, 2015

We had the most amazing experience! The condo was beautiful and very clean. The staff were so friendly and helpful. The pools and beach were wonderful and so much fun.

A great place to stay

Morton K. from Muskegon United States, 15. March 2012

Stayed for 15 days in February, 2012

The biggest and most important comlaint is there was NO telephone in the unit.I feel this is a dangerous situation. I used my cell phone to call Raul Silva at large expense to me, I would have had a terrible time in an emergency. I had booked this condo 7160 very early in the year and at that time it showed telephone service, I never would have booked it had I known there was no telephone.

Great week at Residencias Reef during Carnaval, February 2012

Dan B. from Ann Arbor United States, 12. March 2012

Stayed for 7 days in February, 2012

We stayed in a 1-bedroom condo in building 3. The place was more beautiful than we expected from the photos. The staff (maid, property management contact, front gate/guards) were all very competent and friendly. Raul, our management contact, stopped by whenever we had a question (like how to use the very high end electronic stoves) and even went into town to get a drawing pencil for us. The heated pools made them very comfortable and usable. The beach area was great for sunset viewings. We would return without hesitation.

Condo 7160

Erica L. from Boulder United States, 29. December 2011

Stayed for 6 days in December, 2011

Beautiful condo...well kept, comfortable bed, clean, very spacious, great amenities like a coffee maker, dvd player, dish TV, blender, etc. spacious deck, first floor...overall amazing!

Very nice

Patrick S. from Hopewell Jct United States, 19. December 2011

Stayed for 7 days in December, 2011

11 times to Cozumel. The Wi-fi code was not included in the paper work, which meant we had to wait for the weekend to pass to obtain it. Would be a good idea to add it with the lock-box code.
The mad service is unreal. The first day my friend thought the underwear and shorts he left on the floor were taken. Shortly after the maid showed up with them washed, dried, and folded. Every day she washed our dishes, mopped, scrubbed... you could eat off the floor. I loved that there is no check-in. You get a lock-box code and when you arrive you have immediate access to your place.


Jane O. from Eveleth United States, 09. April 2011

Stayed for 7 days in March, 2011

Christopher S. from White Hall United States, 27. March 2011

Stayed for 5 days in March, 2011

Thanks!

Aside from the disfunctional washing machine and lack of a large pot (to cook pasta), our stay was wonderful. Loved the beach and pools.

Mary Ann J. from Clifton Park United States, 07. March 2011

Stayed for 7 days in February, 2011

great property

wendy s. from surrey Canada, 01. February 2011

Stayed for 7 days in January, 2011

Loved the condo, great beach, friendly staff, Javier was very helpful, would definatley stay again.

Enjoyed stay at Residencias Reef

Jeff S. from Moosomin Canada, 17. January 2011

Stayed for 7 days in December, 2010

Really enjoyed the groud level condo. The manager was very helpful in solving a problem with the pull out bed being too uncomfortable.

Steve S. from Boca Raton United States, 14. January 2011

Stayed for 2 days in January, 2011

Fantastic

Robert R. from seffner United States, 08. June 2010

Stayed for 7 days in May, 2010

If you are looking for a quiet place on the beach, this is it. The pool sits on the beach with palm trees and a veiw of the blue waters of Cozumel. If you are a diver Sand Dollar sports is next door with the pier right out front where you are picked up by the dive boat. The condo was very nice, with all the comforts of home. I highly recommend this place.

Great Stay in Cozumel!

Fort Wayne United States, 19. April 2010

Stayed for 7 days in April, 2010

We traveled to Cozumel to relax and do some diving - Grandma, kids and all. The apartment provided an excellent base - to eat breakfast and lunch without packing, driving and supervising kids in a restaurant. The beach was great fro basic snorkeling for a kids (5-11) and we were even picked up for the boat dives. Everything was clean, there was a kitchen, dishwasher, washer and dryer, even high speed internet with US vonage! 7160 has two pullout couches - and space was enough for 3 big and 3 small people...
We would book there again in a heartbeat!

Just Perfect

Greg R. from Rochester United States, 04. April 2010

Stayed for 7 days in March, 2010

Have been coming to Cozumel for the last 12 years for a week sometime two. Have stayed in a lot of places been i think i have found a new home its was perfect.......thank you

Bloomington United States, 31. March 2010

Stayed for 8 days in March, 2010

There were a couple of nights when several young people had very noisy parties. It would be nice to have someone like the gate guards to call on to tell the partiers to hold it down.

Stayed many times, will not use 7150 or 7160 again

Harold Dean L. from Elizabeth United States, 24. March 2010

Stayed for 7 days in March, 2010

We have stayed at the Residencia many times, love the property have even considered purchasing a home. This time for the first time was disipointed with my unit, everything seemed half , not enough towels, furnishings minimal, door knobs broke,we have a mountain home that we rent and would be embaressed if we were to rent it to someone in that shape. We will rent again because we are big divers and love the place, we just won't rent 7160 0r 7150. Also you need to inform people of the new cost by Sand dollar sports to use the pier, have been diving off that pier for five years and have never had to pay a fee, suprise, also tell them never to use sand dollar sports for any activities they only care about the money not the experience.

Internet did not always work the way it should have. beach towels would have been nice.

Maysville United States, 06. June 2009

Stayed for 5 days in May, 2009

Louis B. from Catspring United States, 01. June 2009

Stayed for 4 days in May, 2009

Seattle United States, 13. May 2009

Stayed for 7 days in May, 2009

Great escape

Jeanette L. from Menlo Park United States, 12. April 2009

Stayed for 5 days in April, 2009

Viewing the property through the internet was all that I was able to see and the details that were listed were all accurate. The property was very well maintained. The one bedroom we stayed out was very nicely kept, clean and quite large for a one bedroom. I enjoyed the peace and quiet of not being at a hotel type of setting. I would certainly return back to this property if I were to return back to Cozumel.

Love this quiet family get-away

Coulette L. from Bloomfield United States, 26. March 2009

Stayed for 7 days in March, 2009

This was our second year staying at the Residencias Reef. It is a beautiful property with a gorgeous beach and 2 kid friendly pools. The condos are high quality and very clean. Highly recommend staying at the RR.

Vicky P. from Belle River Canada, 20. February 2009

Stayed for 14 days in February, 2009

The only concern we had with the unit was there was mould in the bathroom ceiling and for that reason we had to leave the bathroom exhaust fan on.Other than that it was a pleasant stay.

I bed apartment review

Conor M. from Acquasparta Italy, 13. January 2009

Stayed for 7 days in January, 2009
Precise property address:
KM 14 Carretera Costera Sur
Cozumel
0 miles from San Francisco beach
Check in / out
Check in time
Check in after 3:30 PM (possibility to leave luggage in from )
Check out time
Check out by 11:30 AM (possibility to leave luggage in until )
Easy check in
Code locks or personal welcome allow you to go directly to ...
More info on check-in/out
Amenities
Amenities
Amenities
List of amenities in this specific property
List of amenities in this specific property
Business

Nearby ATM, Jack Nicklaus Pro Course-11miles

Convenience

Convenience Store

Culture

Lighthouse, Mayan Ruins, Museums

Entertainment

DVD Player, Internet Connection: High Speed, Satellite Television, CD Player, Internet is Wireless or Ethernet, Flat Screen Television, Internet Access (bring laptop)

Family

Beach , Resort Day Pass Available

Geographic

Exceptional Sunsets, Beachfront Development, Ground Floor Unit

Kitchen

Blender, Coffee Maker, Cookware, Full Kitchen, Granite counter tops, Microwave, Oven, Purified Water Provided, Refrigerator, Stove, Utensils
Living

Beach Towels, Breakfast Bar, Cook Service Available, Linens, Maid Service 6 Days a Week, Non-Smoking Unit, Safe, 24 Hour Security, Dining for 6, No Telephone, Private Gated Community, Central Air, Washer & Dryer

Outdoor

Beach Walking, Beachcombing, Dive Boat Pick-Up Adjacent Beach, Palapa (s), Scuba Diving, Snorkeling , Swimming, Walk to Beach Restaurants, 2 Heated Freshwater Pools, Dive Shop 150 Meters, Pier for Dive Boat Pick Up
Find properties available for your stay dates
- Nearby properties you might be interested in.