Search
Property detail & price proposal
Reserve
Thank you
Residencias Reef 7130 One Bedroom
Residencias Reef 7130 Paradise!
1 Bedrooms for 6 guests (max. 6)
KM 14 Carretera Costera Sur, Cozumel
contact the manager
Call Annette
US 800-833-5971
or fill our mini-form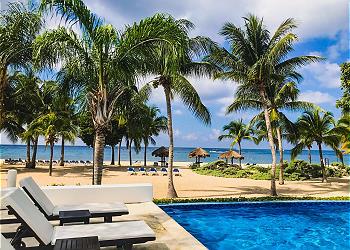 Description
Building 3 - 7130 ONE BEDROOM UNIT: The Residencias Reef Condominiums in Cozumel are located right on San Francisco Beach, the most beautiful beach on Cozumel.
Just a 5 minute boat ride to some of the greatest reefs, it's perfect for beachcombers. There's also good snorkeling just off the beach.
And that beach stretches on for miles and miles so you can run or jog for as long and as far as you like.


SNORKEL AND DIVE BOAT PICKUP
All the Residencias Reef condos are fully air conditioned, have maid service, and access to 2 heated swimming pools one of which is a large freshwater infinity edge pool right on the beach.


THIS CONDO IS ON THE GROUND FLOOR FOR MAXIMUM CONVENIENCE TO THE BEACH, POOL, , PLUS FREE LONG DISTANCE AND FREE INTERNET!

This unit also has an exercise bicycle!
The condos are located about 9 miles south of Cozumel's only town, San Miguel where you will find a virtual smorgasbord of wonderful shops and restaurants. Or try out the cook service
COOK SERVICE INFO
Address

KM 14 Carretera Costera Sur,

Swimming pool

2 Heated Freshwater Pools

Floor

0

Elevator

No
Bathrooms

1

Surface

0 ft2

Sleeping arrangements

1 King, 1 Queen, 1 Sleeper
Reviews for this property
Residencias Reef

Douglas United States, 27. March 2023

Stayed for 56 days in January, 2023

We have stay in this condo numerous times. The location is great, nice large patio, and very clean. The only drawback is the kitchen is in need of better cookware. The property manager is on top of any issues that arise in a timely manner. The beach is beautiful , however the condo association should consider adding more palapas, six is not enough for a complex of the size of Residencias Reef; it is a source of much grumbling every year.

Response from At Home In Cozumel Inc

17. April 2023

Thanks for the input Sandy! Looking into coo kware now!

Oustanding Trip!

KEITH C. from HUNTSVILLE United States, 20. April 2022

Stayed for 5 days in March, 2022

Residencias Reef is as near a perfect place to stay as there is in Cozumel. Best beaches and two pools to boot!

Loved it...

Thanksgiving get away

Phillip P. from Johnston United States, 15. December 2021

Stayed for 8 days in November, 2021

Very spacious comfortable one bedroom condo - Loved it!!!

Fabulous!

Michael R. from Denton US, 24. May 2021

Stayed for 4 days in May, 2021

Wall to wall fabulous!...had secluded feeling with all the trimmings of being at home!

Response from At Home In Cozumel Inc

10. June 2021

That is what vacation is all about! Please call us again to book your next stay in paradise!

Back to my happy place...Cozumel - Residencias Reef

Wichita Mexico, 12. May 2020

Stayed for 1 days in March, 2020

We loved the location of condo 7130. The layout was wonderful. We really enjoyed the view of the ocean, but still had privacy on our patio. We were close to one of the pools and loved the building access without stairs. :) It was nice to have a view from both the living room and bedroom.

Very Nice

erick b. from luskville CA, 29. January 2020

Stayed for 4 days in January, 2020

amazing place, quite, clean,safe, we had a car so it was easy to do groceries and move around. We spent 4 super nights and we will be back. The kitchen is well equipped and the TV worked well - air con was perfect and we had a lovely view of the complex. Two thumbs up!!!

Great location for diving. Close to the reefs

Hopewell Jct New York United States, 02. May 2018

Stayed for 6 days in April, 2018

I have been to Residencias reef many many times over the years. I've also been to many of the other hotels on the island, including right in town. For me, this property is the best. It's close to the reefs so you don't spend so much time on the boat.

The down side is there are no restaurants / bars. However, when I go to Cozumel I want to visit all of the great places it has to offer. In an all-inclusive you are missing out on SO MUCH.

For this particular unit, it's the first time. It was well furnished and clean, just like the others, but it didn't have laundry like the other units do. Or it did but they were locked by the owner. For me, that's a big deal. I like to pack light and being able to wash/dry your things is a huge plus. Nothing worse than having to pack your damp/smelly things into your bag for the flight home.

Next time I will go back to one of the other units that do have laundry. They are all very similar otherwise.

Great place!!

Carla D. from Cozumel Mexico, 23. May 2016

Stayed for 1 days in May, 2016

All was perfect :)

Why Go Anywhere Else?

Houston United States, 20. May 2016

Stayed for 9 days in May, 2016

Stayed here and on this property many times. Other than flaky internet, it is PERFECT!! Cannot say enough nice about the condo, property, massage service, The Mega, Cozumel in general...

Great time, great location

Morgan D. from Niles United States, 25. January 2016

Stayed for 14 days in January, 2016

A delightful experience and our second time staying there. We look forward to going again.

Lovely Escape on Beachfront Property

Calgary (Queensland Downs / Lake Canada, 04. December 2015

Stayed for 10 days in November, 2015

Residentia Reef Condos are located approximately 12 kms away from the busy Centre of San Miguel. They are on a beachfront property with two pools surrounded by flowering shrubs and mangroves, all connected to the beautiful beach by interlocking brick pathways. The property is very well maintained, the pools are warm with plenty of lounge chair seating. Our unit was tastefully decorated and well equipped. We were on the ground floor and looked out onto one of the pools. Every unit has a deck which increases your living space, we had a large bathroom, beach towels and shower towels supplied. The bedroom was large with its open sitting area and king bed. Bottled water was delivered for our stay along with daily maid service. The only complaint we had was the pull out sofa had no support so was dreadfully uncomfortable. Our daughter just slept on the couch, not bothering with the pullout. Unit was air conditioned and had sattelite TV that was sensitive to rain/cloud so sometimes signal was unavailable. Due to the distance from shopping a car is recommended. Overall we were very pleased and would definitely stay at this location again.

Cannot say enough good things about Residencias Reef

Houston United States, 09. June 2015

Stayed for 7 days in May, 2015

We have stayed on this property a dozen times over the years in 3 different units - all wonderful! One right on the beach, one on 2nd floor with beautiful view of beach and one set back overlooking a pool and lush greenery. I may be unusual but one of my favorite aspects of the property is the wildlife. I am so enthralled with the iguana's, turtles, crabs and Bootsie (cat) that greatly added to the ocean and pool activites. The pool outside 7130 was being worked on all week and so we were only able to use that pool the last day, but the other pool was only a short walk away. The workers were entertaining to watch and very polite. Snorkeling was good and the water temp perfect. This location is so convenient to all the sites on the island but I have also bought groceries in town and hardly left the property. When the cruise ships are docked the population and energy level of the island increases - otherwise the laid back atmosphere is what we enjoy.
This unit is in perfect condition. I had expected a washer/dryer but not having one didnt cause a big problem. The lady and her son that came by to do daily cleaning were delightful and I looked forward to their arrival each day.
Although my nose is about to start peeling, I would return back to Cozumel tomorrow if I had a chance and I would stay anywhere in Residencias Reef and no place else!

Loved it!!

Candy R. from Guthrie United States, 13. April 2015

Stayed for 7 days in April, 2015

We loved our stay here. It was a great location if you don't like to be in the center of town but not far from town. All the staff were very kind and helpful. As we were leaving one day to snorkel somewhere else a number of men at the gate were cutting up a bunch of coconuts and noticed we were interested in what they were doing and they cut one up so we could take it and drink the coconut milk. Our unit was right by the swimming pool and our eight and nine-year-old boys were in heaven. We left for a night to go to Chichen Itza and didn't come back till the next day we wish we had thought to tell our housekeeper that because she was worried about us. Would highly recommend this place and the price was right!!

gréât spot and service

Pierre J. from candiac Canada, 11. January 2015

Stayed for 6 days in December, 2014

had a great time, perfect condo. the service was excellent. vert much like to have driving tour at the Beach direct,y in front of condo.

Great Condo

John K. from Aliso Viejo United States, 01. August 2014

Stayed for 5 days in July, 2014

We found the condo very clean and had all of the utensils, cutlery and pots and pans for us to make dinner every night. The condo had everything we needed and it was a great location in the complex. short walk to the car and easy access to be able to drive all over the island. one of the best features was the water pressure in the shower!


we will definitely be coming back to this place!!!

Fantastico!

Lindi F. from Walla Walla United States, 30. June 2014

Stayed for 4 days in June, 2014

We came to Cozumel for a wedding, and the units at Recidencias Reef were perfect for what we needed. If you like to immerse yourself in culture and explore on your own, then you should definitely think about renting a condo at Recidencias Reef. You won't be sorry!

Great Stay

Douglas C. from Verona United States, 23. April 2014

Stayed for 3 days in March, 2014

We enjoyed everything about our place. It was a quality place with all the comforts of home. I highly recommend.

Beautiful but Limited

Cheryl W., 15. April 2013

Stayed for 7 days in March, 2013

We had a fantasticly relaxing time at Residencias Reef, however we were disappointed there weren't more restaurants of some quality available to us. Not a huge deal but it would have been nice to have be enable to buy a drink at the nice poolside bar next door.

Like I said a beauitiful facility.

Good stay - a few tweaks could make it great

Beth H. from Clive United States, 25. March 2013

Stayed for 7 days in March, 2013

The location of this condo can't be beat - right outside the beautiful patio is the pool and beyond that the beach. We love Residencias Reef, this was our 2nd stay there, first in 7130. The condo had comfortable beds and sofas, however the kitchen gear is in need of updating. If you're wanting to cook for yourselves a lot, you'll be disappointed in the cookware, utensils, etc. (Cheap and old.) The shower was problematic as well. The curtain was so lightweight that it would not stay closed, thus causing water to get EVERYWHERE in the rest of the bathroom. I actually fell because of all the excessive water on the floor. The rooms are good size and there are very nice decorations throughout. One big negative - our sheets were never changed in the 7 nights we were there. SAND, salt, etc - gross! When we stayed at another RR condo, our sheets were changed everyday. The cleaning lady was not as thorough as the previous one (Marta.) Overall, we had a wonderful vacation - loved the first floor and pool access, nice people at RR, very professional and we felt safe the whole time. We would return and recommend.

Residencias Reef 7130

Roger W. from Ardrossan Canada, 06. March 2013

Stayed for 14 days in February, 2013

overall we rate out stay 5. the general condition is also rated a 5 - a few amendities could be added: a cooler to take to the beach, beach towels. very happy with the location -rate a 5. property was spotless -rate a 5. the management company was very professional -rate a 5. We would recommend this property to a friend. and we do plan on coming back.

Vacation

Elizabeth F. from Santa Ana United States, 06. January 2013

Stayed for 7 days in December, 2012

None

Just what I wanted.

United States, 09. December 2012

Stayed for 7 days in November, 2012

like the title says, stay was just what I wanted.

wonderful place to stay

Bradley O. from Kamloops Canada, 21. March 2012

Stayed for 14 days in March, 2012

We had an incredible experience. This was a top notch facility. We would not hnesitate to go back, or recommend this place to our friends and family. Viva la Mexico!!!!!!

Unbelievable place

Stony Point United States, 13. January 2012

Stayed for 5 days in January, 2012

The condo and facilities were beyond expectations. It was like a paradise. the facilities were spot less, the price was good and the staff were so helpful. Rent a car and see the Island. I would not stay at any other location

Highly recommended

melissa b. from juneau United States, 29. December 2011

Stayed for 15 days in December, 2011

Great place, reasonably priced. Maid service was exceptional.

great place

Sharon L. from Austin United States, 19. December 2011

Stayed for 4 days in December, 2011

Bed is very comfortable. Clean and well maintained.

Of 5 places we have stayed in Cozumel, this was tops.

John C. from Chan Hassen United States, 04. April 2011

Stayed for 7 days in March, 2011

We have a nice home. My wife said when we arrived, 'this is nicer than our home.'

Enjoyable

Neil K., 16. March 2011

Stayed for 7 days in March, 2011

We had wonderful time at Residencias Reef! Our condo was clean, roomy & well taken care of. The bathroom layout was great, especially because there were four of us. The only thing that was dissapointing was that the pool closest to our unit was not open due to some malfunction. Also the 2 hide-a-beds were not the most comfortable. My daughters each slept on one and said the springs poked them all night. But the condo itself was definitely big enough for 4. The beach area is wonderful with great snorkeling and only a short walk to SanFrancisco beach as well.

David A. from Shelby Township United States, 16. February 2011

Stayed for 7 days in February, 2011

Password to use internet was not written anywhere and Vonage phone number was incorrect. Couldn't use internet first few days and property manager wanted to be contacted via e-mail, difficult if you have no internet! The only way I obtained the phone number was on my families caller ID when I called them. The information book needs to be updated with this information. My stay would have been more relaxing if I had this information on the first day and didn't have to worry about family not being able to get a hold of me in an emergency.

quiet, peaceful, relaxing

Beausejour Canada, 03. January 2011

Stayed for 10 days in December, 2010

sofabeds are uncomfortable but main bed fantastic, had difficulty getting thru on phone to office/manager more than once,very spacious, would be helpful to have few basic kitchen supplies such as salt/pepper, sugar, coffee filters,

Hidden Gem

Nicole C. from Marina del Rey United States, 04. September 2010

Stayed for 8 days in August, 2010

Since we got such a reasonable rate for the room, I didn't really expect a lot. Wow! This place exceeded our expectations. It was one of the nicest places we have ever stayed. The property is beautiful and well maintained and the staff is very nice and extremely accommodating. It had the best air conditioning of any place I've ever stayed. The only thing that might inconvenient is the location but trust me it's worth it. You will have to rent a car if you stay here because it is far from town. We had to drive into town to eat dinner every night but it gave us a chance to eat great local food in local neighborhoods. I was hesitant to write a review for fear we won't be able to get a reservation next time. You won't be dissapointed.

excellent location, friendly staff, very quiet and private.

Sulphur US, 05. May 2010

Stayed for 9 days in April, 2010

Too remote, no stores or restaurants

Medford United States, 03. May 2010

Stayed for 3 days in March, 2010

We were not allowed to take our rental on the island so had to take a taxi. There were no restaurants in the area other than an expensive buffet at a resort and no grocery stores. The beach was lovely, but it felt very isolated from the culture of Mexico. Very quiet.

Excellent location, condo, grounds, very clean

Morton K. from Muskegon United States, 12. March 2010

Stayed for 11 days in February, 2010

the help was very pleasant and helpful,the only draw back was the drive back from, town at night

Cathy M. from Bennett United States, 03. March 2010

Stayed for 6 days in February, 2010

We had a wonderful vacation! The grounds were lovely! And we would love to stay at this property again! The only thing that was a disappointment was our car rental! Javier set it up and a rep from Smart car picked us up at our place, drove us into town in a small,dirty car that seemed like it was going to fall apart! Then I found out was our rental! YIKES! After signing the papers they mentioned that they may or may not be able to take us back to our place when we returned the car! And of course, we had to find our own way home! We then rented a jeep from Executive car rental that was only a couple of blocks away from our condo. They were great!! Very professional and let us keep the jeep to take back to the airport location and gave us a ride to the airport when we returned the jeep! We will rent from Executive again!

mexico Mexico, 07. January 2010

Stayed for 11 days in December, 2009

the matress of the 2 sofas were horrible they bend in the half.

David Y. from Billings United States, 10. January 2009

Stayed for 5 days in December, 2008

The staff & the property was very nice & well kept as described. However, we were disappointed that there were no washer/dryer in the unit as inditated. We packed our luggages according to that understanding.

First Stay at Residencias Reef

Walt S. from Fort Collins United States, 30. December 2008

Stayed for 7 days in December, 2008

Unit was newly redone, spotless, great location, good security. Very relaxing. Great staff. Very quiet.
Precise property address:
KM 14 Carretera Costera Sur
Cozumel
0 miles from San Francisco beach
Check in / out
Check in time
Check in after 3:30 PM (possibility to leave luggage in from )
Check out time
Check out by 11:30 AM (possibility to leave luggage in until )
Easy check in
Code locks or personal welcome allow you to go directly to ...
More info on check-in/out
Amenities
Amenities
Amenities
List of amenities in this specific property
List of amenities in this specific property
Business

Jack Nicklaus Pro Course-11miles, Nearby ATM

Convenience

Convenience Store

Culture

Lighthouse, Mayan Ruins, Museums

Entertainment

CD Player, DVD Player, Flat Screen Television, Internet Connection: High Speed, MP3 Player, Satellite Television, Television in each bedroom, Wireless Internet

Family

Beach , Resort Day Pass Available

Geographic

Beachfront Development, Exceptional Sunsets, Ground Floor Unit

Kitchen

Blender, Coffee Maker, Cookware, Dishwasher, Full Kitchen, Granite counter tops, Microwave, Oven, Purified Water Provided, Refrigerator, Stove, Toaster Oven, Utensils
Living

24 Hour Security, Beach Towels, Ceiling Fans, Cook Service Available, Dining table w/Chairs for 6, FREE LONG DISTANCE to US or Can, Fully Air Conditioned, Ironing Board, Linens, Maid Service 6 Days a Week, Non-Smoking Unit, Private Gated Community, Safe, Washer/Dryer

Outdoor

2 Heated Freshwater Pools, Beach Chairs, Beach Walking, Beachcombing, Dive Shop 150 Meters, Palapa (s), Patio, Pier for Dive Boat Pick Up, Scuba Diving, Snorkeling , Swimming, Walk to Beach Restaurants
Find properties available for your stay dates
- Nearby properties you might be interested in.
Downloads
Additional information you might be interested in.