Search
Property detail & price proposal
Reserve
Thank you
Mondo Palancar 7 Bedroom Villa on 23 Acre Estate
Casa Mondo Palancar 23 Acre Beachfront Estate. 7 BR Villa. Private Pool!
7 Bedrooms for 18 guests (max. 18)
KM 18 Careterra Costera Sur, Cozumel
contact the manager
Call Annette
US 800-833-5971
or fill our mini-form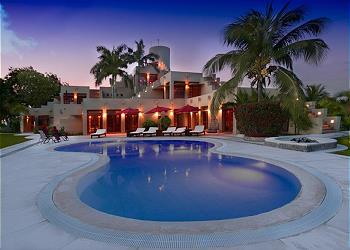 Description
Tucked away on 23 secluded acres the estate "MONDO PALANCAR" is simply grand.
Designed by a world-renowned architect Mondo Palancar is set against a backdrop of the majestic Caribbean sea and the lush jungles of Cozumel. Mondo Palancar was constructed to reflect the traditional style of Mayan architecture while offering totally modern conveniences.
Magnificent doors open to the grand entrance foyer,beyond which the gracefulness of the villa creates a calm and elegant ambience surrounding an interior courtyard.
The luxury villa's numerous outer terraces have sweeping panoramic views over the incredible turquoise waters of the Palancar region. Amazing views top the list of this home's many splendid virtues.
A palace by the sea, this 12,000+ SF home is beyond the imagination. Commodious indoor and outdoor living space is punctuated by the dramatic architectural design, sky high ceilings and warm, golden brushed walls.
Richly appointed, and big on contemporary elegance, this incredible residence is one-of-a-kind. Ultra private, ultra luxurious.
At Mondo Palancar, living room and dining room doors open completely to usher in mild tropical breezes.
All of the 7 bedrooms are spacious and have individually controlled air conditioning. This luxurious Villa is situated directly on the famous, sandy Palancar Beach. Brand new huge state of the art kitchen as well as a outdoor bar area! GREAT FOR HAPPY HOUR ALL NIGHT LONG!!!!!!
Address

KM 18 Careterra Costera Sur,

Swimming pool

Private Freshwater Swimming Pool

Floor

0

Elevator

No
Bathrooms

7.5

Surface

0 ft2

Sleeping arrangements

3 King, 2 Queen, 8 Twin, 2 Sleeper, 2 Other
Reviews for this property
Mondo Palancar

Paradise Travel A. from United States, 08. January 2016

Stayed for 7 days in December, 2015

The property is even more amazing than the pictures represent. We were a giant group of 19, extended family with all ages represented, and it was more than perfect! Jesus & Petra, the caretakers, were so kind and helpful and friendly, they could anticipate any and all of our needs before we needed them. I would most definitely return to this property and wouldn't hesitate recommending it. I have travelled around the globe and this is by far the best accommodation I have EVER stayed in. Thanks for everything.

Great Experience

Ward F. from Ventura United States, 06. June 2014

Stayed for 14 days in May, 2014

We had a great time - very nice property - would love to stay again sometime.

PLace is awesome !

Andrew L. from Houston United States, 14. January 2014

Stayed for 7 days in March, 2013

brought the family here for a week fro Spring break. Ummm Whats not to like about this place email me @ if you want to know more

Best 50th Birthday

Winnetka United States, 20. November 2013

Stayed for 4 days in November, 2013

We had an amazing time at Mondo Palancar! Great set up for 5 couples. The location is quiet and peaceful. The pool and beach set up were perfect. Many different sitting areas and places to relax. The staff was very accommodating and kept the property immaculately clean. Daily housekeeping service was wonderful. We will definitely return with families and friends again!

Even better than advertised

Kevin M. from Dever United States, 03. July 2012

Stayed for 8 days in June, 2012

I took the extended family to Mondo Palancar for a week and we had a fabulous time. At Annette's recommendation we opted for meal service and I was glad we did. Edgar the chef kept us well fed on regional cuisine.

The on-site staff (housekeeper, handyman and gardener) kept everything tidy without being intrusive. There were several roof leaks around the house so towels and buckets were underfoot. The place is so big that we weren't inconvenienced by it, though.

The location is a good 15 to 20 minute drive from town (San Miguel) so it's not convenient to pop over to the supermarket for a needed item. I didn't mind because I really enjoyed the seclusion and privacy.

Bedrooms all have individual air conditioner units but common areas do not. The kitchen can get hot when using the range but there are doors, windows and ceiling fans. Most days there are nice breezes that help keep the house cool.

The beach is rocky so water socks are a good idea. We used the pool much more than the beach anyway.

Internet service is available but the wifi coverage was intermittent. We ended up using the ethernet cable in the upstairs office the few times we wanted to connect.

Overall concensus of the group - "Best vacation EVER!" I would rent this property again.

Our 4th Visit to Mondo Palanar

Decatur United States, 06. June 2012

Stayed for 7 days in May, 2012

There is something magical about Mondo Palancar. Christina, our contact in Cozumel could not have been any more helpful. She was always available and our best resource. Our cook was just the best ever. The new caretakers for the property have the property looking the best it has every looked. The massage folks were exceptional. If you want an excellent SCUBA diver for your stay we recommend highly recommend Alex. We are already planning our next return.

Luxury in Cozumel

Paul S. from Longwood United States, 26. March 2012

Stayed for 14 days in March, 2012

Mondo Palancar is an amazing home for a large family reunion, or a multi-family get-together. Perfectly located well south of town, you are able to avoid the annoyances of the cruise ship ports and large hotels. You are a stone's throw from the famed Palancar Reef, the best diving on the island. The property is quiet and secluded, with all the amenities you could ask for. My only reservation to recommending this property is that you may reserve it before I do for next year!

Mondo Panancar June 2011 Rental

Ronald D. from Grapevine United States, 13. July 2011

Stayed for 7 days in June, 2011

To understand thehonest review, you will need to read my comments fully...We loved the entire vacation and the house is a dream house to stay in. However, the condition of the home is the issue, and the staff did a wonderful job of addressing the concerns immediatly and to the best of their abilities. The staff is wonderful. We expected the home in this price range to be "rental ready" when we arrived and the master bedroom A/C, the kitchen A/C did not work at all, and a second bedroom A/C unit quit working the third night. The out door spa did not work, ice maker never worked, microwave never worked.
The staff got repair personal to fix the master A/C and the spa pump and after two days without A/C the guest bedroom A/C with workmen having to work at the house three streight days interupting our stay and making us unconfortable with all the workmen inside the house and outside during our leisure time.
We was informed that the owner did not want to spend the money to repair the Kitchen A/C, ice maker, and microwave.
We used the cook service for Breakfast and Dinner but we had to use the kitchen for lunch meals and it was like a sauna for us and the cook. It was very unconfortible to say the least due to it being at least 110 degrees in the kitchen.
I would suggest you inquiring about the condition of the home BEFORE your rental as it was a major disruption of your privacy to have so many repairs necessary, but the house is a dream house to stay in.

Andrea M. from Fallas United States, 04. January 2010

Stayed for 7 days in December, 2009

Loved it

Shannon S. from Hobe Sound United States, 06. December 2009

Stayed for 10 days in November, 2009

We absolutely fell in love with Cozumel and Mondo Palancar and Antonio, Teresa and Javier. Great trip.

2nd Trip to Mondo Palancar

Decatur United States, 03. September 2009

Stayed for 7 days in August, 2009

This is our second time to Mondo Palancar. We love it...feels like home. It is spectacular, peacful, relaxing. From the moment we leave we start talking about our next trip back.

An Incredible Vacation!

Paul S. from Longwood United States, 28. April 2009

Stayed for 7 days in April, 2009

Beautiful property, close to Palancar reef for divers. Can't wait to come back next year!

A taste of Paradise in Mondo Palancar

Tammy K. from Golden United States, 20. April 2009

Stayed for 7 days in March, 2009

We returned to Mondo Palancar for the 2nd time in April 2009. 16 family members shared a fantastic week in paradise, wishing we could have stayed for two weeks! This is without a doubt our favorite vacation spot. We've traveled to many places and have finally found the best "resort" for our family. In addition to the wonderful home and amenities (pool, tennis courts, canoes, beech volleyball) the staff at Mondo is like family to us. Antonio, Teresa, Adam and their twin daughters make our stay very special and relaxing. And, the wonderfully delicious food prepared by Luis, our personal chef, was beyond description. It will be difficult to find another resort location that compares to the facilities and service from our friends at Mondo Palancar! We will definitely return again to enjoy this beautiful destination! Muchas Gracias!

a perfect stay

Todd R. from Delmar United States, 09. March 2009

Stayed for 7 days in February, 2009

the chef, adrianna was superb. the meals were excellent and she was a pleasure to be around

Amazing House, Location & Staff. Truly an estate on the ocean with terrific views, luxurious acommodations and delicious food!

Braun M. from Wellington United States, 12. February 2009

Stayed for 7 days in February, 2009

I would highly recommend Mondo Palancar for any groups of up to 16 people. There were 12 of us who went to celebrate my spouse's 40th birthday and it was a truly memorable trip. The house is amazing (probably the tallest on the island), the rooms were nice and it is right on the beach! We took the meal plan in which Luis and Eddie made all local food that was delicious! Everyone on the island was extremely nice and helpful and we look forward to a return visit!

New York United States, 14. October 2008

Stayed for 3 days in September, 2008

Cozumel Trip '08

William E. from Dallas United States, 13. April 2008

Stayed for 5 days in March, 2008

We had the best time of our lives... thank you so much to the owner for building the house, and to Antonio for managing it. I know that we were a little crazy, but everything went great and smooth... you guys rock!

Alpharetta United States, 13. April 2008

Stayed for 7 days in March, 2007

Unbelievable house.Great service.18 of us -10 children and all were happy.Would rent again!

Best Vacation Ever!

Tammy K. from Golden United States, 12. April 2008

Stayed for 7 days in March, 2008

We had 18 family members at Mondo during Spring Break. The place was wonderful, relaxing, clean, exceeded our expectations. Our children told us it was the best vacation they had ever taken. And, we have traveled to many places, Hawaii, Southern Calf., Cancun, etc. The chef service was incredible. The food was fabulous and the staff was professional and attentive. We will return to Mondo again for certain!!! Cozumel wasn't a place we were considering until a friend told us about Mondo Palancar. Now, it's our favorite getaway!
Precise property address:
KM 18 Careterra Costera Sur
Cozumel
0 miles from San Francisco beach
Check in / out
Check in time
Check in after 3:30 PM (possibility to leave luggage in from )
Check out time
Check out by 11:30 AM (possibility to leave luggage in until )
Easy check in
Code locks or personal welcome allow you to go directly to ...
More info on check-in/out
Amenities
Amenities
Amenities
List of amenities in this specific property
List of amenities in this specific property
Business

Cozumel Country Club Partner, Golf Course 14 Miles, Neraby Tennis

Culture

Mayan Ruins, Museums

Entertainment

CD Player, DVD Player, Internet Access (bring laptop), Internet Connection: High Speed, Satellite Television, Stereo System

Geographic

Beachfront, Exceptional Sunsets, On A Sandy Beach, Secluded

Kitchen

Blender, Coffee Maker, Cookware, Full Kitchen, Microwave, Oven, Purified Water Provided, Refrigerator, Stove, Toaster, Utensils
Living

Air Conditioned Dining Room, Air-Conditioned Bedrooms, Beach Towels, Ceiling Fans, Cook Service Available, Dining for 10, FREE LONG DISTANCE to US or Can, Linens, Maid Service 6 Days a Week, Safe

Outdoor

Beach Walking, Beachcombing, Directly on Sandy Beach, Dive Boat Pick-Up Adjacent Beach, Kayak, Ocean Kayaking, Outdoor Shower, Palapa (s), Private Freshwater Swimming Pool, Private Tennis Court, Scuba Diving, Snorkeling , Swimming, Wildlife Viewing
Find properties available for your stay dates
- Nearby properties you might be interested in.
Downloads
Additional information you might be interested in.