Search
Property detail & price proposal
Reserve
Thank you
Las Ventanas 5 Bedroom Villa
Las Ventanas - Oceanfront Villa With Private Pool, Great Snorkeling!
5 Bedrooms for 15 guests (max. 15)
KM 14 Viejo Carretera Costera Sur Immediately North of Dive House Shop, Cozumel
contact the manager
Call Annette
US 800-833-5971
or fill our mini-form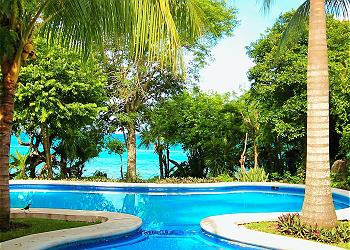 Description
A Cozumel rental villa, Las Ventanas is a beautiful 5 bedroom/ 6 bath home nestled between the Sunscape Hotel and the popular Dive Palancar pier. The bedrooms are air conditioned and the common areas including the living room, dining room and kitchen in the villa are ventilated by ceiling fans and have been designed with cross ventilation in mind. Las Ventanas offers amazing snorkeling right on premise and is just about 100 yards from the start of San Francisco beach, a beautiful sandy beach which extends for mlles and miles. The house's modern free flowing design makes for a stunning architectural statement. It's also just 200 yards from the Iguanas/Ranas 10 bedroom villa complex. So for extra large groups, it comes as a welcome addition. Las Ventanas can accommodate up to 15 guests but offers reasonable rates for small groups so they will be able to enjoy the luxury of renting a private villa as well!
The roof top balcony with lounge area and hammock is where you will want to view each and every sunset during your stay.
Address

KM 14 Viejo Carretera Costera Sur Immediately North of Dive House Shop,

Swimming pool

Pool Volleyball
Private Freshwater Swimming Pool

Floor

0

Elevator

No
Bathrooms

6

Surface

0 ft2

Sleeping arrangements

2 King, 5 Twin, 3 Double/Full Bed
Reviews for this property
Welcome Back!!

Gregory R. from Elizabethtown United States, 11. May 2023

Stayed for 7 days in May, 2023

I rented this villa 10 years ago with a large group of friends and came back last week with 4 kids in a family of 7!

It has everything you need. Amazingly stocked kitchen, well air conditioned bedrooms, and the most amazing rooftop to enjoy the most beautiful sunsets in the world.

Annette and Patti are great to work with on the booking.

Ruth and Nathan are amazing onsite caretakers. From cleaning the bathrooms and bedrooms to the pool everyday, to running grocery errands to making fresh guacamole and pina coladas and carne asada poolside. They just amazing.

Also highly recommend the cool service. Food is amazing and wonderful to be taken care of so nicely.

Excellent accommodations!

Park City United States, 24. April 2023

Stayed for 7 days in April, 2023

Lovely, great room layout, good location, very clean, well stocked kitchen and AWESOME caretakers! A dock to swim from and watch boats go past, paddle board, kayak and even snorkel mask.

Honestly it was Nathan, Ruth and their sweet son Ezra (the caretaker family living on-site) that made our stay simply extraordinary! Sweet, precious, conscientious and hard working family. Ruth makes the BEST guacamole ever (I learned a new trick from her!), and Nathan cut down coconuts on the property and the made the most delicious drink for our crew. We couldn't have dreamed of better time. One teen gave our time there, from 1-10, a 100

Response from At Home In Cozumel Inc

25. April 2023

So glad your vacation was wonderful! Give us a call o we can book your next stay!!!!

Second time (of hopefully many) at Las Ventanas

Tanya H. from Arvada United States, 15. November 2022

Stayed for 5 days in October, 2022

We had such an amazing stay last year that we came back. We had even more fun this time. The house is so beautiful and clean. It's in the perfect location. Especially for scuba divers-you can have your dive shop pick you up on the Palancar dock. FYI- there is a $2 fee per person/day. We walked down the beach to Carlos and Charlie's. The kids (and dads) had a blast on their floating play ground.
Do not book your stay without booking private cooks. You will not be disappointed! Nate and Ruth are wonderful caretakers.

Response from At Home In Cozumel Inc

28. November 2022

Can't wait to help you plan your next trip!

Wonderful Experience

Renee H. from Farmerville United States, 30. June 2022

Stayed for 6 days in June, 2022

We stayed at the Las Ventanas Villa, which was gorgeous! We had the Palancar Pier on one side of us, and another building (under construction) on the other side, but with the trees and foliage, it felt like we were on a private island! The living room/dining/kitchen are not air conditioned, but the sliding doors on back and side of house (plus numerous ceiling fans which helped with circulation. It still gets quite hot in there in the evenings because the sun sets on that side. One bedroom (1st floor) has it's own outside entrance and it's on the front of the house. The next bedroom is in between 1st and 2nd floors, and the other 3 are upstairs. All bedrooms have their own AC but the bathrooms are supposed to have the doors shut and windows open. Also, we were asked to not put our toilet paper in the toilets, but to put in the trashcan provided. This was a new experience for me and I forgot a couple of times, but did not have any problems because of it. There is no washer and dryer there either, however, we stayed in our swimsuits until late evening, so we really didnt wear "real clothes" too much. With that negative part being said, we all talked about the pros and cons and would DEFINITELY stay here again! The snorkeling was great as it was rocky and they had a couple of concrete pillars that were buried right in front of our palapa/deck area. We had 3 lounging chairs and 3 adirondack chairs on the deck area. There were plenty of loungers at the pool area. The wildlife was plentiful to see. As other reviewers have said, Ruth, Nathan, and their son (Esdras) are just precious. They provide daily housekeeping (washing dishes, make up beds, sweeping, provided us with clean beach towels daily) Bring cash to tip this wonderful family! They also provided us with drinking water, and toilet paper. There is a paddle board, life vests, and 4 full face snorkels available to use as well. We will be back!! Stayed here June 22-28, 2022.

Response from At Home In Cozumel Inc

25. July 2022

Glad your vacation was everything you dreamed it would be! Can't wait to help you book the next one!

Amazing Vacation

Retha P. from Dallas United States, 14. June 2022

Stayed for 3 days in June, 2022

Where do I begin...we had a wonderful time in Cozumel!!! Las Ventanas is absolutely gorgeous. The villa had more than enough room for everyone in the family. Atti & Anna were amazing cooks and were always prompt with the meals. They wouldn't let us lift a finger and were so accommodating. Ruth and Nathan took care of us in every way. They ensured we had everything we needed, made sure the house was clean, called taxis for us, helped us get the waterboard out of the water. I smile just thinking about how kind and well they took care of us. Last but certainly not least. Annette made this entire process easy. She was prompt in returning my calls, confirmed our grocery list multiple times and made this booking and arrival easy. This was by far the best vacation ever!! We will definitely be back...Ruth, Nathan, Atti, Anna, and Annette are like family to us now. :-)

Don't pass up this company or this villa... you will not be disappointed.

Response from At Home In Cozumel Inc

16. June 2022

SO HAPPY YOU ENJOYED YOUR STAY! Can't wait to assist you with your next trip to paradise!

Villa Ventanas

Arvada Mexico, 28. March 2022

Stayed for 7 days in March, 2022

Everything was beyond exceptional. From the booking process with Annette, Ruth & Nathaniel taking great care of us, and Ishmael setting up our grocery service and COVID tests at the house. Price was worth it, Service was EXCELLENT! Would definitely recommend.

Dream Villa

Joseph L. from Austin United States, 17. January 2022

Stayed for 6 days in January, 2022

One Word = Awesome
More words = Comfortable, nice views, has all the amenities needed for divers and non-divers
Special thanks = To caretakers Ruth and Nathan, they kept the place sparkling clean and Ruth would cook our lunches when we gave her a head's up and her local cuisine was better than most restaurants.

Excellent Family Beach House Rental

Denver United States, 27. December 2021

Stayed for 7 days in December, 2021

Extremely clean and well maintained, friendly staff, snorkel in snorkel out location. Perfect for two families.

My favorite rental - Amazing

Amy C. from lorenzo Unknown, 07. August 2021

Stayed for 10 days in July, 2021

This house has an amazing location. It was sparkling clean, the pool was perfect and the sea was a few steps away with a private dock and easy entrance into a sandy bottom. Diving is right next door. Every bedroom has it's own bathroom and AC. The kitchen was well-equipped. The family that cleans and takes care of the place is PRECIOUS and became like family. We were there the hottest time of the year and the living/kitchen has no AC (but the bedrooms do) so there were times being in the living space was a little toasty. There is always shade or sun outside in the pool, water or or in the sea. We felt very safe and left the door/screens open most of the time for air. The rooftop was also a favorite. You can also climb over a few rocks and walk down a sandy beach if you are a beach walker like me. We stayed 10 days and I didn't want to leave. It was so private, clean and had everything we needed with a variety of schedules and personalities in our group. I hate to write a good review because I don't want everyone to know about this treasure. It was my favorite Cozumel vacation rental and we have been going to island for over 15 years. Great swimming, paddle boarding, snorkeling, floating, relaxing, reading, diving....this house something for everyone and is large enough to spread out or be together. There are lots of boats that come and go next door at the pier but the people watching was fun and the waves were relaxing. I highly recommend. You will love it.

Best family vacation

jeff h. from evans United States, 21. June 2021

Stayed for 7 days in June, 2021

We absolutely love the house and look forward to returning for our next family vacation. Nathan and Ruth are great and helped us with or covid test and do a absolutely great job in housekeeping and maintaining the property

Response from At Home In Cozumel Inc

20. July 2021

Glad Nathan and Ruth took good care of you! They are the best! Looking for to booking your next vacation !

Las Ventanas

Arvada Mexico, 11. January 2021

Stayed for 7 days in January, 2021

1st of all want to give a HUGE thank you & shout out to Annette from AHIC who manages the property. She is so easy to work with, a true gem in her profession. 2nd, the care takers Nathaneal & Ruth are both unbelievably adorable. Went well beyond taking care of us & the property. It was clean with plenty of towels, dishes, glasses, utensils etc...If we needed anything they went out of their way to get it. They practiced social distancing & COVID regulations. The ladder to the ocean was great for kids and adults. walk to the pier for diving was short & easy, the palapa for chilling w margs and listening to the sound of the ocean was amazing and the roof top happy hour for sunsets was perfect. Everything was exceptional until the cops towed my legally parked car & impounded it on a Friday night with no way of getting it out on Sat. b4 leaving. So it sits for 3 days incurring extra charges had to leave bill open until the figure out "how much" it will cost. Beware of parking on the water front. There are no signs stating a 7:30p parking curfew or not to park on corner due to obstructing view (not sure which, got both answers) but it wasn't obstructing, was at least 10 feet from corner....just enough room for the tow truck to get in. Vacation would have been so perfect had this not happened. Makes me not want to go back again. :( The towing had nothing to do with property but did want to make people aware of what can happen if parking downtown. I was definitely parked legally. so beware...I'm pretty sure its a scam.

Scuba 2020

Richard W. from Magee United States, 04. January 2021

Stayed for 7 days in December, 2020

House was wonderful, got to know grounds and housekeeping crew (family), they were great people. Looking forward to our 2021 trip

Perfect Place to Relax

Vivian W. from West columbia US, 13. July 2020

Stayed for 7 days in July, 2020

The property was absolutely amazing. Spotless and completely stocked with everything needed. It was a perfect place to escape the craziness of life and just relax. We will be back!

Nice overall

Dana M. from Williamsburg United States, 10. February 2020

Stayed for 7 days in February, 2020

We were satisfied.
Things we were not happy with: the beds are really really firm mattress and the pillows were poor quality so no one in our family slept well.
The kitchen is functional but the faucet nozzle sprays out to the side so you have you have to watch it when doing dishes. There were 8 of us so a dishwasher would have been nice.
The place is kind of a fishbowl so with windows everywhere including the top floor bath showers a curtain of some kind over the window would have been nice for privacy when showering.
Things that were 5 star: Nathan, Ruth and their son were an absolute joy. The power went out for 24 hours so they made sure we had a flashlight and buckets of water to flush toilets. One of us had an upset stomach and Ruth made sure we had chamomile tea. They cleaned most days, made sure we had plenty of towels and Ruth did a superb job with the laundry. ( so nice to come home and have no laundry to do!)
Nathan kept The premises in superb condition. Our pool was cleaned every morning he even brought over some blowup mattresses floats we could put in the pool. He made sure the gates were always secure we were safe. Their son brought over toys for my grandson to play with. It was really nice having them on site overall we had a really nice time and would recommend this property to others.


Absolutely perfect

William P. from Bloomington United States, 18. January 2020

Stayed for 7 days in January, 2020

Stayed for a week recently with my family and a few friends for pool time and SCUBA. Location was great - the pier next door made it very easy for our dive operator to pick us up. Kitchen was well stocked with pans and enough plates and bowls to feed a medium-sized army.

The caretakers were very friendly and helpful -- if they offer to make guacamole for you, take them up on the offer!

Rooms were spotless and enormous. Hoping to return soon!

Beautiful Home

Erie US, 21. December 2019

Stayed for 5 days in December, 2019

Beautiful home and the onsite staff were friendly and helpful. Would definitely stay here again, but travelers looking to book this place should know the following:

1. Public restaurants and beaches are a bit of a trek. We spent a decent amount of time at Carlos and Charlie's beach bar and surrounding beach bars, but everything closes at 5:30. So either plan ahead or find a place that delivers for dinner.
2. Great snorkeling right off the dock. Saw starfish, rays, many fishies.
3. Home is spacious and pool is nice.
4. It's about $200 pesos cab ride to downtown Cozumel - bout 15 min.
5. If you scuba they pick you up right out the back dock, which is convenient.
6. There's a taxi stand right down the road so it's easy to get around if need be.

Beautiful Villa

Dougin W. from Princeton US, 09. December 2019

Stayed for 5 days in November, 2019

Had a great time in Cozumel while renting this villa. It is huge and beautiful. Everything was as described and we had nothing to complain about.

Wonderful Week at of Relaxation at Las Ventanas

Hector A. from New Braunels United States, 22. July 2019

Stayed for 7 days in June, 2019

Wonderful House with Great Views and Amenities. Residence was very well maintained and taken care of by wonderful Couple who did an awesome job as Caretakers. Enjoyed the awesome pool with easy access to beach. Great location and weather.. Ready to book a 2nd trip.. Thank you...


Fabulous!

Nina M. from Centenial United States, 08. April 2019

Stayed for 7 days in March, 2019

Everything was great! The food was delicious and everyone took very good care of us. The kids loved the pool and we were able to just walk a few feet to get to the dock for scuba diving. The house is spacious and just so fun. We have stayed here before and will do so again.

Great Family Vacation

adam m b. from Eugene US, 01. April 2019

Stayed for 7 days in March, 2019

The house was very spacious and the pool is beautiful. Not to mention, the Caribbean is in the back yard. Really enjoyed the house managers, Nathan and Ruth. They are very sweet people and very accommodating. Loved the hut on top of the house with sweeping views of the Ocean. The only drawbacks are that there is a lot of boat traffic close to shore, the doc is public, and the kitchen needs updating. Overall, we had a great time though and really enjoyed our experience. I would love to come back and stay at Las Ventanas, but probably wouldn't book a return trip unless I had confirmation that the kitchen had been updated.

Fabulous house and caretakers

Jeanette K. from Campbell River Canada, 13. March 2019

Stayed for 21 days in February, 2019

We just returned home from a 21 day vacation at Las Ventanas.There were 10 adults and the house worked out perfectly. We loved the big family table for dinners. Nathan Ruth and EsTrass were excellent caretakers. The house was very clean and they were always there to help with anything we needed. The pool was cleaned every day and great for volleyball. Having the drinking water supplies was awesome.And most bedrooms had blow dryers.You do not really need a car , we rented bikes and peddled into town as the island is very flat and there is a bike road.

Best Day Trip Ever!

J Patrick B. from New Orleans United States, 20. November 2018

Stayed for 2 days in November, 2018

We arrived via Carnival Cruise. We rented the house for Friday and Saturday so that we could have full use while we were in Cozumel on Saturday. The house is just as gorgeous in person. Annette helped us arrange a full staff to cook and make margaritas while we were there. We swam, snorkeled and had just the best day. Thank you so much to all involved that helped make my partner's 60th birthday the best!

Oceanfront Villa With Private Pool

Donald J. from Halifax Canada, 05. April 2016

Stayed for 8 days in March, 2016

It was OK

Las Ventanas - paradise in Cozumel

Ellen V. from Houston United States, 28. December 2015

Stayed for 8 days in December, 2015

We were a party of 6 adults, some family, some friends, staying over Christmas week. Many of us had stayed at the same house last Christmas (that says a lot about the property and the staff). Excellent location - we really like being on the south side to hit the more relaxed beaches down south and on the east side. When we wanted to go into town, it was only 20 minute drive. The food was fantastic. The service was immediate. the layout of the house was great - of the 5 bedrooms, none were bad even the "smallest" one was roomy with a large bathroom and an additional outdoor shower. A/C in the rooms worked perfectly. There is a platform that leads down to the water. The snorkeling is "ok" the water gets a little churned up based on the location. but you can still see lobsters, starfish and a variety of fish. Loved it and would definitely go back again.

Amazing

Bologna Italy, 22. December 2015

Stayed for 3 days in November, 2015

We were a group of 10 people in Las Ventanas Villa and we spent 4 amazing days there!
The Villa has 5 big rooms with a private bathroom, so everyone was able to have privacy!! The Saloon is really big.
The access to the sea was really safe and the water was fantastic. The house was very clean.
You have the diving near the house and we had a great day diving and snorkeling. Annette was very helpful, with all the questiona that WE asked. We had only a little problem with the showers (in some rooms there wasn't hotel water )

65th birthday celebration

Jim B. from San Antonio United States, 20. June 2015

Stayed for 6 days in June, 2015

Our family has been going to Cozumel for over 15 years. This trip was for our 65th birthdays and we had 15 people. This is the second time we have rented a home from At Home In Cozumel. Both times great experience. This home is great, but needs some TLC. Kitchen works but needs updates, open area while not air conditioned, it is bearable, but does get warm and could use some floor fans. Bedrooms with outside showers are awesome. We did our own cooking and when needed the caretakers were available to provide towels and do minor cleaning/maid service. When we go back, we will look to rent this property again.

Almost perfect!

Leah S. from Drake United States, 08. June 2015

Stayed for 7 days in May, 2015

Beautiful property in a perfect setting! Our family of 10, which included 2 children and 2 teens, loved the access to the ocean to snorkel along with close proximity to beaches. It was an added bonus that our neighbor happened to arrange scuba and Parasailing trips.
My only negative feedback would be outdated appliances, especially the stove, cooktop and refrigerator. This house was a quick car drive from the busy town but close enough to drive back and fourth as needed....

Perfect group vacation in paradise

Alan C. from Ambler United States, 08. April 2015

Stayed for 7 days in March, 2015

We were a group of 9 including 4 children ranging from 18 months to 13 years. Everyone had a wonderful time. Edgar and Nini were wonderful hosts and truly made us feel at home. (Ask Edgar to show you his paintings) I would highly recommend the meal option-- we had fresh squeezed orange juice daily, gourmet quality meals, fresh papaya, mango, pineapple. My wife even picked up some cooking tips from Edgar. We used Dive House for those who went diving and Dive Palancar for a snorkel glass bottom boat trip for the kids (which they loved-- saw nurse shark, turtle, sting ray, star fish, and lionfish). Both dive shops are right next to the house. The little kids loved the wading pool and were entertained by the resident iguanas. The wooden pier down to the water was great for a quick snorkel during the day and beautiful sunsets every night. The rooftop deck was also great for lounging (though the hammock was not working). We rented one car which was enough for supply runs into town, a trip to San Gervasio ruins, a drive along the east coast, and a visit to La Casa del Mojito in town for mojitos and cuban cigars. Everyone was sad to leave and already thinking of a return trip to Las Ventanas!

Relax, Relax, Relax

Lori D. from Auxvasse US, 25. March 2015

Stayed for 3 days in March, 2015

Renting from Annette was a seamless and worryless experience. The food was so good and Edgar is a wonderful person to have in your kitchen! This property is very enjoyable, spacious and is on target for a private relaxing vacation.

Luxury living at affordble prices!

scott a. from Anchorage United States, 21. March 2015

Stayed for 7 days in March, 2015

We were a group of 8 people with a 2 year old child. Our stay at Las Ventanas was absolutely wonderful! The location is idyllic, the cook (Edgar) constantly surprised us with amazing meals, and the dive boat picked us up right about 50 yards away from our back door. The property is showing it's age a little with the appliances and could use a fresh paint job, but these items were a minor issue compared to the fantastic layout, excellent service, and beautiful location! I will come back again for sure!

Great Times

United States, 19. January 2015

Stayed for 7 days in December, 2014

We were a group of 8 thru 83 years old and we all had fun. The house was a complete pleasure...the showers were great and the cooks, maids and others were all wonderful. We loved all the water sports. We would reccomend the whole experience to any active family group. Five stars in all categories.

Savoring Paradise

April S. from United States, 02. December 2014

Stayed for 7 days in November, 2014

Our party of a dozen family and friends, made up of seven adults and five children, stayed Thanksgiving week at Las Ventanas for a vacation of snorkeling, diving, sightseeing, and lounging in the sun. There were no resentments in dividing up the bedrooms, with their attached artistic bathrooms, because the quality of each was fairly equal and interesting. The villa was very comfortable without being so precious that we felt we would need to squelch the children's behavior overmuch, and everyone loved the Gaudi-inspired organic architecture. The adults loved the hammock under the thatched palapa on the roof terrace; everyone enjoyed the curved living room seating. There was plenty of room to get together and plenty of room for privacy.
We treated ourselves to having tasty breakfasts and dinners prepared by the skillful and artistic Edgar and his family, who couldn't have been nicer, more helpful or more professional. The location of the villa was excellent——if you schedule a dive with a vendor other than the dive shop next door to the north, for $2 you can still be picked up or dropped off at its pier, saving you some time. The sandy beach is a very short walk in the other direction, although the kids were happy for a good part of the day playing in the pool. There were plenty of beach towels to go around.
We rented three cars for maximum flexibility for our group, and there was again plenty of room in the driveway to park them. Edmundo, owner of the Cha Cha Cha Dive Shop, took us to the Palancar Reef, lushous Cielo sandbar, and the Colombia Shallows for snorkeling, and knew just where a baby nurse shark liked to hang out. We saw sting rays, turtles, starfish, and countless fish. For another outing the Punta Sur Eco-Park was interesting, and both children and adults felt happy and privileged to have observed and helped in the season's releasing of the last batch of baby turtles.

SCUBA DIVING IN MAY

Evergreen United States, 05. June 2014

Stayed for 7 days in May, 2014

Great place to stay if you are a scuba diver. The property is close to the dive sites and has a dock just down the walking path from the house. We dove with Dive Paradise (our favorite) although it is Dive Palancar right next door. I highly recommend the meal option, the chef was professional and made amazing meals. He also accommodated our crazy dive schedule. Every room had their own bath which was great since we had three couples staying at the villa. Sunsets from the roof were specatcular and a nice place to enjoy a cool beverage at the end of the day.

Great, quiet location -- beautiful!

St. Paul United States, 16. April 2014

Stayed for 7 days in March, 2014

We loved this rental property! We had two families, a total of 10 people. Plenty of room, comfortable beds, great service from the on site manager. The place is quiet with a wonderful view, and yet close to the amenities of the island. I would stay here again and again.

Back to Las Ventanas

Galena United States, 17. July 2013

Stayed for 7 days in July, 2013

We have stayed at Las Ventanas twice. It is the perfect spot for a large group. The pool area is lovely and private. The upper terrace is a great place to chill with beautiful views. The new dock at the ocean is a great new amenity and we all took advantage of this to snorkel. It is very nice that the guest rooms are all very private and have their own bathrooms. Outside showers are awesome too! The interior of the home is really pretty basic, but suits us perfectly for a casual beach vacation. A few things in the home could be updated here and there, but nothing was by any means unacceptable, dirty or in disrepair. I cannot say enough about the house caretaker Edgar. He is a very kind and wonderful man. He constantly checked in to ensure we were happy and helped us when we had questions (ice, taxis, helped us with the grill, etc.) He is a gem. We will definitely be back to Las Ventanas again!

Dream Weaver 27 June - 7 July 2013 Go Big or Go Home Trip.

Dalena W. from Weatherford United States, 10. July 2013

Stayed for 10 days in June, 2013

We love going to Cozumel for the diving, so the location of Ventanas is perfect because the pier is on the next pc of property. We were also 4/10 mile walk on the beach to get to Carlos and Charlies. The house itself was nice and spacious and overall well kept. We had every thing we needed in the kitchen and compared to the Iguanas property we stayed in last stay, we prefer the layout and flow of Ventanas. The bedrooms were icy cold so a perfect retreat. We played a lot of volley ball in the large pool. We went to Ventanas with four other families and everyone had a great stay. We would definitely stay here again. The beach towels seemed slow in coming, but I learned from the housekeeper the washing machine had broken. I called Luiz and discussed this with him and he was there within 10 minutes. He had brought a new machine and the speed of beach towels and linens was great after. The housekeeper and staff were courteous and did a great job caring for the property and answering our questions and needs yet remaining almost invisible. We usually vacation in private homes and definitely would recommend Las Ventanas to others looking for a great and comfortable vacation home!

Annual Dive Trip

Eric S. from San Francisco United States, 30. April 2013

Stayed for 6 days in April, 2013

This is the sixth time we've rented here - house staff is awesome!

Family paradise!

Brian S. from Iowa City United States, 05. March 2013

Stayed for 7 days in February, 2013

We enjoyed our week at Las Ventanas, especially the pool and the setting. The house was as pictured and as hoped - clean, spacious, with lots of room for our extended family ranging in age from 7 months to 58 years. We left only for groceries and a bit of shopping, preferring to enjoy the pool and the nearby beach.
The caretakers took great care of the house and pool while maintaining a respectful distance as we relaxed and vacationed. Any requests we made were quickly fulfilled.
The bedrooms and adjoining bathrooms were amazing and we especially liked the outdoor showers in three of the rooms. The kitchen was equipped well enough for us to cook all meals there, and we enjoyed cooking and experimenting with the local ingredients.
The house is clearly used for rentals only, no evidence of regular residents. There was a large screen TV so we could enjoy the Oscars, but we couldn't get the DVD player to work. (We didn't try that hard as everyone had plenty to do without TV!). There is no dishwasher, which could be a problem for some.
All in all, we would consider returning to this place. We called it our "family compound" and would be hard pressed to find a better one!


Fantastic Vacation and Outstanding Meals!!

Glenn S. from Tampa United States, 17. December 2012

Stayed for 7 days in December, 2012

My wife and eight of our friends had a great vacation at Las Ventanans. Property was exactly as described and the pictures on the internet. House is in good condition. Having bedrooms with attached bathrooms was great so everyone had there personal space. The biggest surprise of the week were the fabulous meals that Edgar and his wife prepared. We weren't expecting gourmet meals - but we got them. Fresh flower centerpieces each day. Fresh fruit. And dinners were amazing with standsouts being a braised chicken and Fish Tickinchik. We will definitely be back!!

Rental 2 of 5

Chris M. from Seattle United States, 20. September 2012

Stayed for 4 days in August, 2012

We rented this house for 4 nights for a group of people for our wedding. The house and pool were great and the rooms provided everyone with plenty of privacy. Only had one issue with one of the room AC units but this was fixed promptly.

Awesome Experience with the best food EVER!! :)

Paul H. from North Miami Beach United States, 31. January 2012

Stayed for 7 days in January, 2012

This rental experience was excellent. The staff were incredible. Always available and there to accommodate. The location was perfect for us...the proximity to the beach (you could see it from the end of the property), action if you wanted it (a fun north american style resto/bar was walking distance) - the location was really superb - and the main town area for groceries and shopping was only a 10-15 min drive away (although it was so relaxing at the villa we barely wanted to leave). And the villa was quite private - with only passerby traffice on a rare occasion as they passed our pool area in the distance to reach their dive boat. And the food was DIVINE. We took the cook and the menu offered by the company and boy were we surprised!! Our whole group of 8 are officially converted to being Mexican food lovers. Not only delicious, every day we could tell the cook when we wanted to be cooked for and served - this truly made it an extra special wonderful experience. And did I mention every room had their own bathroom, some with outdoor showers and the views from some of the rooms were breathtaking. LOVED this experience and would do it again in a heartbeat. :)

Las Ventanas Christmas

Susan L. from Boise US, 02. January 2012

Stayed for 7 days in December, 2011

Good experience. Overall very good rental. Fridge was a bit small for this size of a house. Would recommend an upgrade there--the seals were not in great shape. The on-site care takers were great. Our group of 11 cooked a lot of our meals so we didn't take advantage of their cooking.

friends and family together worked out

New Ulm United States, 21. March 2011

Stayed for 7 days in March, 2011

The fridge could be updated in size and quality for keeping food cold. The only thing that would have made this villa more enjoyable would be if it were situated on a beach.

Great villa. Bedrooms are roomy, outdoor showers in some of the rooms were awesome. We wish the pool was heated but still managed to get into it. Caretakers (and chefs) were the BEST.

Michele M. from Salt Lake City United States, 13. December 2010

Stayed for 7 days in December, 2010

This was one of the most enjoyable vacations our group of 9 have ever been on. The property was beautiful and Edgar & Nini our chefs prepared 1st class meals. We would definitely come back again.

Las Ventanas, Cozumel

Scott C. from Avon United States, 07. December 2010

Stayed for 7 days in November, 2010

Loved our stay! Would return in a heartbeat. The staff was polite, hard working and fast to handle any requests. Excellent value for the price. Hot water didn't last too long for showers but with 8 people getting ready at once...well let's put it this way everyone got ready fast so we were never late going anywhere. A few little nice finishing touches one some of the things in the house would go a long way to improve overall appearance and impression but we still loved it! Spacious, clean, great staff, wonderful location, overall A- and I'm usually not that generous while rating a hotel/vacation house stay! Awesome

It was a great vacation for everyone.

Phyllis B. from San Antonio United States, 12. August 2010

Stayed for 7 days in August, 2010

Nini and Edgar were great as usual. Hope we can go again next year. One of the things we love to do when we go there is to scuba dive. Alejandro Oliver is the dive master we dive with. He has certified two of my grand children and a friend as well. He is very careful, very patient, and we could not ask for a better person to look out for our welfare. .

Great Fun for entire family

Phyllis B. from San Antonio United States, 07. August 2009

Stayed for 5 days in July, 2009

I have stayed at this villa about 5 times--sometimes with family and sometimes with friends. The staff are excellent. They are always friendly and helpful and do a great job. We love the location. It is good for divers which we are because of Alex Oliver and the others at the dive shop. On this trip some dove four times and others dove six times.

Great Week in Cozumel

Clay H. from Allen United States, 29. June 2009

Stayed for 7 days in June, 2009

We just returned from another wonderful week in Cozumel. This was our second time to use At Home in Cozumel and our first time at Las Ventanas. We also had the same cook as our previous staff. His name was Luis and he was wonderful. Very accomodating and wonderful food. We dove 3 different times with Sand Dollar which was right next door and very convenient. The pool was also setup for water volley ball and it got a lot of use. We would highly recommend this property to anyone. We had 3 families with a total of 15 people and it was very comfortable. The couple that stays at the property to clean and help with cooking was very nice as well. Thanks for a great trip.

Property is showing its age

San Antonio United States, 26. April 2009

Stayed for 7 days in April, 2009

First, I would like to say that the on-site house staff was absolutely wonderful. Likewise, the reservation company in the U.S. was great. However, we never heard from nor were we ever contacted by the local property "manager" in Cozumel. He left a note at the house & disappeared the rest of the week. Also, the house is in disrepair & is not being well maintained. We have stayed at this house before, and each time it is worse, instead of improved. For example, there were very few pots & pans in the kitchen, and the ones that were there were in terrible shape. Tiles are missing from the pool, handles are missing from the closets, and both the vcr & dvd players are missing - apparently they broke & have not been replaced. So much for the movies we wanted to watch, and if you had kids, this could ruin your vacation. The blinds in some of the rooms are missing slats, there was no hot water in 2 of the bedrooms, and the screens on one side of the house were missing, allowing so many flies inside it was almost unbearable to cook. Also, the refrigerator is so small, you can't possibly fit a week's worth of food in it. We had to buy coolers just to store our beverages. For the price of this so-called "luxury" house, it needs to be well appointed with amenities. All of that having been said, for us, the location next to the dive shop more than made up for the property's shortcomings. We had a wonderful time & would go back again.

Response from At Home In Cozumel Inc

02. May 2009

Hi Susan Right after your group left we performed the scheduled maintenance on the home. Everything that is mentioned on your check list was fixed except that the refrigerator hasn't been replaced with a larger model. We are glad that even before these repairs were done, you would still consider returning. It is a great property at a very convenient location for divers. Thanks for your comments. They were very useful to us.

Great place for families!

Whitney M. from SLC United States, 22. March 2009

Stayed for 7 days in March, 2009

We shared the house with 2 other families. We had 6 adults and 5 kids. There was plenty of room for everyone. We loved having our own pool at the house. The beach was close to the house but a little bit of a walk for all the kids. Plus the beaches were pretty crowded with resort guests. The best thing was having a personal chef that cooked us breakfast and dinner each day. The food was delicious and it was so great to not have to take the kids out to a restaurant.

A Wonderful place to stay for a family of 11 persons.

Elida J. from Eagle United States, 17. December 2008

Stayed for 7 days in December, 2008

The cooks, house caretaker and his wife cleaned the place everyday, except Sunday. They were very attentive to our needs and even shopped for groceries for us three times during our stay. The first morning we heard the clank, clank of the oxygen tanks being loaded, but after that we didn't even noticed. We rented a motor scooter and a jeep to go to town which is about 5 miles from Las Ventanas. There are several restaurants we could walk to along the beach. And snorkle anytime we wanted to. We took a tour to snorkle from the dive shop next door. All in all it was a wonderful stay.

review of cozumel

Bart G. from Magnolia United States, 21. September 2008

Stayed for 4 days in May, 2007

i love louis ..he makes me want to stay longer

Anne F. from Dallas United States, 03. September 2008

Stayed for 4 days in August, 2008

Our family had a great vacation. We hope to stay there next year as well. The location was perfect. The oldest visitor was almost 65 and the youngest was three. It could not have been better.

Phyllis B. from San Antonio United States, 20. June 2008

Stayed for 7 days in June, 2008

When we signed up for the vacation I put down a $1000.00 deposit which was not part of the rental amount. I believe we left the house in the condition in which we found it. I was wondering how soon I would receive the deposit.

Response from At Home In Cozumel Inc

29. June 2008

We refund the damage deposits within 5-7 business days. Your full refund was mailed on June 26. We are very happy you had a great vacation.... At Home In Cozumel

Vacation Ventanas

Arvada Mexico, 13. June 2008

Stayed for 11 days in May, 2008

Response from At Home In Cozumel Inc

13. June 2008

Glad you enjoyed another vacation with At Home in Cozumel!

First class diving & after diving property!

Jorge Luis I. from Mexico City Mexico, 07. May 2008

Stayed for 4 days in May, 2008

Pictures tend to be not acurate when displaying a property. This one is for real and uncover few details of a very well designed and equiped place where you can certainly feel at home in Paradise Island.

Give Las Ventanas a look.

Columbia United States, 28. April 2008

Stayed for 7 days in June, 2007

We had a great time. A good location next to the dive center allowed us to wander over for lessons and go out on trips at our convenience without the hassle of driving. We had 12 guests, which were easily accommodated by the spacious rooms. My only complaint was that the weather was hot and still. Even though the commons areas were airy and had fans, with no A/C it was a bit uncomfortable with the inevitable sunburns. The room air conditioning units were unreliable. The management was responsive, articulate and helpful. The pool was refreshing and beautiful. The architecture was striking and the diving was exceptional. Overall, a very good choice.

Las Ventanas

Ted K. from Prospect Heights United States, 14. April 2008

Stayed for 7 days in March, 2008

Great place! We had 15 people, and had plenty of room. I highly recommend the cook service: great authentic Mexican food, and plenty of it. Since we all went scuba diving several times, the location next to the Sand Dollar Dive Shop was perfect. We watched the sun set every evening from the backyard. I would recommend this place to anyone looking for the privacy to enjoy your own pool, while still being close enough to enjoy the beach and all it had to offer (water sports, etc.).

Villa Las Ventanas

Mark B. from Enumtlaw United States, 09. April 2008

Stayed for 7 days in March, 2007

Very nice well maintained villa. Location is awesome. We're going back again this year.
Precise property address:
KM 14 Viejo Carretera Costera Sur Immediately North of Dive House Shop
Cozumel
0 miles from San Francisco beach
Check in / out
Check in time
Check in after 3:30 PM (possibility to leave luggage in from )
Check out time
Check out by 11:30 AM (possibility to leave luggage in until )
Easy check in
Code locks or personal welcome allow you to go directly to ...
More info on check-in/out
Amenities
Amenities
Amenities
List of amenities in this specific property
List of amenities in this specific property
Business

Golf Course within 11 miles

Culture

Mayan Ruins, Museums

Entertainment

Flat Screen Television, Internet Connection: High Speed, Satellite Television, Wireless Internet

Geographic

Exceptional Sunsets, Ocean Views, Oceanfront

Kitchen

Blender, Ceramic Tile Counter Tops, Coffee Maker, Cookware, Full Kitchen, Granite counter tops, Microwave, Oven, Purified Water Provided, Refrigerator, Stove, Toaster, Utensils
Living

Air-Conditioned Bedrooms, Beach Towels, Ceiling Fans, Cell Phone Service, Cook Service Available, Dining for 12, Laundry Service Available, Linens, Maid Service 6 Days a Week, Rooftop Solarium, Safe

Outdoor

BBQ Grill, Balcony, Deep Sea Fishing, Dive Boat Pick-Up 100 Yards, Outdoor Shower, Patio, Pool Volleyball, Private Freshwater Swimming Pool, Scuba Diving, Snorkeling , Swimming
Find properties available for your stay dates
- Nearby properties you might be interested in.
Downloads
Additional information you might be interested in.