Enjoy The Luxury Of a Private 3 BR-3 1/2 BA Villa! 100 yds to the ocean from this beautifully appointed, luxury villa in the gated oceanfront commuinty of Costa del Sol.
Min rent
$230.00
Max rent (Depending on number of guests- Holiday rates may be higher)
$300.00
Sleeps
8
Recommended occupancy
0
Bedrooms
3
Bathrooms
3.5
Beds
1x King
2x Twin
2x Double/Full Bed
Guest rating
Swimming pool
Internet
Wire Band Width
Oceanfront type
Sandy Beach
Smoking
no
Pets
no
Stories
None
Elevator
no
Beautiful Beach Front Access to Diving and Snorkeling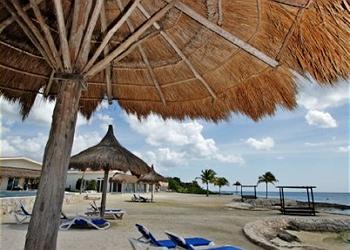 Mouseover to view next picture











Enjoy The Luxury of a Private Villa Without Sacrificing The Benefits of a Resort! Villa B4 is one of 26 homes that are situated in Costa del Sol, Cozumel's first Oceanfront Community. With only 26 luxury homes, you can enjoy the privacy of your own beautiful villa as well as the benefits of an exclusive resort and enjoy the benefit of full-time security. You will enjoy the amenities of an Infinity Edge Pool overlooking the Caribbean Sea, as well as a 130 foot Pier that can accommodate any size diving or fishing boat. The subdivision meanders along 500 feet of shoreline and is filled with serene palm trees and palapas. The pathways lead you through the homes and gorgeous grounds. Because Vila B4 shares the grounds with other Rental Villas, it is perfect for large groups such as Dive Clubs, Business Retreats, Family Reunions etc. The shoreline is a mixture of natural sandy fingers of beach and limestone. In front of the homes the limestone has been covered in sand to extend the beach. Kids can have a lot of fun snorkeling here. They are able to wade into the water but it's best to wear some kind of beach shoes to protect your feet as you get in and out of the sea. Enjoy the panoramic views of the Mexican Caribbean from your townhome that lies only 100 yards from the Infinity Pool and Turquoise Sea. This beautiful Villa is only minutes from world famous reefs, and with the 130 foot private pier, you can be picked up by a dive company of your choice just steps from your back door.