The Residencias Reef Condominiums on Cozumel are located right on the most beautiful white sandy beach on Cozumel.
Min rent
$89.00
Max rent (Depending on number of guests- Holiday rates may be higher)
$109.00
Sleeps
4
Recommended occupancy
2
Bedrooms
1
Bathrooms
1
Beds
1x King
1x Sleeper
Guest rating
Swimming pool
2 Heated Freshwater Pools
Internet
High Speed Wi Fi
Oceanfront type
Sandy Beach
Good Snorkeling
Smoking
no
Pets
no
Stories
1
Elevator
yes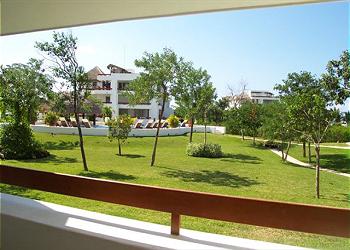 Mouseover to view next picture













The Residencias Reef Condominiums on Cozumel are located right on San Francisco Beach, the most beautiful beach on Cozumel. Just a 5 minute boat ride to some of the greatest reefs, it's perfect for beachcombers. We recommend bringing aqua socks because the ocean floor is rocky! There's also good snorkeling just off the beach. And that beach stretches on for miles and miles so you can run or jog for as long and as far as you like. All the Residencias Reef condos are fully air conditioned, have maid service, and access to two large heated freshwater pools, the 2nd swimming pool is directly in front of building three. The condos are located about 9 miles south of Cozumel's only town, San Miguel. This unit has a private patio. Easy access to the beach and either of the 2 swimming pools. No deadline pressures here in this beautiful Residencias Reef condo. No long distance phone service, but there is high speed Internet service, so if you are traveling with a laptop you can stay in touch with family or business by email or even Skype... if you happen to have that on your computer. Nothing unexpected here except a great big beautiful sunset.