Elegant and comfortable corner unit with wraparound terrace. The Residencias Reef Condominiums on Cozumel are located right on the most beautiful white sandy beach on Cozumel. This condo has been lovingly furnished and decorated. WRAP AROUND BALCONY
Min rent
$200.00
Max rent (Depending on number of guests- Holiday rates may be higher)
$295.00
Sleeps
6
Recommended occupancy
4
Bedrooms
2
Bathrooms
2
Beds
1x King
1x Queen
1x Other
Guest rating
Swimming pool
2 Heated Freshwater Pools
Internet
High Speed Wi-Fi
Oceanfront type
Sandy Beach
Directly on San Francisco Beach
Smoking
no
Pets
no
Stories
2
Elevator
no
Paradise!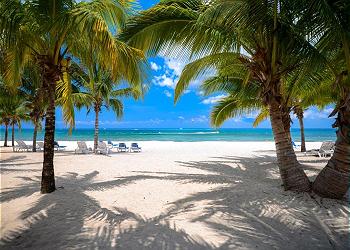 Mouseover to view next picture






Below are 1 or more 360 degrees images. To view, place mouse cursor on image, drag and move it in the direction you want to go. You can use the "+" keyto zoom in and hte "-" key to zoom out.



























The Residencias Reef Condominiums on Cozumel are located on San Francisco Beach, one of the most beautiful beaches on Cozumel---inviting to divers, snorklers, beachcombers and a five minute boat ride to some of the greatest reefs in the world. The beach stretches on for miles and miles so you can run or jog as far as you like. All the Residencias Reef Condominiums are fully air conditioned, have maid service, and access to two large freshwater heated pools. The condos are located about 9 miles south of Cozumel's only town, San Miguel. Being a CORNER UNIT, the Living Room and Dining room open to a large WRAP AROUND BALCONY. NOW WITH FREE HIGH SPEED WIRELESS INTERNET ACCESS (BRING YOUR FREE LONG DISTANCE TO THE US AND CANADA.