Search
Property detail & price proposal
Reserve
Thank you
Residencias Reef 5230 One Bedroom
Beachfront on San Francisco Beach. Brilliant view! Near reefs, water sports.
1 Bedrooms for 4 guests (max. 4)
KM 14.0 Carretera Costera Sur, Cozumel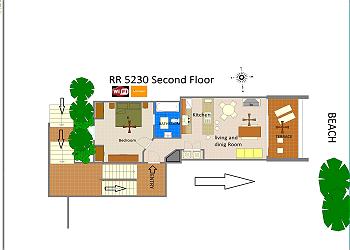 Description
Residencias Reef is right on San Francisco Beach, the most beautiful beach on Cozumel.
The reefs, parts of which are no more than a 5 minute boat ride away, are part of the second biggest reef body on the planet, and Cozumel is rated one of the Top 5 dive areas on Earth.
But Cozumel is also great for beachcombers, with miles and miles of white sand beaches to stroll.

Residencias Reef 5230 is on the second floor. Residencias Reef 5230 is fully a/c, has maid service, great amenities, and access to two large heated freshwater poolsl.
Residencias Reef 5230 is located about 9 miles south of Cozumel's only town, San Miguel, a regular port-of-call for many cruise lines, so, as you can expect, the town is filled with great bars, restaurants, and great stuff to do.
Residencias Reef 5230 is NOW WITH FREE HIGH SPEED WIRELESS (Wi-Fi) INTERNET ACCESS (BRING YOUR LAPTOP).
PLUS FREE LONG DISTANCE TO THE US AND CANADA.
Address

KM 14.0 Carretera Costera Sur,

Swimming pool

2 Heated Freshwater Pools

Floor

0

Elevator

No
Bathrooms

1

Surface

0 ft2

Sleeping arrangements

1 King, 1 Sleeper
Reviews
recommended by
-
-
Cozumel Info
TRAVEL INFO AND FAQ
Reviews for this property
Cozumel getaway

Jackie S. from eagan United States, 10. February 2016

Stayed for 7 days in January, 2016

Great location, had everything we needed.

Recidencias Reef Condo

Steven F. from Washougal United States, 18. December 2015

Stayed for 4 days in November, 2015

Condo was okay, very functional and well furnished with all the necessary kitchen supplies. Very nice beach and pools. A little to far away from town for my preference but if you like a nice beach and cooking your own meals it is a great location. There are a couple beach bars close and one in walking distance.

Relaxing!

Jeffrey L. from Germantown United States, 21. September 2015

Stayed for 3 days in September, 2015

Relaxing and peaceful.

Loving Mexico

new buffalo United States, 02. August 2015

Stayed for 6 days in July, 2015

Beautiful location, great company,wonderful service.

ALL PERFECT AS USUAL

ANTHONY J. from United States, 16. July 2015

Stayed for 7 days in June, 2015

MY 5TH TIME HERE. ALL PERFECT AS USUAL

Dive week in Cozumel

Nortk Oaks United States, 19. January 2015

Stayed for 7 days in January, 2015

Lots of fun,great weather,wonderful diving... a week is too short...

Relaxing stay

teri h. from evergreen United States, 10. March 2014

Stayed for 7 days in March, 2014

This is our 5th stay at this property. There is a reason that we decide to return each year. is a wonderful management operation and the property offers close proximity to diving and other activities, and gives a safe feeling of being in our own home. It makes for a stress free vacation

Title

Joyce N. from Morrison United States, 20. January 2014

Stayed for 7 days in January, 2014

the faucets don't shut off, the towels need replacing, and the safe doesn't work properly

At Home In Cozumel totally ROCKS with great customer service

teri h. from evergreen United States, 16. December 2013

Stayed for 7 days in December, 2013

I think that this was our 4th stay at Residencias Reef through AtHomeInCozumel. The service and accommodations were wonderful. We hope to return for another visit in February and will once again book with you.

wonderful oceanfront property....condo lacking in up keep

Liz C. from Toronto Canada, 13. March 2013

Stayed for 7 days in March, 2013

We loved our stay in Cozumel the beach the sunsets...the outside experience was great... The mould and the filthy throw rugs were a turn off about our unit 5230...The staff were great in getting back to us regarding our concerns but there is little one can do when you do not own the property. I think the owners of this unti need to step up to the plate and offer more then then the beautiful view. Ripped sheets, worn linens and again the mould in the living and hallway are unacceptable ...beautiful complex poor unit... We have pictures if you wish to see the pros and cons...wonderful cleaning staff...just poor quality provided by owners...you need a vacume to clean and papertowels are handy for people travelling a far...bring your own salt pepper nothing like this provided. A shame as other units we visited at the Residences Reef are fully equiped

Nice place

Cary United States, 04. November 2012

Stayed for 12 days in October, 2012

Kitchen fully stocked, though the knives could use some improvement

Colette S. from Salt Lake City United States, 14. April 2011

Stayed for 7 days in March, 2011

March 2011 - Residencias Reef 5230

Kaukauna United States, 07. March 2011

Stayed for 7 days in February, 2011

This was our second stay at unit 5230. The first stay was 4 years ago for our wedding. I have to say, the unit seemed in a bit better condition then. The walls could use a fresh coat of paint and the dryer had a weird fishy smell to it the first few days we used it. Seemed to go away by the 3rd day. The only other disappointing change was the number of channels offered on the Dish Network package the owners have. Basically, you get about 5 channels and most of them are informercials, the other two are some sort of hunting/outdoor channel. Not that this is bad on vacation, but CNN would have been nice or even one channel that offered something to watch as you wind down at night.

Overall, the view and location can't be beat. The daily cleaning offered was great and she definitely did a thorough job.

While we may stay again, I think I'll take a look at some of the other units first. We had family staying in 3 other units during this trip and all of their units seemed to be a bit more well kept up and they had a ton of Dish channels.

John H. from Portsmouth United States, 22. February 2011

Stayed for 7 days in January, 2011

BASICALLY A VERY NICE PROPERTY

Lawrence G., 04. January 2011

Stayed for 7 days in December, 2010

GREAT LOCATION, VIEW WAS SPECTACULAR AND OVER ALL THE CONDO WAS IN GOOD SHAPE .. A FEW PROBLEMS WITH THE CONDO ITSELF ONE WAS ABLE TO BE REPAIR THE OTHER WAS NOT (THE ONE THAT COULDN'T BE FIXED WAS THAT THE SHOWER/TUB LEAKED UNDER THE TUB AND THEREFORE HAD WATER ON THE FLOOR OF THE BATHROOM CONSTANTLY WHICH WAS ANNOYING) AND THE TV DIDN'T GET ANY CHANNELS EXCEPT QVC & HCN AND THAT DIDN'T HELP ON THE TWO DAYS OF COOL DAYS/EVENINGS ... IT DID HOWEVER HAVE A NICE COLLECTION OF DVD'S AND VHS TAPES...

Owner Must Love This Condo!

Joyce N. from Morrison United States, 06. November 2010

Stayed for 7 days in October, 2010

The owner must love this condo, it was so well kept. The decorating was great for the ones of us who love love love the creatures in the ocean.
The kitchen was well equipped for cooking breakfast, lunch and dinner. Loved the plastic beer glasses to take to the beach to watch the sunset!

Residencias Reef 5230 - Truly at Home in Cozumel

Karen L. from Minneapolis United States, 22. April 2010

Stayed for 7 days in April, 2010

When renting a condo, it's as important to due your due diligence on the owner or property management company as it is to be positively influenced by pictures and descriptions. After reading two less than enthusiastic reviews about the property that occured within several weeks of our arrival, I followed up directly with the property management company At Home in Cozumel to confirm that the issues addressed in the last two reviews had been addressed - moldy ceiling areas and broken patio furniture (important with a beachfront patio!). I was assured by both the US office and the local manager (Javier) that the issues would be addressed. Skeptic that I am, I had backup reservations for a few nights elsewhere, but upon arrival we were happy to discover that they wouldn't be needed. The condo was freshly painted before we arrived and the broken patio lounge had been replaced. The condo was clean and welcoming. It was a relief as it could have been a vacation dampener and I want to say many thanks to the local property manager and the property management company in the US for making the improvements.

5230 is a one bedroom condo located on the 2nd floor of the building located directly on the San Francisco beach. We picked the location for its proximity to areas we would be diving. The beach is OK for walking - but you'll want beach shoes or flip flops - this is not soft sand. RR is located next to the Wyndham Aura (Adult only property) and has a substantial beach area directly in front of the buildings. It has two pool areas, one located directly off the beach with nice lounge chairs and a covered are with tables and chairs. The beach has lounge chairs for RR Guests on the beach and palapas for shade. During our stay the property was pleasantly quiet - we were never bothered by loud music or screaming kids and we heard little noise from the condos around us except for the usual conversations on outdoor balconies.

Dive/fishing boats will pick you up fr

Conncinati United States, 08. March 2010

Stayed for 6 days in February, 2010

laid back in cozumel

Thomas K. from Georgetown United States, 03. March 2010

Stayed for 9 days in February, 2010

This was our second trip to residencias reef, and it did not disappoint, except for the broken chaise on the balcony of our unit. Javier advised upon our discovery of this problem that the owner had already been made aware of it, but during the next seven days, the chaise was removed but not replaced. Bummer, particularly given that this is a beach front unit where guests would be excepted to spend a not insignificant amount of time relaxing. The grounds are exceptionally well maintained by a friendly staff. If you want laid back, this is the place!

Friendly staff, On site manager was outstanding, very comfortable and spacious condo with a great view

san jose United States, 17. December 2009

Stayed for 7 days in November, 2009

2009 Wedding Anniversary

Chris O. from Port Allen United States, 28. October 2009

Stayed for 10 days in October, 2009

Overall we were very pleased with our rental at Residencias and will rent the unit again on our next trip to Coz. The housekeeper was excellent. The only negative comments I have are that the property manager was difficult to contact and there was no one on site to answer questions. There were also a few days when we came back from diving and the condo had a horrible sewerage stench. We then kept the bathroom door closed and vent fan on and it confined the smell to the bathroom. I believe guests below us had the same problem and reported it to management.

Melanie A. from Woodstock United States, 05. August 2009

Stayed for 6 days in July, 2009

We were very happy in general. The only problems were the washer and dryer did not work, shower leaked all over the floor and we were never replenished with toilet paper!

jackson United States, 02. May 2009

Stayed for 10 days in April, 2009

we never saw any property manager the whole time during our stay. our room could use a little maintenance, shower drain not draining, always water on the floor from the shower, screws falling out in track of outdoor sliding door, screen door out of alignment,always had maintenance going on all around us when on vacation they could perhaps try to do this during slower times, maid service was not very good, seemed very lazy. pool was always dirty things floaing in it and a bad ring around the edge that was very greasy if you touched it. overall this place we love. it was our second time staying here, it seems that perhaps supervising of small maintenance could be better.

No better compliment can be paid than "We're coming back, but this time to stay longer." We are.

Thomas K. from Georgetown United States, 21. April 2009

Stayed for 5 days in March, 2009

Moving twice between units was a big pain, but we bargained for that by making our reservations so late. The clothes washer broke down and partially flooded the floor, but staff was there to fix it promptly and with a positive attitude. The grounds were immaculate, the units were sparkling clean and insect-free, staff was friendly and we have nothing but good to say, with the sole exception of the single beds in the units where we spent our first and final nights. TOO SMALL! Also, a better job could be done of keeping non-resident "poachers" from using beach furniture. Also, we were first-timers in Cozumel, and a better job could perhaps have been done of giving advice on where to eat, shop, buy groceries, snorkel, etc. (I understand that this can be risky, given that "one man's pleasure is another man's poison.")

All in all, an "A", even though Javier was not to seen until 20 minutes before we departed. Great help in making reservations, both at the units and with Avis at the airport, which we would strongly recommend. Can't imagine being there without renting a car.



A Little Piece of Paradise

George T. from Dallas United States, 13. January 2009

Stayed for 7 days in December, 2008

A little far from town and food. However the Condo was perfect and on the beach. Perfect for relaxing and snorkling. Would recommend to any travelers. You do need a car.

Kansas City United States, 13. January 2009

Stayed for 5 days in January, 2009

We enjoyed the location very much but were disappointed in the condition of some parts of the condo. The washer and dryer were very frustrating and we finally gave up. The washer might have been our fault but there were no directions in English so I may have not been programing correctly. The dryer door would not stay closed and you had to forced it closed with a wadded up paper towel which the maid had done and then it would stop evey few minutes. The jetted tub worked well but there was not enough hot water to fill it up to the jets even when you followed the directions left. Also the stopper would not stay in so you had to stuff a wash cloth in the rusty drain. The rust would also flake off during the process.
There was blender in the condo as stated and when I asked for one I was told I would have one soon. We never did get one. We stayed one night in another condo and could not have been happier with the condition of that condo. I would reconmmend the complex but not this unit.

best quiet beach

Indianapolis United States, 07. January 2009

Stayed for 6 days in December, 2008

Nicely maintained and comfortable. The balcony is a bit deeply recessed and view blocked by palm trees, which although lovely in and of themselves, did keep us from seeing much of the ocean. Beach was clean, surf quiet, and location relatively convenient. Snorkeling off the beach was mediocre.

Houston United States, 28. October 2008

Stayed for 4 days in October, 2008

we had a great, relaxing &fun time!

LISA B. from THE HILLS United States, 16. June 2008

Stayed for 9 days in June, 2008

Response from At Home In Cozumel Inc

30. June 2008

Thanks. I think by giving us 1's you meant to give us top ratings which would be a 5. At least to judge by your title i think that's the case. Anyway, the important thing is that you had a great time!

We will be back!

Marta P. from Lyons United States, 03. June 2008

Stayed for 8 days in May, 2008

My friends and I have rented at Residencia Reef many times in various condos in Building 1. Would never stay anywhere else. Highly recommend Monkey as a dive Master (Scuba Maui or Papa Hogs)and using the grocery service to stock before hand.

Can't wait to return

Fort Worth United States, 28. April 2008

Stayed for 5 days in October, 2007

We had a blast! The property was clean and well kept. The employees were very friendly and helpful. Our condo was very comfortable and was more spacious than other resorts where we have stayed in the past. The washer & dryer came in very handy. The property is a little ways out of town, but within walking distance to serveral beach clubs. I highly recommend this property & can't wait to go back.

Luxury Beach Home

Rosanne D. from Mountain Home United States, 27. April 2008

Stayed for 7 days in May, 2007

Beautiful condo with all the amenities including washer & dryer, full sized refrigerator, stove. Best of all was ocean view from every room. Only downside was the fact that there were several flights of stairs - difficult access for partially disabled persons, but I was warned about this in advance so no surprise there.

Awesome beach front condo at a great price!

Andy H. from West Monroe United States, 27. April 2008

Stayed for 7 days in October, 2007

The condo was very clean, had a great view, large bed/bath, nice fully furnished kitchen with new appliances & granite counter tops, and a large flat screen TV. My wife and I were extremely pleased with this property and would certainly stay here again.

great time in Cozumel

Redondo Beach United States, 26. April 2008

Stayed for 5 days in July, 2007

The propterty was excellent, wonderful location on the sand.
Precise property address:
KM 14.0 Carretera Costera Sur
Cozumel
0 miles from San Francisco beach
Close to:
| | |
| --- | --- |
| San Francisco beach | Chankanaab dolphin park |
| | |
| Cozumel town | Wenceslas Square |
| | |
Check in / out
Check in time
Check in after 3:30 PM (possibility to leave luggage in from )
Check out time
Check out by 11:30 AM (possibility to leave luggage in until )
Easy check in
Code locks or personal welcome allow you to go directly to ...
More info on check-in/out
Amenities
Amenities
Amenities
List of amenities in this specific property
List of amenities in this specific property
Business

Golf Course within 11 miles

Culture

Lighthouse, Mayan Ruins, Museums

Entertainment

DVD Movies, DVD Player, Internet Connection: High Speed, Satellite Television, Stereo System, Wireless Internet, Flat Screen Television

Family

Beach , Resort Day Pass Available

Geographic

Beachfront, Exceptional Sunsets, Exceptional Views, Ocean Views, Oceanfront, Second Floor Unit

Kitchen

Blender, Breakfast Bar, Coffee Maker, Cookware, Full Kitchen, Microwave, Oven, Purified Water Provided, Refrigerator, Stove, Toaster Oven, Utensils
Living

Breakfast Bar, Ceiling Fans, Cook Service Available, FREE LONG DISTANCE to US or Can, Ironing Board, Linens, Maid Service 6 Days a Week, Non-Smoking Unit, Safe, Fully Air Conditioned, 24 Hour Security, Bring your own beach towels, Private Gated Community, Washer/Dryer, Jacuzzi in Master Bathroom

Outdoor

Balcony, Beach Walking, Beachcombing, Scuba Diving, Snorkeling , Swimming, Walk to Beach Restaurants, Beach Chairs, Directly on Sandy Beach, 2 Heated Freshwater Pools, Pier for Dive Boat Pick Up, Deep Sea Fishing
Find properties available for your stay dates
- Nearby properties you might be interested in.