The Residencias Reef Condominiums on Cozumel are located right on the most beautiful white sandy beach on Cozumel. PLUS FREE LONG DISTANCE TO THE US AND CANADA.BUILDING #1 UNIT!
Min rent
$135.00
Max rent (Depending on number of guests- Holiday rates may be higher)
$175.00
Sleeps
4
Recommended occupancy
2
Bedrooms
1
Bathrooms
1
Beds
1x King
1x Sleeper
Guest rating
Swimming pool
2 Heated Freshwater Pools
Internet
High Speed Wi Fi
Oceanfront type
Sandy Beach
Good Snorkeling
Smoking
no
Pets
no
Stories
2
Elevator
no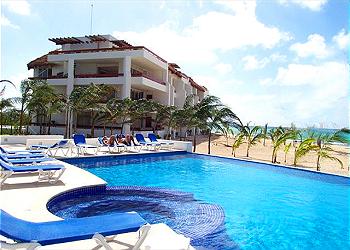 Mouseover to view next picture
















Residencias Reef is right on San Francisco Beach, the most beautiful beach on Cozumel. The reefs, parts of which are no more than a 5 minute boat ride away, are part of the second biggest reef body on the planet, and Cozumel is rated one of the Top 5 dive areas on Earth. But Cozumel is also great for beachcombers, with miles and miles of white sand beaches to stroll. Residencias Reef 5230 is on the second floor. Residencias Reef 5230 is fully a/c, has maid service, great amenities, and access to two large heated freshwater poolsl. Residencias Reef 5230 is located about 9 miles south of Cozumel's only town, San Miguel, a regular port-of-call for many cruise lines, so, as you can expect, the town is filled with great bars, restaurants, and great stuff to do. Residencias Reef 5230 is NOW WITH FREE HIGH SPEED WIRELESS (Wi-Fi) INTERNET ACCESS (BRING YOUR LAPTOP). PLUS FREE LONG DISTANCE TO THE US AND CANADA.