2 BR/ 2 level condominium right on the sea with balconies on both levels. Freshwater pool and great snorkeling.
Min rent
$117.00
Max rent (Depending on number of guests- Holiday rates may be higher)
$185.00
Sleeps
6
Recommended occupancy
2
Bedrooms
2
Bathrooms
2.5
Beds
1x King
2x Twin
1x Sleeper
Guest rating
Swimming pool
Freshwater Swimming Pool
Internet
Oceanfront type
Smoking
no
Pets
no
Stories
4
Elevator
no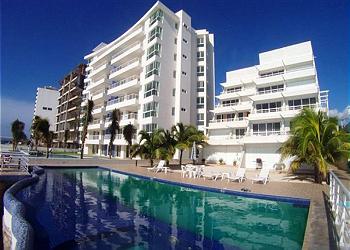 Mouseover to view next picture






Below are 1 or more 360 degrees images. To view, place mouse cursor on image, drag and move it in the direction you want to go. You can use the "+" keyto zoom in and hte "-" key to zoom out.




There's a new Mayan pyramid on Cozumel! (Bldg on Right) It's called the Miramar Condominiums and it's located 2 miles north of town. There are only 12 units in all, which must make this the coziest pyramid ever. You will find the privacy of this low density setting enjoyable. Beautiful in its own right, the sloping design allows guests to bask in the glowing sun on all the units' balconies and terraces and to salute that sun with a frosty Margarita when it sets. And every unit in the Miramar condos on Cozumel does have its own balcony or terrace. There is wonderful snorkeling off the Miramar. You can see a huge variety of iridescent fish, colorful coral and large sponges.